Singapore Workers are Adopting AI Skills at the Fastest Rate in the World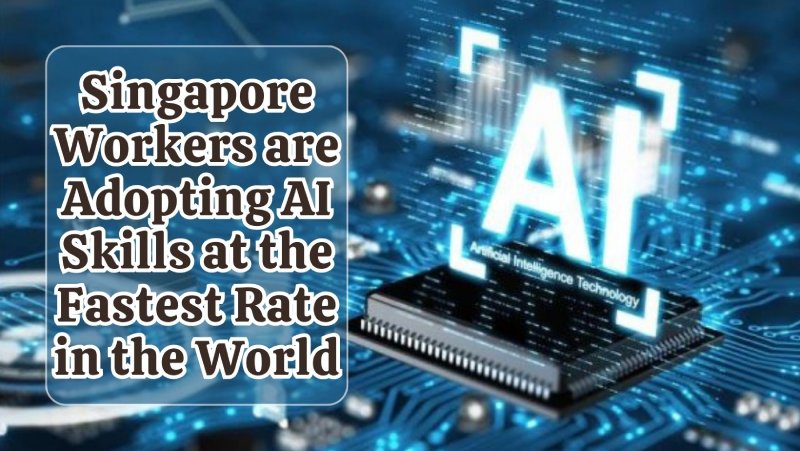 According to LinkedIn's most recent Future of Work report, Singaporean workers are the world's fastest adopters of artificial intelligence skills.
According to the report, which used data from 25 countries, Singapore had the highest "diffusion rate"; the share of members who added AI skills to their profiles increased 20 times since January 2016.
Compared to the eight times the global average, it is noticeably greater, according to LinkedIn.
The top five nations with the highest rates of AI skills diffusion, according to the report, are Finland (16x), Ireland (15x), India (14x), and Canada (13x).
Singapore has always been a "fertile ground" for AI disruption, according to Pooja Chhabria, a career expert and the Asia-Pacific head of LinkedIn's editorial division.
This is due to the nation's "robust digital infrastructure, a strong framework for the protection of intellectual property, and a thriving ecosystem of venture capital firms, angel investors … that provide capital," she said.
"We have seen rapid growth in AI development and adoption fueled by startups and businesses over the years, in their efforts to carve out new niches or achieve greater competitive advantage."
Skills 'potentially augmentable' by AI
According to LinkedIn, the five AI-related skills that were added to member profiles the fastest in 2022 were all those that "hinted at the emergence of generative AI."
This includes classification and recommender systems, question-answering, which increased by a staggering 332%, and other skills.
In the past year, the chatbot ChatGPT has spurred a fresh surge of interest in generative AI (GAI) technologies, and Big Tech companies like Google and Microsoft have since sought to integrate AI into every aspect of their business.
Microsoft-owned LinkedIn introduced features in May that let users construct AI-generated user profiles, job descriptions, and recruiter messaging.
The ability of generative AI to produce text, images, and other content in response to human input, however, has given rise to fresh concerns about the threat of technological job replacement.
According to a Goldman Sachs estimate, 300 million jobs, including office and administrative support roles, might be impacted by AI and automation globally.
For example, 45% of teachers' skills are "potentially augmentable" by generative AI, according to LinkedIn, which examined some of the most common occupations on the platform.
"New GAI tools present an opportunity to potentially lighten workloads and help professionals, like teachers, focus on the most important parts of their job," LinkedIn wrote.
The report lists lesson planning, curriculum development, literacy, and tutoring as teaching skills that should be improved.
However, 53% of a teacher's abilities, including classroom management, elementary education, and special education, still require the use of human humans.
Percentage of skills that generative AI might potentially improve
Software engineer: 96%
Customer service rep: 76%
Cashier: 59%
Salesperson: 59%
Teacher: 45%
Event manager: 39%
Only 3% of a software engineer's skills require human assistance.
"AI will certainly change the way that many of us do our jobs, and the time we spend on tasks that potentially can be aided by generative AI," Chhabria added.
"As a result, people skills … like creative thinking, leadership and communication, and ensuring ethical outcomes – are also becoming increasingly important."
One of the most important ways software engineers may put their people skills to use, according to her, is by "communicating more effectively with business and non-technical audiences."
Oil field operators (1%), environmental health safety specialists (3%), nurses (6%), and medical doctors (7%), according to LinkedIn, have the smallest share of potentially augmentable skills.
The human being is always in control
Soft skills are becoming more crucial as AI starts to automate many areas of the workforce, according to LinkedIn.
According to the report, self-management, adaptability, professional ethics, and social awareness have seen the fastest-growing in-demand skills in the U.S. since November 2022.
Analytical judgment, flexibility, and emotional intelligence were identified to be the three top skills that leaders believe are essential in Microsoft's 2023 Work Trend Index report.
"The human is always in control and … with a generated AI response, you have a moment of, 'Do I want to keep this content? Do I want to modify it? Do I want to discard it?'" Colette Stallbaumer, the general manager for Microsoft 365 and "future of work" told CNBC Make It in May.
"You still have to use those judgment skills when thinking about when to use AI and making those calls — that's really where the human agency comes into it."
Microsoft noted that emotional intelligence is essential in assisting with "determining when to leverage an AI capacity instead of a human capability."