Southern California adopts the BarterUnit®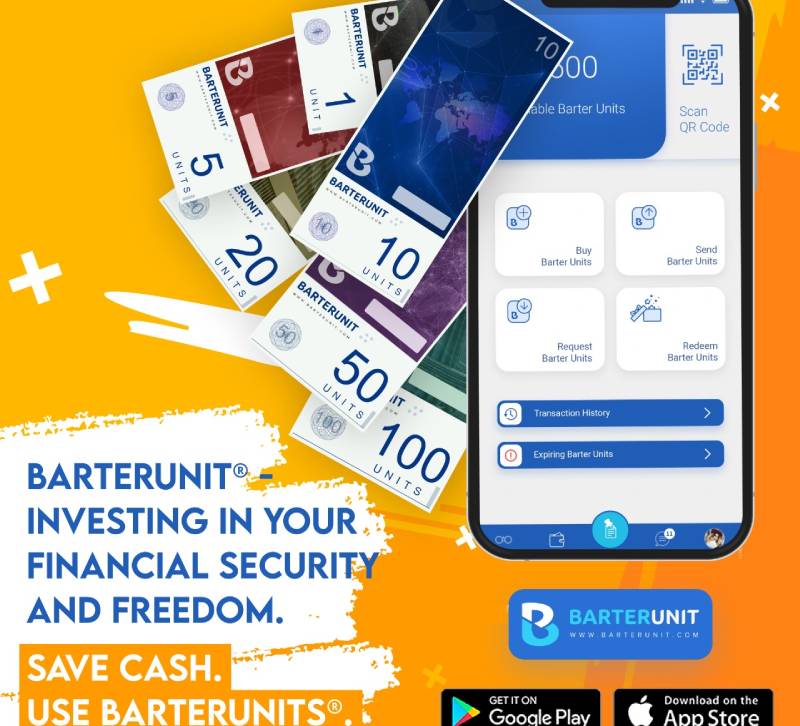 The BarterUnit® has been adopted by residents in Southern California. The BarterUnit® is a multinational Universal Basic Income system, indiscriminately issuing participants an extra source of capital in form of an alternative digital currency – called the BarterUnit®. It is designed to help all people meet their basic needs and aspirations that are unmet by government-sponsored currency systems, providing all individuals a financial safety net, a cash alternative option, independentof banks, governments and donors, with the goal of ensuring basic living standards, as a basic human right.
"That's right, every qualified participant will receive 1,000 BarterUnits® per month (that's 12,000 BarterUnits® per year) interest free, regardless of income, resources, employment status or geographic location. There will be no required means-testing, no behavioral-testing, and no demeaning, discriminatory or arbitrary rules and regulations attached. We have done something revolutionary here.
We have created a new economy, consisting of a private alternative digital currency – called the BarterUnit®, enabling its users and believers to transact and set their own fair market value of goods and services. We understand everyone is currently experiencing hard economic times and money is simply scarce. That is why we strongly encourage everyone to adopt the BarterUnit® as a cash alternative option, rather than spend hard earned cash. Save cash. Use BarterUnits®," says Phillip H. Perez, the Founder and CEO of BarterUnit® LLC.
The BarterUnit® establishment has spearheaded great efforts to help create financial prosperity and respect for humanity in marginalize communities worldwide. Specifically, successful BarterUnit® adoption campaigns in the San Fernando Valley, California have been initiated with great success.
"We have successfully initiated BarterUnit® teams, in various sections of the San Fernando Valley to encourage people and merchants of all sizes to adopt the BarterUnit® as a cash alternative option. The results are phenomenal! What we're witnessing is residents, collect, trade and spend BarterUnits® at an accelerated rate.
The concept is straightforward and the people understand it. They understand its alternative money, that provides them an extra source of purchasing power. They understand that instead of spending hard earned cash, they can use the BarterUnit® to make transactions with other BarterUnit® members, they understand the economic importance and the value of the BarterUnit®" says Perez.
The company has stated that over 700,000 BarterUnits® are circulating in California alone. In California, in the City of Pacoima, a small city in the East San Fernando Valley, participants have stated the following about their BarterUnit® experiences;
"I sell homemade items for extra cash at local pop-up events. What I like is that I can accept BarterUnits® and then turn around and use those BarterUnits® to purchase items and food from participating pop-up vendors. I don't necessarily have to use my own cash. Plus, I'm signed up with the company's UBI program, and I receive 1,000 free BarterUnits per month. So, I'm able to spend my units with other BarterUnit® members, which is pretty cool, because it saves me money," says Liz Martinez, a Pacoima resident.
"I love the app and the concept in general. I like that I'm able to spend free money, rather than my own money. I mean, I went to the Pacoima Fair this weekend at Richi Valens Park and I was able to purchase my entire family ice-cream with my BarterUnits®. They simply scanned my QR code and voila! – free food," says Blanca Rios, a Pacoima resident.
"I'm an entrepreneur, I wash cars for a living. I'm also a BarterUnit® UBI member. I accept BarterUnits® as partial payment. Then I search the marketplace on the app and buy things like soap, towels, etc.. things I need for my car washing business. It works for me. Why? Cause it saves me money," says Andy Iniguiz, a Pacoima resident.
"It's a great app. When you think about it's a company giving people free money, and people use it! I mean, I use it. Unfortunately, at this time, I can't pay rent with it, or my car note, but I'm able to buy the essentials and trade with my local peers, which is great," says Roxanne, a Pacoima resident.
"This is unique economic social app, that is dedicated in helping people in hard economic times. I love it. It's basically free money, free private money that people can use amongst themselves, with any outside interference," says, Pamela Martinez, a San Fernando Valley resident.
The BarterUnit® is a rapidly growing global digital currency enterprise. With global participants from the Middle East, Asia, South East Asia, Europe and the Americas and with the highest levels of confidence and transparency applied, the BarterUnit® establishment has successfully inspired many communities worldwide to respect and adopt the BarterUnit® as a new dignified and freedom-respecting alternative digital currency and payment settlement system.
The Barter Unit mobile application is now available and can easily be found and downloaded for free in the Apple and GooglePlay stores. Join the economic revolution today!