Spencer trailer: Kristen Stewart looks unrecognizable as she plays role in Princess Diana biopic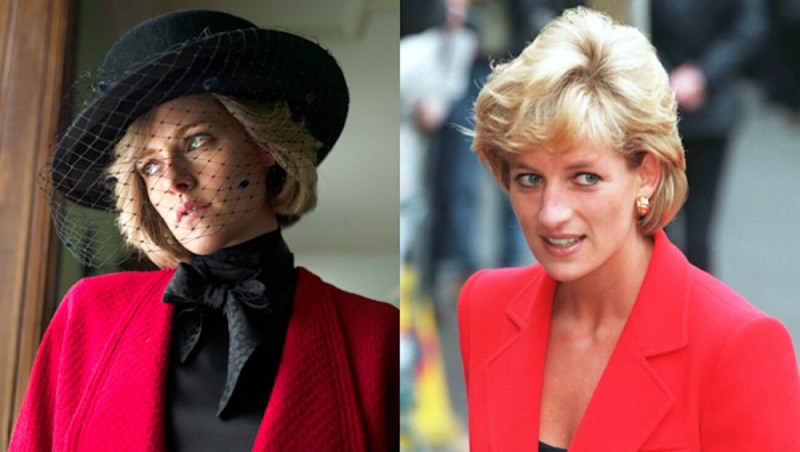 The first trailer for Spencer, the much-anticipated Diana, Princess of Wales drama, has been revealed only days before its premiere at the Venice film festival. Kristen Stewart looks unrecognizable as she changes into Princess Diana for the new film, Spencer.
A teaser trailer and film poster show Twilight star, 31, changing into Diana for the forthcoming biopic.
Spencer – Diana's maiden name – focuses on three days around 1992 and happens at the royal family's Sandringham Estate, where they typically spend the festive season.
The film, which stars Kristen Stewart, shows us only three days over the Christmas period at Sandringham, where Diana decided to end her marriage to Charles. It's directed by Pablo Larraín, the Chilean director who previously ushered Natalie Portman to the best actress nomination for his acclaimed drama Jackie, about the life of Jackie Kennedy after the death of her husband.
The first trailer for Spencer, the Princess Diana flick featuring Kristen Stewart as our favorite royal, has quite recently been released, and ooh kid, it's a wild ride.
Set in 1991, Spencer showcases the downfall of Diana, whose maiden name is Spencer (henceforth the title of the flick), and Prince Charles' marriage.
Over Christmas Eve, Christmas, and Boxing Day, Diana understands that her marriage with Prince Charles has unwound and reexamines the direction her life has taken.
The trailer opens with royal staff hectically setting up the estate for the appearance of the rulers, including spreading out Diana's outfits, finished with tags for which event to wear them.
It cuts to chefs setting up a perfect feast for the royal family who is spotted for the first time from a distance at a long dining table.
Kristen as Diana is then displayed in a jolting scene where a staff member is knocking on the bathroom door, where a noticeably upset Princess has been taking refuge.
"It's hard not to feel protective over her," Stewart said about Diana back in 2020. "She was so young … everyone's perspective is different, and there's no way to get everything right … what is a fact in relation to personal experience."
The film likewise stars Sally Hawkins, Timothy Spall, and Poldark villain Jack Farthing as Charles.
Even though people have been dying to hear K-Stew attempt a British accent, there's just minimal dialogue in the trailer, however, from what we can discover, she pulls it off… alright?
"They know everything," Sally Hawkins, who plays a confidant to the Princess of Wales, tells Diana. She responds: "They don't".
The cast likewise incorporates English actor Jack Farthing as the heir apparent to the throne, Olga Hellsing as Sarah, Duchess of York; Amy Manson as Anne Boleyn; and Niklas Kohrt as Prince Andrew (voms).
"Ma'am they're waiting for you," the staff is heard saying through the door, as a fatigued Diana looks at her reflection in the mirror.
The trailer then, at that pointcut to Diana walking to dinner in an exciting ivory strapless gown.
A series of sharp edits show the family posturing for a Christmas photo and different scenes including Diana dancing, looking upset, and standing outside in the cold.
Prince Charles, played by Jack Farthing, is presented in the trailer in a close-up shot, apparently growling at an upset Diana.
Larraín, whose credits likewise incorporate Neruda and most recent episodes of the Apple TV+ horror series Lisey's Story, spoke to Vulture about his interests that an audience may not be right-footed by the film.
The trailer closes with a woman played by Sally Hawkins comforting Diana as they sit in the swamps.
It's the first time Diana talks in the trailer, and it's clear her dialect coach has acquired their salary as Kristen pulls off a near-perfect royal accent.
"I think some people could misunderstand it," he said. "Before they go to see a movie like Spencer, they might say, 'We're going to really understand who this person was.' No! Wrong number! Wrong movie! We don't do that! We're just trying to work with whatever that person was and create a fable out of it. That's what I'm looking for. We'll see if it works."
Spencer shows up in the midst of an excess of different projects about Diana, including a Broadway musical that opens for November and the new season of The Crown which will include Elizabeth Debicki playing the role over from Emma Corrin, who was recently nominated for an Emmy in the wake of winning a Golden Globe.
Stewart's performance is viewed as an early competitor for awards recognition which would place her close by different wagers including Lady Gaga for her role in House of Gucci and Nicole Kidman in Being the Ricardos.
Many fans believed that the highly expected film would be deferred because of the ongoing Covid-19 pandemic however the countdown is officially on.
Directed by Pablo Larraín, the film won't show the Princess' tragic death in 1997. It will rather depict Diana's marriage battles and her decision to leave the royal family.
It was uncovered in 2020 that Kristen Stewart would depict Diana in the upcoming biopic.
The film will premiere in the competition next month at the Venice film festival close to Jane Campion's The Power of the Dog and Maggie Gyllenhaal's The Lost Daughter. It will open in films in November.
Peaky Blinders maker Steven Knight composed the screenplay for Spencer, and Jackie producer Pablo Larrain directed the flick.
Spencer is relied upon to be released in cinemas this November, ideally, we'll be outta lockdown by then since what an incredible cinematic moment this will be.