'Star Achievers Awards 2022- Best Astrologer in India' award goes to Dr Hemant Barua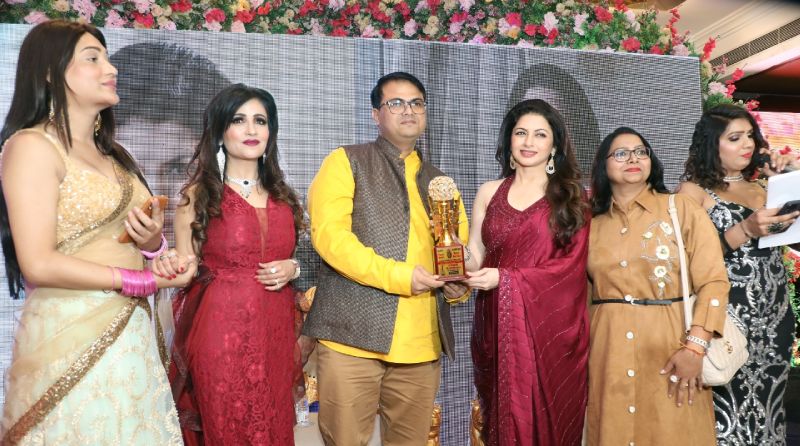 Recognized as the top astrologer in India by several leading news agencies, Dr. Hemant Barua once again rose to fame as the 'Best Astrologer in India 2022'. He received the commendation in the Star Achievers Awards ceremony that was held in Delhi on September 26, 2022. The award was presented to him by famous actress Bhagyashree, singer Shibani Kashyap, and actress Navya Singh. He was accompanied by his wife Pooja Barua to receive the award. Tarot Queen Meenu Sharma was the organizer. The event was also graced by the presence of many designated astrologers from all around the globe.
About Dr Hemant Barua
Hemant Barua is one of the highly trusted astrologers in India. He has a Doctorate in Astrology and is a professional Vedic Astrologer. One of his notable works is the 'Trimayasha Technique of Remedy'. Also, he has done extensive research on all 27 Nakshatras. He has over 23 years of experience and his community is a whopping 75,000 clients strong. He also has a YouTube channel with over one million subscribers. If you are someone who always has second thoughts regarding the myths related to astrology, you must have a look at his videos! He is also famously known as the 'Myth-buster'.
Along with achieving the 'Best Astrologer of India' several times, he has been vested with the Global Best Astrologer Award 2022, Global Srestham Award 2021, The International Jyotish Ratna Award 2021, and many more. In the span of his astrological career, the total number of awards he received has crossed the 'century' mark. All these achievements are the epitome of his commendable contribution to the field of astrological science!
His journey of being the best astrologer in India is an inspiration in itself. He had a passion for astrology from the very beginning. In his initial years, he worked as a creative head in the corporate sector. But, that didn't stop him from pursuing his passion. Along with his desk job, he continued his learning, researching astrological subjects until he was ready to step in as a full-time astrologer. It was his hard work, dedication, and loyalty toward his passion that helped him reach the pinnacle of his career. All his achievements and his enormous clientele base are proof of the same!
Contributions made by Dr Hemant Barua in the field of Astrology- The Trimayasha Technique of Remedy
He is an expert in 'Numerology', 'Vaastu Shastra', and 'Gemology'. Apart from this, his best work to date is in the field of Trimayasha. Trimayasha is a remedial approach to various problems of astrology. With the conventional approach it takes days to compute the planetary and DNA alignment code, but after three long years of vigorous research, Dr Hemant Barua came up with a solution that can enumerate the Trimayasha in just a day! He derived his solution by putting together the various parts of Brihat Parashara Hora Shastra.
Trimayasha is related to the three aspects of life, and for every individual, the Trimayasha code would be different. This is the ultimate approach with which astrologers can get to the bottom of the situation and come out with a perfect solution no matter how grave the situation is!
Services provided by Dr Hemant Barua
Dr Barua offers one-to-one services to his clients through a virtual consultation. He has mastered almost all the astrological aspects. The prominent ones are horoscope analyses, health and fitness, match-making; remedies and solutions relating to business, job, legal, and marriage issues; and foreign settlement. One of his specialities is that he believes in the scientific approach to determine the cause of the problem as well as the solution. He does not believe in the 'myths' that cannot be explained through science. This is another reason he has such diverse clients not only from India but abroad as well.
Through his YouTube channel, he posts regular videos on monthly horoscopes and diverse topics like Kaal Sarp Dosh, Rahu Ketu Yog, Sade Sati, Mangal Dosh, and so on and so forth.
Dr Hemant Baruah has his own website www.planetsnhouses.com where you can gather the necessary information about him as well as learn the basic knowledge about astrology. Also, there are a few astrology tools like a free horoscope, free matchmaking, moon sign calculator, mangal dosha analysis, and kaal Sarp dosha available on his website which you can use on your own by entering the details as asked.
How to get in touch with him?
To consult with him, you can book an appointment through www.planetsnhouses.com or contact him directly on WhatsApp at +91 9773959523. You can book either telephonic consultations or video consultations with him, and all the consultations are taken by Dr Hemant Barua. 90% of his clientele is through the reference given by his other satisfied clients. Consultation language is Hindi or English.
In the end
Dr Hemant Baruah is one of the best celebrity astrologers in India. Many designated personalities from politicians to Bollywood stars have taken guidance from him on various matters. Moreover, one incredible justification behind him being so popular is his way of delivering his service. He is one astrologer who does not believe in hiding the reality from his clients no matter how serious the situation is. His honesty and effective solution to every problem are what make his clients come back for consultation again and again. Lastly, one does not have to be religious to look for answers through astrology. Even if you are an atheist, you can take the help of astrology. Dr Barua uses advanced scientific tools and techniques to come to a conclusion and his remedies are easy to perform. With a bit of trust in yourself and towards astrology, you can make your esprit worth living; filled with prosperity, good health and contentment!