Super Rugby Pacific draw for 2022 season revealed; you can check here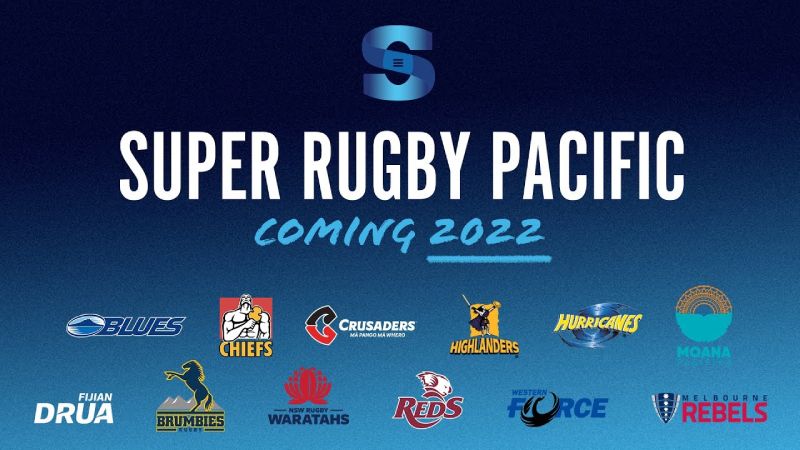 The Super Rugby Pacific draw has been secured for the debut season in 2022. Super Rugby Pacific will get its version of the NRLs Magic Round when Melbourne hosts every team in round two of the next year's competition.
The new competition will kick off as newcomers Moana Pasifika take on the Brumbies at Mt Smart Stadium on Friday, February 18.
Each team will play an aggregate of 14 matches during the 91-game regular season, with fixtures outfitted towards all the more family-friendly times.
Featuring the declaration is the affirmation of 'Super Round Melbourne' in round two, which is set to be held at AAMI Park.
The full competition draw was released by Super Rugby Pacific on Monday, with rookies Moana Pasifika 'hosting' the Brumbies at Aucklands Mount Smart Stadium at 5.05 pm AEDT on Friday, February 18, 2022.
The debuts of Moana Pasifika and the Fijian Drua, who will begin away to the Blues at Eden Park in Auckland on Saturday, February 19 were set as part of the draw released by joint venture partners New Zealand Rugby (NZR) and Rugby Australia (RA).
This will see all teams play at the venue from February 25-27 as part of a festival of Rugby heading to Victoria.
It comes as Super Rugby presents a host of themed rounds, including Women for Rugby Round in Round 3, Culture Round in Round 6, ANZAC Round in Round 10, and a Heritage Round in Round 12, where each team will recognize their one of a kind past, present, and future.
"It's fantastic to be able to confirm our draw for the 2022 competition, and I'd like to thank our teams, broadcasters, New Zealand Rugby, and SANZAAR for their co-operation and collaboration in getting to this point," RA CEO Andy Marinos said in a statement.
"Super Rugby Pacific is fresh and exciting as we look to provide fans a new game-day experience every time they go to a match, all at family-friendly kick-off times.
"It will be a Rugby extravaganza at our first-ever Super Round in Round Two in Melbourne, with all six games at AAMI Park over one weekend.
"We will also host an ANZAC, Heritage, Cultural and Women in Rugby Round, as we acknowledge, recognize and celebrate the communities who make our game so great, and I'm excited to see this play out during match days.
"The draw also features a focus on rivalry rounds which excites us, so I'd encourage everyone to sign-up for a club membership, tune into Stan Sport and get onboard as we look to write the next chapter in Super Rugby's history."
Each of the 12 clubs will have their bye in either Round 7, Round 8, or Round 9 in front of the Finals series, which will kick off from June 3.
"The draw reflects the new look and feel of the competition whether it's the historic opening match at Mt Smart Stadium, the Super Round, the traditional rivalries that have built up over more than 20 years, or the first time Moana Pasifika and the Fijian Drua go head-to-head on ANZAC weekend," NZR General Manager Professional Rugby & Performance Chris Lendrum added.
"We have two new clubs who are building competitive squads right now, and ten other clubs who are excited by a fresh challenge.
"I think the inaugural season of Super Rugby Pacific will be a true celebration for rugby in the Pacific and will showcase the immense playing and coaching talent in the region. We can't wait to get started next February."
The regular season includes a Super Round Melbourne in Round 2 that will see every one of the 12 teams accumulate in the city for three straight days of doubleheaders from February 25-27 at AAMI Park.
The teams will play 14 matches each during the regular season with 11 round-robin fixtures as well as three extra competition matches which will see each team play a home and away series against three different teams.
The top eight toward the finish of the regular season will then, at that point, contend in a finals series beginning in June.
Each of the 12 clubs will have their byes in either Round 7, Round 8, or Round 9, to allow them a somewhat even opportunity to recharge in front of the finals.
Each of the 91 matches will be shown live and on-demand on Stan Sport with the Saturday night game simulcast free-to-air on the Nine Network.
Super Rugby Pacific key points
Format:
12 teams: Moana Pasifika, Fijian Drua, Blues, Chiefs, Hurricanes, Crusaders, Highlanders, Waratahs, Reds, Force, Brumbies, Rebels
14 regular season matches = 11 round-robin matches + 3 rivalry matches
One bye round per team (all byes in Rounds 7,8 & 9)
8 team playoffs format (QFs: 1 v 8, 2 v 7, 3 v 6, 4 v 5)
Total Matches: 91
Season Length: 18 weeks = 15-week regular season + three-week playoff series
Opening match: Friday 18 February: Moana Pasifika v Brumbies @ Mt Smart Stadium, Auckland
Super Round: Round 2, Friday-Sunday 25-27 February @ AAMI Park Melbourne Park.
Every one of the 91 matches will be ad-free, live, and on-demand on Stan Sport with Saturday night's match simulcast live free-to-air on the Nine Network.
FULL SUPER RUGBY PACIFIC DRAW
*All times local
ROUND ONE
Friday 18 February: Moana Pasifika v Brumbies, Mt Smart Stadium, Auckland (19:05)
Friday 18 February: Waratahs v Hurricanes, TBC (19:45)
Saturday 19 February: Blues v Fijian Drua, Eden Park, Auckland (16:35)
Saturday 19 February: Crusaders v Highlanders, Orangetheory Stadium, Christchurch (19:05)
Saturday 19 February: Reds v Chiefs, Suncorp Stadium, Brisbane (18:45)
Saturday 19 February: Force v Rebels, HBF Park, Perth (19:00)
ROUND TWO (SUPER ROUND)
Friday 25 February: Hurricanes v Chiefs, AAMI Park, Melbourne (18:00)
Friday 25 February: Moana Pasifika v Waratahs, AAMI Park, Melbourne (20:30)
Saturday 26 February: Crusaders v Reds, AAMI Park, Melbourne (17:05)
Saturday 26 February: Fijian Drua v Force, AAMI Park, Melbourne(19:45)
Sunday 27 February: Highlanders v Blues, AAMI Park, Melbourne (13:30)
Sunday 27 February: Rebels v Brumbies, AAMI Park, Melbourne (16:00)
ROUND THREE (WOMEN IN RUGBY ROUND)
Friday 4 March: Chiefs v Moana Pasifika, FMG Stadium Waikato, Hamilton (19:05)
Friday 4 March: Force v Reds, HBF Park, Perth (19:00)
Saturday 5 March: Blues v Rebels TBC, (14:35)
Saturday 5 March: Fijian Drua v Highlanders, TBC, (14:50)
Saturday 5 March: Hurricanes v Crusaders, Sky Stadium, Wellington, (19:05)
Saturday 5 March: Brumbies v Waratahs, GIO Stadium, Canberra (19:45)
ROUND 4
Friday 11 March: Chiefs v Force, FMG Stadium Waikato, Hamilton (19:05)
Friday 11 March: Rebels v Fijian Drua, AAMI Park, Melbourne (19:45)
Saturday 12 March: Moana Pasifika v Crusaders, Mt Smart Stadium, Auckland (16:35)
Saturday 12 March: Hurricanes v Highlanders, Sky Stadium, Wellington (19:05)
Saturday 12 March: Reds v Brumbies, Suncorp Stadium, Brisbane (18:45)
Sunday 13 March: Waratahs v Blues, TBC (14:00)
ROUND 5
Friday 18 March: Highlanders v Force, Forsyth Barr Stadium, Dunedin (19:05)
Friday 18 March: Reds v Moana Pasifika, Suncorp Stadium, Brisbane (18:45)
Saturday 19 March: Brumbies v Hurricanes, GIO Stadium, Canberra (14:35)
Saturday 19 March: Fijian Drua v Chiefs, TBC, TBC
Saturday 19 March: Waratahs v Rebels, Sydney Cricket Ground, Sydney (19:45)
Sunday 20 March: Crusaders v Blues, Orangetheory Stadium, Christchurch, (15:35)
ROUND 6 (CULTURE ROUND)
Friday 25 March: Moana Pasifika v Force, Mt Smart Stadium, Auckland (19:05)
Friday 25 March: Rebels v Reds, AAMI Park, Melbourne (19:45)
Saturday 26 March: Fijian Drua v Waratahs, TBC, TBC
TBC: Brumbies v Chiefs, GIO Stadium, Canberra, TBC
Saturday 26 March: Highlanders v Crusaders, Forsyth Barr Stadium, Dunedin (19:05)
Sunday 27 March: Blues v Hurricanes, Eden Park, Auckland (15:35)
ROUND 7 (Daylight savings concludes Australia & New Zealand)
Friday 1 April: Chiefs v Crusaders, FMG Stadium Waikato, Hamilton (19:05)
Friday 1 April: Force v Brumbies, HBF Park, Perth (18:00)
Saturday 2 April: Blues v Moana Pasifika, Eden Park, Auckland (19:05)
Saturday 2 April: Reds v Waratahs, Suncorp Stadium, Brisbane (18:45)
Bye: Highlanders, Hurricanes, Rebels, Fijian Drua
ROUND 8
Friday 8 April: Hurricanes v Fijian Drua, Sky Stadium, Wellington (19:05)
Friday 8 April: Rebels v Moana Pasifika, AAMI Park, Melbourne (19:45)
Saturday 9 April: Chiefs v Blues, FMG Stadium Waikato, Hamilton (19:05)
Saturday 9 April: Reds v Highlanders, Suncorp Stadium, Brisbane (19:45)
Bye: Crusaders, Brumbies, Force, Waratahs
ROUND 9
Friday 15 April: Crusaders v Rebels, Orangetheory Stadium, Christchurch (19:05)
Friday 15 April: Fijian Drua v Brumbies, TBC (19:45)
Saturday 16 April: Highlanders v Hurricanes, Forsyth Barr Stadium, Dunedin (19:05)
Saturday 16 April: Waratahs v Force, TBC, 19:45
Bye: Moana Pasifika, Blues, Chiefs, Reds
ROUND 10 (ANZAC ROUND)
Friday 22 April: Highlanders v Brumbies, Forsyth Barr Stadium, Dunedin (19:05)
Friday 22 April: Waratahs v Crusaders, Sydney Cricket Ground, Sydney (19:45)
Friday 22 April: Force v Blues, HBF Park, Perth (20:00)
Saturday 23 April: Hurricanes v Reds, Sky Stadium, Wellington (16:35)
Saturday 23 April: Moana Pasifika v Fijian Drua, Mt Smart Stadium, Auckland (19:05)
Saturday 23 April: Rebels v Chiefs, AAMI Park, Melbourne (19:45)
ROUND 11
Friday 29 April: Hurricanes v Moana Pasifika, Sky Stadium, Wellington (19:05)
Friday 29 April: Brumbies v Reds, GIO Stadium, Canberra (19:45)
Friday 29 April: Force v Crusaders, HBF Park, Perth (20:00)
Saturday 30 April: Chiefs v Waratahs, FMG Stadium Waikato, Hamilton (16:35)
Saturday 30 April: Blues v Highlanders, Eden Park, Auckland (19:05)
Saturday 30 April: Fijian Drua v Rebels, TBC (19:45)
ROUND 12 (HERITAGE ROUND)
Friday 6 May: Crusaders v Hurricanes, Orangetheory Stadium, Christchurch (19:05)
Friday 6 May: Reds v Rebels, Suncorp Stadium, Brisbane (19:45)
Saturday 7 May: Highlanders v Moana Pasifika, Forsyth Barr Stadium, Dunedin (16:35)
Saturday 7 May: Blues v Chiefs, Eden Park, Auckland (19:05)
Saturday 7 May: Waratahs v Fijian Drua, Sydney Cricket Ground, Sydney (19:45)
Sunday 8 May: Brumbies v Force, GIO Stadium, Canberra (14:00)
ROUND 13
Friday 13 May: Crusaders v Fijian Drua, Orangetheory Stadium, Christchurch (19:05)
Saturday 14 May: Chiefs v Brumbies, FMG Stadium Waikato, Hamilton (16:35)
Saturday 14 May: Moana Pasifika v Blues, Mt Smart Stadium, Auckland (19:05)
Saturday 14 May: Waratahs v Reds, TBC (19:45)
Saturday 14 May: Force v Hurricanes, HBF Park, Perth (20:00)
Sunday 15 May: Rebels v Highlanders, AAMI Park, Melbourne (14:00)
ROUND 14
Friday 20 May: Blues v Reds, Eden Park, Auckland (19:05)
Friday 20 May: Fijian Drua v Moana Pasifika, TBC (19:45)
Saturday 21 May: Hurricanes v Rebels, Sky Stadium, Wellington (16:35)
Saturday 21 May: Chiefs v Highlanders, FMG Stadium Waikato, Hamilton (19:05)
Saturday 21 May: Brumbies v Crusaders, GIO Stadium, Canberra (19:45)
Saturday 21 May: Force v Waratahs, HBF Park, Perth, 20:00
ROUND 15
Friday 27 May: Highlanders v Waratahs, Forsyth Barr Stadium, Dunedin (19:05)
Friday 27 May: Brumbies v Blues, GIO Stadium, Canberra (19:45)
Saturday 28 May: Moana Pasifika v Hurricanes, TBC (16:35)
Saturday 28 May: Crusaders v Chiefs, Orangetheory Stadium, Christchurch (19:05)
Saturday 28 May: Reds v Fijian Drua, Suncorp Stadium, Brisbane (19:45)
Sunday 29 May: Rebels v Force, AAMI Park, Melbourne (14:00)