Taylor Swift performs two new versions of "Cruel Summer" and "Pride and Joy" from "Lover" live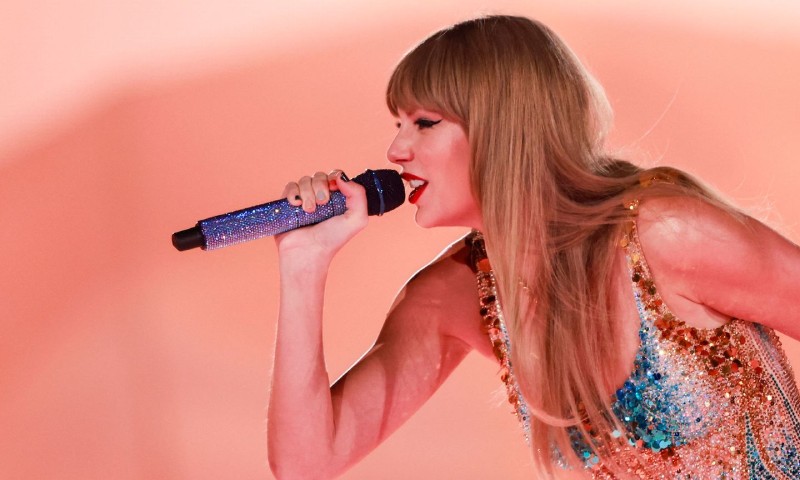 Taylor Swift dropped two new versions of "Cruel Summer" on Wednesday night: "Cruel Summer (LP Giobbi Remix)" and "Cruel Summer – Live from TS | The Eras Tour," which is a recording from one of her performances at LA's SoFi Stadium that was featured in her "Eras Tour" movie, which was released on Thursday.
The summer is not quite over. The live version of Taylor Swift's comeback single "Cruel Summer" was revealed on Wednesday night, October 18. This announcement coincided with the release of The Eras Tour concert film in theaters.
"What a truly mind-blowing thing you've turned The Eras Tour Concert Film into," Swift posted on Instagram. "One of my favorite things you've done was when you supported Cruel Summer SO much, I ended up starting The Eras Tour show with it. For old times sake, I'm releasing the live audio from the tour so we can all shriek it in the comfort of our homes and cars PLUS a brand new remix by @lpgiobbi."
In June, Taylor Swift told a crowd in Pittsburgh that "Cruel Summer" was her "favorite song" from her 2019 album "Lover" and her "pride and joy." She's not the only one who thinks "Cruel Summer" is a favorite, judging by the way innumerable fans in stadiums across the country screamed the song's bridge back to her.
Halfway through the performance, she says, "All right, Los Angeles, we have arrived at the very first bridge of the evening. Now, I have a question: Does anyone here know the lyrics to this bridge? Prove it!"
One of Taylor Swift's most streamed songs is "Cruel Summer"
Earlier this month, "Cruel Summer" surpassed her seven-week reign with "I Knew You Were Trouble" in 2013 to become her only longest-leading No. 1 on Billboard's Pop Airplay chart. It topped the survey (dated October 7) for an eighth week. On the Billboard Hot 100, it has so far peaked at number three.
Track 2 on the album and the second song on Swift's Eras set list, has been receiving a lot of support from fans since she started The Eras Tour in March. In June, Swift and her record label released it as a radio single. Swift achieved the milestone for the fifth time when the song crossed the one billion stream mark on Spotify in September, according to Billboard.
"I was finally, finally, allowed to have my favorite song become the single off of 'Lover,'" Swift said on June 17 at Acrisure Stadium in Pittsburgh. "And I'm not trying to blame the global pandemic that we have, but that is something that happened that stopped 'Cruel Summer' from ever being a single."
Taylor Swift remained silent about the release dates for the other movie songs that will be available for download and streaming.
After its release on October 12, "Taylor Swift: The Eras Tour" became the weekend's top movie, marking the largest opening for a concert film ever.
Taylor Swift revealed on her Instagram page that she has been skulking around the internet, watching videos of Swifties "dancing and prancing and recreating choreography, creating inside jokes, casting spells, getting engaged, and just generally creating the exact type of joyful chaos we're known for" in various theaters across the globe.
In her caption, she said, "Thank you, so much, forever, wow, just thank you!!!"