The Biggest Literary Festival in Southeast Asia Returns This Weekend to the 20th Writers' Festival in Bali, Ubud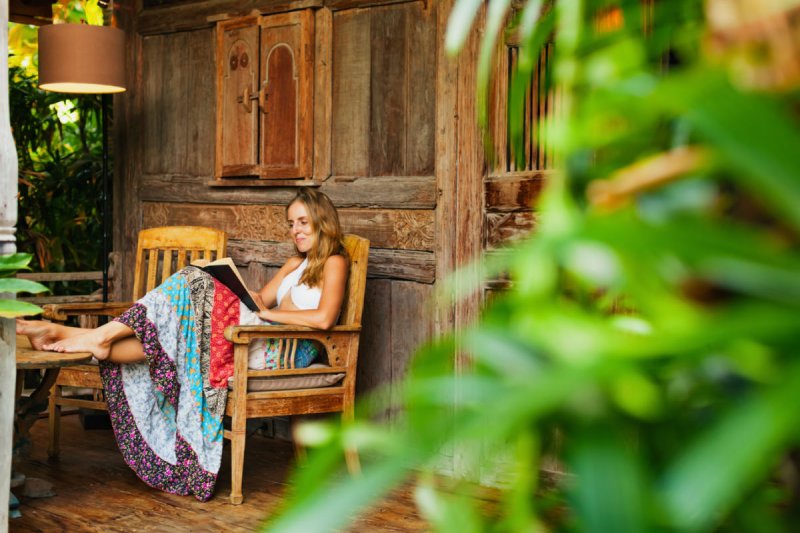 More than 200 writers, journalists, and activists attended the annual Ubud Writers & Readers Festival on Wednesday night in Bali's cultural hub of Ubud. This event aimed to reverse the declining number of Indonesian readers as well as continue the fight against the marginalization of Indonesian literature globally.
A major cultural event on the island each year is the Ubud Writers and Readers Festival. From October 18 to 22, there will be celebrations all around Ubud.
It promises to be an amazing few days with globally recognized writers, poets, and intellectual luminaries in attendance.
Officials from the Australian and US diplomatic missions, as well as representatives of the Indonesian government, attended the opening gala and commended the festival for encouraging "literacy, the freedom of expression, and diversity".
Speeches, traditional dances, and recitals took place in the small, intimate courtyard of the ancient Ubud Palace, which seated hundreds of people.
In the true spirit of Bali, published writers, such as Shehan Karunatilaka, the winner of the 2020 Booker Prize and author of The Seven Moons of Maali Almeida, mingled with activists like Indian environmentalist Vandana Shiva and Cuban-American political artist Edel Rodriguez.
Writer Daryl Yam and Khir Johari, who have received praise for The Food of Singapore Malays (2021), have been invited from Singapore, in advance of the nation's own writers' festival in November.
The goal of Ubud's organizers is to bring in roughly 15,000 visitors between Thursday and Sunday, half of whom will likely be foreign visitors who have scheduled their travel schedules to coincide with the event.
The festival is in its 20th year and features Booker Prize winners Bernardine Evaristo, author of Girl, Woman, Other (2019), and Karunatilaka as keynote speakers in 2023.
Talks on topics ranging from using artificial intelligence to creative practice to exploring tragedy through words will be led by Chinese satirist Yan Lianke, Irish author Megan Nolan, and Indonesian writer and Man Booker Prize nominee Eka Kurniawan, who wrote Beauty Is A Wound (2002).
The theme is Atita, Wartamana, Anagata: Past, Present, Future, which draws inspiration from the non-linear time of Bali.
Following Sunday, there will be more follow-up programs in Jambi, Maumere, and Mataram, Indonesia. The organizers hope that eventually, these will grow into independent writers' festivals that they can use to establish an Indonesian circuit and split the expense of bringing in more expensive speakers.
The festival has evolved significantly since it was started in 2004 to entice travelers to return to Bali following the bombings in 2002, according to festival director Janet DeNeefe.
The crowd had a distinctly Australian flavour, as Ms. DeNeefe, who was born in Melbourne, moved to Bali after falling in love with art gallerist Ketut Suardana.
She said: "We are extremely grateful that we can still present this event to literary, arts, and current affairs enthusiasts from around the world.
"Some people have said that this is a human rights festival masquerading as a writers' festival, but that is my passion. The bombings were the conditions in which we were created, so we do tend to choose writers who are fighting for something."
In the national beauty pageant, her daughter Laksmi DeNeefe Suardana became the first representative from Bali to be crowned Puteri Indonesia, or Princess of Indonesia.
Several people shyly approached Ms. Suardana for pictures after she was named the festival ambassador to bring attention to the literary event.
The 27-year-old stated:  "Indonesia's literacy rate is 98 percent, but the number of people who read is so low. More people can read yet fewer are reading."
With over 700 languages spoken in the nation, she continued, the inclusion of topics like activism and climate change in the program should particularly appeal to younger Indonesians. However, she also pointed out that it can occasionally be challenging to translate the idiosyncrasies of smaller languages into Bahasa Indonesia to reach a larger critical mass.
A bookstore, spaces for art exhibitions, book launches, and movie screenings are all part of the festival setup.
On Wednesday, Ms. DeNeefe also gave senior Balinese author and playwright Putu Wijaya, who is 79 years old and regarded as one of Indonesia's most well-known and prolific literary figures, the festival's Lifetime Achievement Award.
One of the most important literary festivals in Asia is the Ubud Writers and Readers Festival.
The event, which draws thousands of attendees from all over the world, should not be missed.
One of the best things about the UWRF is that attendees can purchase single-day, as well as specific workshop and event tickets. Full festival tickets are still available. That being said, it's simple to fully personalize the festival experience.
The festival is celebrating its 20th anniversary this year, and one of the most impressive lineups of writers and speakers to date is included in the program.
The theme of the festival is "Atita, Wartamana, Anagata: The Past, the Present, and the Future."
Now more than ever, humanity needs time and space for conversation and creativity as we grapple with some of the most pressing issues in recorded history.
Now more than ever, humanity needs time and space for conversation and creativity as we grapple with some of the most pressing issues in recorded history.
The festival features storytellers of all genres in addition to writers. Intriguing speakers, academics, artists, and scholars will all take the stage at the festival to share their creative insights with the global audience.
The founder and director of the Ubud Writer and Readers Festival expressed her excitement about what's coming up.
Janet DeNeefe, who is also the mind behind the Ubud Food Festival, told the media "Over the years, our Festival has cemented its reputation as a world-class event that continually presents award-winning, internationally recognized authors, thinkers, and activists, along with exciting new voices from the latest literary zeitgeist to intellectual commentary and current affairs."
"This year is incredibly special as it's our 20th Anniversary and our 2023 program will be no less exceptional."
Balinese, Indonesian, and international literary legends are on the lineup for the Ubud Writers and Readers Festival, which is what makes it so unique. The Pulitzer Prize and Brooker Prize winners and nominees are welcomed to this year's program.
The presence of Booker Prize-winning Bernardine Evaristo and environmental activist Vandana Shiva is a source of great excitement.
Along with Australia's Leigh Sales and Annabel Crabb, Geraldine Brooks, an award-winning author and journalist, will also be present.
Exploring the literary history and culture of Indonesia is highly recommended. Though the first books that come to mind when we think about Bali may be globally famous tales like Eat, Pray, and Love, there is an abundance of amazing literature to delve into.
English-language bookstores like Periplus sell the majority of Indonesia's best-selling novels and non-fiction titles. These books are available throughout the island.
Eka Kurniawan, the inaugural Man Booker International nominee from Indonesia, will present his most recent book to the public on Friday, the 20th.
Kurniawan's incredible novel Man Tiger (Lelaki Harimau), which gained widespread praise, was translated into English and nominated for the Man Booker Prize.
Both English and Bahasa Indonesia will be used for the events, some of which will also feature live music. A magical Jazz Poetry evening will take place on Saturday, the 21st, from 4–6 pm at Cantina Rooftop, as part of the Ubud Writers and Readers Festival.
The party evening will be hosted by Vamba Sherrif, Chris Tse, Joanna Yang, Ghayath Almadhoun, and Fred Leone and will be set before one of the most breathtaking views in central Ubud, overlooking Tjamphuan and Pura Gunung Leah.
There are individual tickets available for guests to attend this special event in the program.
There are many reasons for book lovers in Bali this weekend to visit Ubud, but those who adored The Seven Moons of Maali Almeida, the Booker Prize-winning book from the previous year, are in for a true treat.
Author Shehan Karunatilaka will talk about the origins, scope, and success of the book as well as how the narrative relates to the ongoing conflicts in real life that exist in the globe today.