The Opus Talent Awards 2021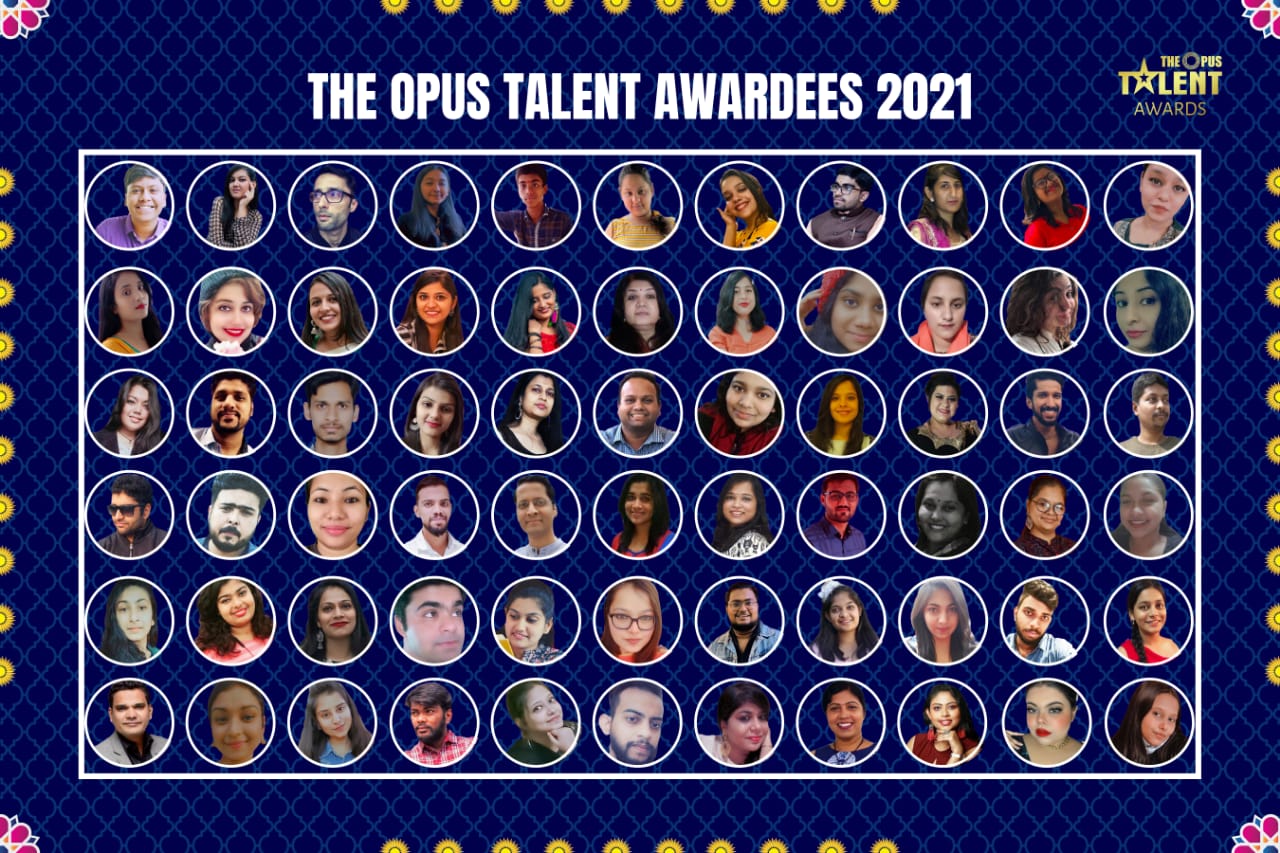 The Opus Talent Awards is an online platform of awards having different categories appreciating people with their achievements in each and every fields which fulfills our motto providing wings to the talents.
The Opus Talent Awards is unlike other awards as it has a speciality in it…a uniqueness which is filled by our beautiful awardees who have reached to this level undergoing various selection and processes. And here we are celebrating talents.
This Initiative was started by the Founder of The Opus Coliseum Riya Rashmi Dash along with the backbone of Opus Lakshit Jain and Somya Tyagi with an aim to congratulate and celebrate the talent of all the fields accross places.
Here are our Talented 66 awardees :
Masuna Vamshi Krishna Netha, Arunjyoti Priyadarshini, Vikas Arora, Palak Jain, Kolli Sai Charan Reddy, S. Sree Navya, Pratik Premraj Bhala, Ameenah Nehan Shiraz, Roshni Agrawal, Layashree A.V., Sneha Jain, Neha Singh, Aditi Jaiswal, Debanjana Ghatak, Ashita Sharma, Sudhavirzhi Murugan, Richamoni Bora, Deepti Menon, Naiela Omer, Anshika Dutt, Meetu Thaploo, Pallavi Gupta, Yashi, Kasale Ninad Vasant Amrapali, Ayushi Tiwari, Manaswita Mukhaty, Lalit Saraswat, H. Vikass, Vidhi Mardia, Daksha Rajesh Kumar Udhani, Yusuf Shameel Shaikh, Vineesh Sharma, Sambit Das Patnaik, Anutosh Vishwakarma, Dr. Dimple Boro, Atiendriya Verma, Maremalla Venkata Praneeth Kumar, Bhavya Chugh, Sanya Tikarya, Minoo Pathak, Nikhil Jain, Aastha Kalita, Vaibhavi P Pandya, Adyasha Priyadarshini, Ananya Mohanty, Jyoti Arora, Manaswi Basavraj Patil, Gaurav Srivastava, Aqsa Ikram, Raj Aryan, Kirti Goel, Prashi Soumya, Kevin Joseph K, Shruti Singh, Kailash Amesur, Meherun Nessa, Rubal Choudhary, Abhishek Kumar, Mahwash Ali, Fakeer Malang, Marifer Fernandes, Samata Dey Bose, Pooja Gautam, Shreya Halder, Ayantika Paul and Sameeksha Pimple.
At the end we congratulate them whole heartedly on this beautiful achievement and hope that they flourish like this more and reach to heights and shine someday.
We wish them luck for their future endeavours and give them courage to move forward.
To get in contact with our further awards do connect us over @theopustalentawards or
[email protected]