The Untold Story Of How Freelancer Hasnain Nawaz Turned $0 Into A $1M+ Business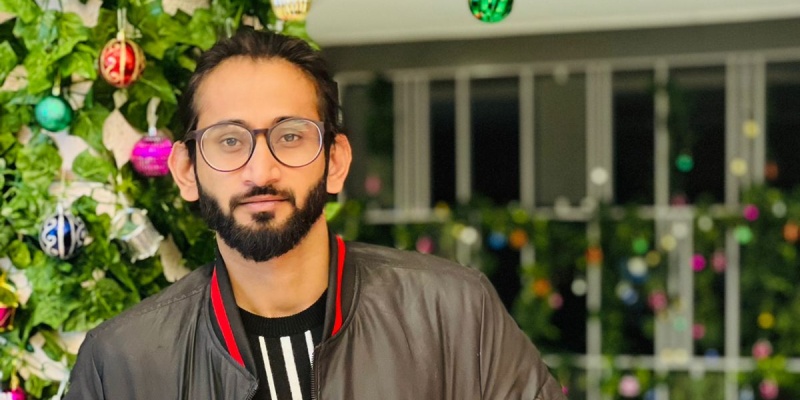 All it takes is one moment to change everything.
Hasnain Nawaz was working as a marketing executive at a large company and had just been fired from his job.
After being let go, Hasnain spent some time reflecting on what he wanted to do with his life and how he could make himself useful in the world.
He knew that if he wanted to take back control of his future, he would have to do something different—something bigger than anything else he'd ever done before.
So Hasnain decided to pursue entrepreneurship full-time by launching himself into freelancing gigs on Fiverr and Upwork–where he struck rich.
Today, he is an example for the youth, who he hopes will follow his lead by pursuing their dreams no matter what.
"I was fired from a job I loved. It was a humiliating experience, but one that taught me an important lesson about life: you can't get everything you want with the same intensity at which you pursue it.
I was devastated. But I couldn't stop thinking about how I could make up for my loss of income by working harder and learning new skills. So I dug into my savings and started working on building a portfolio of freelance gigs—which is where I am today.
I know that this is just one story out of thousands, but it's also one that proves that you're never too far from getting what you want if you work hard enough for it," Hasnain says.
Early Life & Education
Hasnain Nawaz, a computer science graduate from Government College Multan in 2014, was always an engineering-minded kid. But when he enrolled in classes at the college, he realized that his future as an engineer wasn't looking too bright—so he switched gears and took up computer science classes.
Nawaz's studies paid off: he graduated with diplomas in IT subjects, including PHP software development and SEO. He soon found himself working as a computer operator for Pepsi Pakistan. And then got hired by one of Pakistan's top eCommerce agencies as an eCommerce executive where he labored tirelessly with great dedication, and his efforts brought in a considerable revenue stream.
Got Fired From Job – "Expect the best, plan for the worst, expect the unexpected"!
Hasnain Nawaz was a heartbroken guy. He had been working for the company for over a year, and he had delivered outstanding results to the company.
He was devastated when he was told that he would have to take a break from work. This came as a surprise, especially since his performance at work was so good.
For some reason, he wasn't given any reason as to why he would be suspended, or if there were any other circumstances involved in his dismissal. When Hasnain Nawaz found out that he was no longer employed with the company, tears were streaming down his face.
"How could someone destroy me this much?" he asked himself. "I worked so hard."
This incident proved to be an eye-opener for him, and it made him pledge to work for himself instead of working for another company again in the future.
Launching Himself into Entrepreneurship – "Your career is a self-launching missile"!
Hasnain Nawaz is a man who didn't lose hope after losing his job. He knew that he could be a full-time entrepreneur, even if his previous job layoff was the only thing standing in the way.
When he first started, Hasnain had no idea what it would take to succeed. He lived off of savings and did whatever it took to survive—even if that meant eating plain chapati with daal for weeks at a time. But he didn't let that stop him from working hard and never losing focus on his goals.
He kept innovating new ideas until he finally landed a high-paying client and a series of clients started to follow him afterward.
And today, Hasnain is living out his dreams as a successful entrepreneur—and he's done it all without money!
Talking about his motivation, Hussy says:
"I was fired from my job and it was a traumatic experience for me. But I soon got over the pain and started thinking about how to create new livelihood opportunities for myself by looking at what others have done before me.
I used to go hang out at a Biryani food point (AA Food Point in Multan) with my colleagues, where we would talk about entrepreneurship.
My conversations with friends allowed me to tap into my entrepreneurial skills and use them to overcome the traumas I had experienced."
Now, Hasnain has the freedom to pursue any dream he wants—because now he can afford it.
Hussy Wins – "Goals are achieved when the attitude of determination is in you"
Hasnain is an entrepreneur who is working in a wide range of IT businesses. He founded Online Wave, where he provides eCommerce-based services to clients worldwide. The company is a leading provider of eCommerce development and marketing services, providing everything from basic storefronts to fully integrated online shopping experiences. It has a team of dozens of employees and generates annual revenue of millions.
He is also a publisher at Amazon Affiliate Marketing and Google Adsense which means he earns affiliate commissions for selling products on his top-ranked websites. As well as earns handsome advertisement revenue by placing ads on his websites.
But that's just the tip of the iceberg as Hussy is also among one of the few premium eBay sellers in the world. He's also a regular speaker at conferences, events, and industry meet-ups around the globe.
Meanwhile, the 25-year-old also helps other people find their independence by sharing some of his knowledge along with them on how they can achieve success with their businesses while staying true to themselves—and staying in line with what's important.
For example, one of Hasnain's ventures—HNPDFTools—helps the young ungraduated and unemployed youth earn money by taking international orders for file format conversions (charging their clients) while using this site to convert files for free.
Life Lesson Mantras by Hasnain Nawaz
"I am a person who believes in the power of positive thinking and determination.
I am a person who believes in being true to yourself, no matter what others say or do.
I am a person who believes that every day is a gift, and every moment is an opportunity to be happy.
I am a person who believes that if you want something enough, it will come true."
When we lose something, the first thing we feel is pain. But when we gain something, the first thing we feel is joy. That's what Hasnain Nawaz found after losing his job. He used that bad experience as motivation to start his own business and become an entrepreneur.
He started working on a new idea for a company that would help people learn how to use their skills in different fields. He worked hard day and night so he could make this dream come true. He had a lot of obstacles in front of him but he never gave up on his goal.
In less than one year, he was able to make enough money to start his own business where he could work full time without having any worries about finances. And today, he is one of the most successful entrepreneurs in Pakistan!
You can follow Hasnain on FB, Instagram, Twitter @rimrhussy, and Snapchat @imrhussy.