Theresa May resignation: The speech words which made UK PM cry after declaring departure from office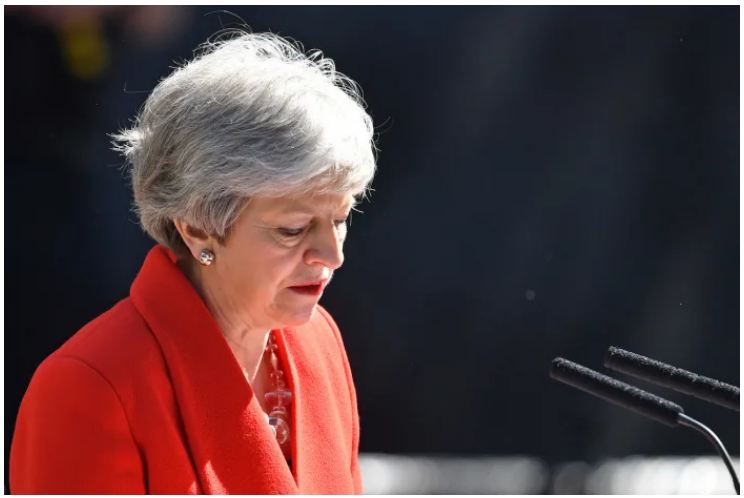 Theresa May broke down in tears at the end of her resignation speech outside Number 10 Downing Street this morning as she declared her resignation and her appreciation for the opportunity "to serve the country I love".
The Prime Minister Mrs Theresa May said she would remain down as PM and Conservative Party leader on Friday, June 7 as she talked about her "deep regret" at not delivering Brexit before her voice split and she got some distance from the cameras to head once again into her office and home for as far back as three years.
She stated: "This country is a union, not just a family of four nations, but a union of people….we stand together and together we have a great future.
"Our politics may be under strain but there is so much that is good about this country, so much to be proud of, so much to be optimistic about.
"I will shortly leave the job that has been the honour of my life to hold. The second female Prime Minister? But certainly not be the last.
"I do so with no ill-will but with enormous and enduring gratitude to have had the opportunity to serve the country I love."
She emerged from Number 10 to start her speech at 10.04 am, illuminating how she had tried to determine the Brexit issue in light of a legitimate concern for all.
"Ever since I first stepped through the door behind me as PM I have striven to make the UK work not just for a privileged few but for everyone and to honour the result of the referendum," she said.
"I negotiated the terms of our exit. I have done everything I can to convince MPs to back that deal. Sadly, I have not been able to do so.
"It is now clear to me that it is in the best interest of the UK for a new PM to lead that effort," she says. "I am today announcing that I will resign as Conservative leader on Friday 7 June. I have agreed with the party chairman that the process for electing a new leader will begin in the following week.
"It is a matter of deep regret that I have not been able to deliver Brexit. My successor will have to find a consensus," adding that consensus will only be possible if those on both sides of the debate compromise."
"I am proud of the progress we have made over the last few years," she said. "I know that the Conservative Party can renew itself in the years ahead. I know that we can deliver Brexit."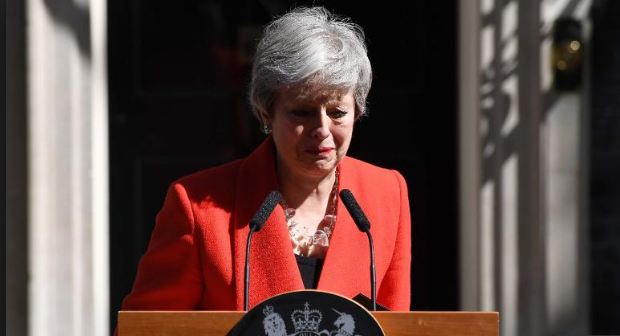 Ruth Davidson, leader of the Scottish Conservatives, said Mrs Theresa May had "always put country before party".
She included: "Her time in office has been characterised by the hard work, resilience, quiet dignity and attention to detail for which she is known. Above all, by opposing the SNP's call for an immediate second independence referendum in 2017, the Prime Minister demonstrated her resolute commitment to the Union, and to Scotland's place in
"As leader of the Scottish Conservatives, I want to see candidates show that same level of commitment to Scotland's place in the Union, an ability to advance our interests at home and abroad and, crucially, demonstrate how they intend to bring our country back together after the divisions sown by two constitutional referenda."
Scotland's First Minister Nicola Sturgeon used Mrs Theresa May's resignation to once again call for a vote on Scottish independence. She stated: "While we had many political disagreements – not least over her handling of Brexit and her disregard for Scotland and the Scottish Government – leadership is not easy, and Theresa May should be thanked for her service.
"Putting another Tory leader in Downing Street without a general election is not the solution to this crisis. The only way to resolve Brexit is to put the issue back to the people.
"For Scotland, the prospect of a hardline Brexiteer Tory becoming Prime Minister is not a happy one. The people of Scotland voted overwhelmingly to remain in the EU – and not only has that been completely ignored, but it is now clear that a devastating no-deal Brexit – which would cost jobs, businesses and livelihoods – is firmly back on the Tories' agenda. That makes it all the more essential that Scotland has a choice of becoming an independent country."
Labour leader Jeremy Corbyn said it was presently time for a General Election. "The Prime Minister is right to have resigned," he said. "She has now accepted what the country has known for months: she cannot govern, and nor can her divided and disintegrating party.
"The burning injustices she promised to tackle three years ago are even starker today. The Conservative Party has utterly failed the country over Brexit and is unable to improve people's lives or deal with their most pressing needs.
"Parliament is deadlocked and the Conservatives offer no solutions to the other major challenges facing our country.
"The last thing the country needs is weeks of more Conservative infighting followed by yet another unelected Prime Minister.
"Whoever becomes the new Conservative Leader must let the people decide our country's future, through an immediate General Election."
Daily Business editor Terry Murden comments:
Some may expect that instead of Mrs Theresa May's resignation joining the Conservative Party it is similarly prone to trigger further division as her successors align around opposing wings of opinion.
There will likewise be inquiries over the eventual fate of the Scottish Conservatives, especially if Boris Johnson enters Number 10. Scottish leader Ruth Davidson isn't a fan, which would leave her to some degree uncovered.
For business, Mrs Theresa May's departure heaps more vulnerability on an effectively unbalanced economy which keeps on opposing gravity yet is skirting with stagnation except if the Brexit mess is resolved rapidly. Unfortunately, the new Tory leader and PM will confront similar issues and similar divisions.
It in this manner requires a person with a sharp intellect, an ability to listen and compromise, yet in addition willing to take the major decisions the nation needs. Ostensibly, the greatest mistake of Mrs Theresa May's residency was enabling parliament to vote on her deal. Having got a mandate in the referendum she ought to have taken an executive decision to put her agreement with the EU into action,, in this manner keeping away from these previous months of arguing and getting nowhere.
Be that as it may, while it is anything but difficult to accuse Mrs Theresa May for the present mess, it isn't so easy to perceive how her successor will negotiate a superior deal. A major stress is that a long way from conveying Brexit to a speedy conclusion, this most recent twist in the adventure just includes a few more episodes before everybody discover what it going on and how everything closes.