These 4 red-state cities could be the future of the US economy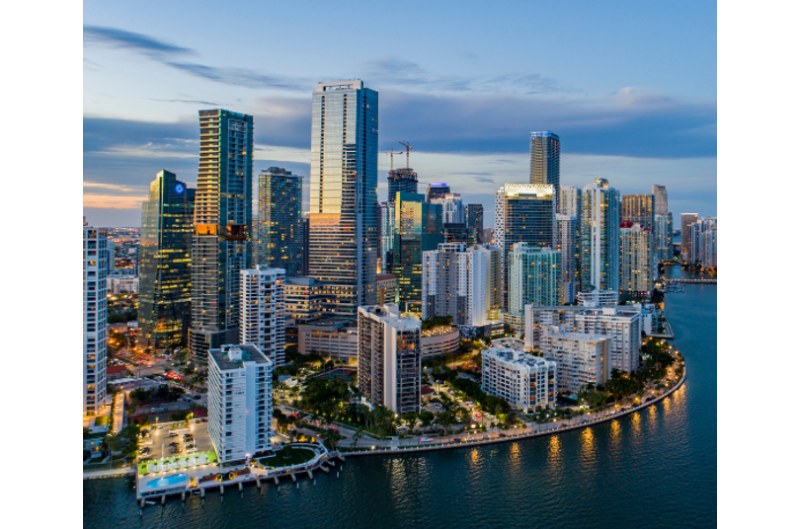 In the US, major coastal cities like New York and San Francisco are losing ground to smaller metropolises nestled below the Mason-Dixon line in terms of economic and societal power. That's because the country's center is becoming a hotspot for economic activity, with cities like Miami, Nashville, Dallas, and Houston experiencing this trend.
Miami's growing financial industry and proximity to Latin America, Houston's energy economy, and San Francisco's Silicon Valley are all connected to New York City's Wall Street. Nashville is a center for tech and healthcare, Dallas is home to a thriving community of diverse business giants, and Los Angeles is home to Hollywood and Washington, DC, politics.
According to Stanford historian Niall Ferguson, "You used to have two coastal power zones where you could live your best life, never really touching down in the red states. We now have much more of a multipolar America rather than a bipolar America. That reflects taxes, quality of life, cost of living, the ability to build, and incredibly striking differentials in quality of governance."
San Francisco, New York City, Los Angeles, and Washington, D.C. were the top four cities from which Americans were seeking to relocate, according to a Redfin analysis of user search data conducted in March. Users expressed the greatest interest in moving to Miami, while Dallas and Houston came in eighth and tenth, respectively, as their preferred cities to relocate to. Among the top factors that drive movers are reduced taxes and housing costs.
Here's why the economic future of America may depend on these four cities.
Houston
Only New York City and Chicago are larger than Houston, which is the fourth-largest city in the US and home to 26 Fortune 500 companies.
As a result of the presence of significant energy companies in the area, such as Exxon Mobil, Phillips 66, and ConocoPhillips, up to 40% of Houston's GDP is derived from the oil and gas industry.
However, if the city is willing to make the switch, renewable energy might present business opportunities. Because of its established infrastructure and highly qualified workforce, Houston could attract $250 billion in annual investments linked to the developing energy sector by 2040, according to McKinsey.
Houston, the home of NASA, is positioned to lead the space industry.
Dallas
According to the Census Bureau, Dallas saw the biggest net increase in population between 2021 and 2022 of any US metro area—more than 170,000 more people.
In North Texas, which includes Dallas, more than 175 companies have relocated their corporate headquarters since 2010. Not only that, but other business giants are growing in the city. For example, when its new regional office in Dallas is finished, Goldman Sachs intends to add about 5,000 jobs there.
According to Wells Fargo's chief technology officer, Steve Hagerman, Dallas offers an increasing pool of "prime working age" individuals, or those between the ages of 23 and 38, at a time when some businesses are having trouble filling positions. In addition, the city produces a large number of tech-degree holders, which may help it become a tech hub in the future.
Miami
Among the 50 largest US cities, Miami's population grew at the fourth-fastest rate between 2021 and 2022, 1.7%. Even Jeff Bezos, the founder of Amazon, is relocating there after 29 years in Seattle.
Although the city's cryptocurrency boom hasn't gone as planned, other financial firms, such as hedge funds Elliot Management and Citadel, have also flocked to the area.
Miami is also home to the headquarters of over 1,100 multinational corporations due to its close proximity to Latin America. Strong immigration levels to the city may contribute to increased employment and economic growth in the years to come.
Both wealthy people and tourists like visiting Miami. According to consulting firm Henley and Partners, the number of millionaires in Miami increased by 75% between 2012 and 2022, which is among the fastest rates in the nation.
Nashville
According to a study done earlier this year by the HR company Checkr, Nashville is the best city in the US for job prospects and earning potential. Nashville was ranked fourth in the country's best-performing cities by the Milken Institute in May. The rankings were based on economic opportunities and labor market performance.
"While Nashville is a well-known and popular tourist destination, its economy is bolstered by more than just the music and hospitality industries," the report noted.
Known as the US healthcare capital, the city is home to more than 500 healthcare-related companies, including 17 public healthcare organizations. Approximately 570,000 jobs are related to this industry in the Nashville region.
Nashville's tech sector has room to grow as well. Among the companies that have made recent investments in the city are Amazon and Oracle.
Taking the spotlight could present certain challenges
Even with the financial benefits, these cities' progress will probably face some challenges.
These cities are already witnessing, to differing degrees, the effects of exorbitant housing costs in an area where demand is soaring.
Furthermore, these southern metropolises may have to deal with climate change-related problems in the future due to their high temperatures. Miami in particular might be at risk.
In the meantime, the coastal cities and Sunbelt metros may compete in the coming years to see who can offer the greatest economic power.