These are the Hottest Holiday 2019 Toys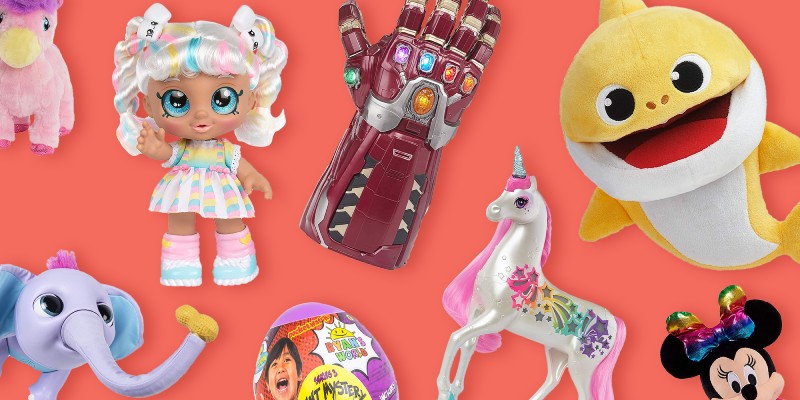 Now is the perfect time to stock up on Christmas 2019 toys.
The Holidays 2019 may be five months away, but with the amount of shoppers expected to flock to stores to get presents for kids and for kids at heart, Christmas shopping may be as challenging as you think it is.
Savvy shoppers and those who are always ahead in the shopping game know that the best time to buy gifts is as early as July. Shop as early as today (Amazon's Top 100 Toys) and as soon as you receive the items, store them somewhere safe where kids can't see them before the upcoming holidays.
This year has never disappointed in terms of toy releases and innovations as toy manufacturers compete in the already saturated toy market. With the growing number of toymakers, shoppers are lucky to have a wide array of options for kids and toy collectors.
We have rounded up the 50 hottest toys of 2019 that would raise the excitement for the upcoming holiday season:
1. UBTECH Marvel Avengers: Endgame Iron Man Mk50 Robot ($249.99)
One way to commemorate the massive success of the Marvel's Avengers: Endgame is to live out your Tony Stark fantasy by having your own Iron Man robot. This collectible is more than just a toy. You can control the robot's motors, lights and sounds using a mobile device. It is integrated with augmented reality, allowing users to customize the robot by ploading your face and recording audio phrases. Build up your Iron Man's arsenal of Nanotech weaponry. You can program your Iron Man robot using custom blocks to code your own scripted sequences.
This upcoming electronic pet by Spin Master teaches kids valuable lessons, especially with nurturing animals. This interactive pet lets kids rescue the bird, take care of them and even teach them to fly. These cute birds respond to touch, movement and care. They let out a cute little "wee!" sound when they finally learn how to flap their wings. You can pet them, tickle them, make them dance and feed them with berries that come with every purchase.
The Owleez also offer a fun way to unbox as kids will get to open a box containing the bird iteslf, as well as one food accessory, one quick start guide, one instruction guide, and the Owleez' own nest where it can take a rest and recharge. The nest serves as the Owleez' charging pad as it comes with its built-in USB cord. Kids can still play with their Owleez even while they're still recharging.
3. L.O.L. Surprise! 2-in-1 Glamper ($99.88)
The L.O.L. Surprise Glamper is available for pre-order now on Amazon.com for $99.99 ahead of its shipping date on August 1. It includes more than 55 surprises when unboxed, as well as more than 10 hangout areas, lights and sounds, and an exclusive doll. Since its launch earlier this year, the Glamper has made a lot of kids and kids at heart happy as it offers more than 55 surprises when unboxed. Just like the L.O.L Surprise! House, the Glamper provides a shelter to your lovely little L.O.L Surprise! dolls and pets. The only difference is that with the Glamper, your dolls are always on the roll.
4. Poopsie Rainbow Surprises dolls ($49.99 / Save 9%)
The 14″ Rainbow Surprise by Poopsie doll comes with more than 20 surprises, both with the rainbow dream or pixie rose variants. The doll set lets kids make D.I.Y. Slime and add to doll's transparent fashions for a one-of-a-kind look. Every Rainbow Surprise doll has stunning brushable hair, gorgeous fashions and accessories. The set includes the doll itself, her outfit, accessories, bottle, 4 D.I.Y. Slime powders, 2 rainbow magic, 3 shimmer powders, 1 glitter, and 1 highlighter.
5. Fart Ninjas (four-pack for $24.99)
The new Fart Ninjas from the Funrise toy company are "Silent, Butt Deadly." Each 3. 5″ Fart Ninja has 10 realistic fart sounds. They are motion activated, triggering a surprise fart on an unsuspecting target. You can download the free Fart Ninja app that has a photo booth, a fart mixer to create your own custom fart mixes using augmented reality.
6. BTS Mattel fashion dolls ($18.37 – $19.48)
BTS fans, more commonly known as A.R.M.Y, can finally get their hands on dolls depicting their idols as Mattel, the maker of Barbie dolls, launched its own line of BTS dolls. At just $19.99 each, you can buy your own Jung Kook, Jin, V, RM, j-hope, SUGA and Jimin doll. As an added bonus, Mattel has also launched a BTS-themed UNO card deck.
7. Hot Wheels id
Another Mattel entry for the best toys of the year is the Hot Wheels id, a new mixed play experience that integrates traditional physical play with digital play. To play Hot Wheels id, a player has to have a smart track kit complete with a race portal, Hot Wheels vehicles, a smart booster, portal, device stand and more. This new gaming experience lets kids and kids at heart measure their performance through an app to better compete with other players. The goal is to compete and win to earn upgrades and collect the most legendary Hot Wheels cars, such as the Bone Shaker, Twin Mill, Rodger Dodger and more.
Hot Wheels id Race Portal ($39.99)
Hot Wheels id Smart Track Kit ($179.99)
Hot Wheels id Smart Track Upgrade Kit ($139.99)
8. Step2 Zip n Zoom Pedal Car ($80.99 / Save 10%)
The Step2 Zip n Zoom Pedal Car is a front-wheel drive ride-on pedal car for your young ones. It's adjustable with a grow-with-me seat that can be adjusted as the child grows. It also has easy-grip handles coupled with center-pivot steering that make quick turns and spinouts fun and easy.
9. Arcade1Up Street Fighter Classic 3-in-1 Arcade Cabinet ($249.00 / Save $50.99)
Set up your own arcade at home with the Arcade1Up Street Fighter Classic 3-in-1 Arcade Cabinet at 17% off for just $249.00. Its scale is ¼ smaller than the classic arcade cabinets, making it fit anywhere in the house. It features three games: Street Fighter ll Champion Edition, Street Fighter ll The New Challengers and Street Fighter ll Turbo.
This arcade set was upgraded with a 17″ Color LCD screen in addition to controllers that resemble the classic arcade controllers. You no longer need coins to play games. You can also adjust its volume.
10. Baby Alive's Baby Shark Blonde Hair Doll ($24.88 – $24.99)
This cute baby shark doll is inspired by Pinkfong's hit children's song Baby Shark that has gained massive success globally. It can be submerged under water as it was designed for waterplay, making it perfect for bath time for kids three years old and above. The doll has removable shark tail and hood. Pre-order now for just $24.99 before its release on July 28.