This technology has arrived to CHALLENGE Hawk-Eye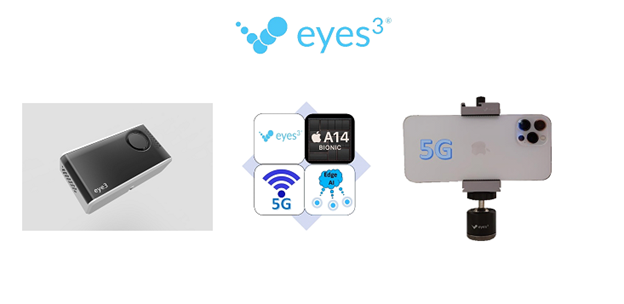 Introducing the latest version of eyes3 v3.8 code name: Edge-Wave
Technology is a massive part of today's world. Electronic devices and equipment have influenced sports almost as much as any other part of technology. eyes3 Sports Technology has introduced the latest version of eyes3 v3.8 code name: Edge-Wave, Patented (US#10467478) Electronic Line Call mobile platform. The newest version of eyes3 v3.8 Edge-Wave is the most potent Edge AI wireless Electronic Line Call system designed for tennis tournaments of all levels. Moreover, it is affordable to all consumers and professionals.
The U.S. Tennis Association and the sport's two leading professional tours, the ATP and WTA, have announced that Hawk-Eye's electronic line-calling service will be used for all competition courts at the U.S. Open in 2021. But as we all know, the cost of Hawk-Eye is prohibitively expensive. Estimated cost: 60-70 thousand euros(US$71k-$83k) per court weekly. According to Ubitennis.net, At 1/100 the price of a similar Hawk-Eye's electronic line-calling service. Eyes3 aims to be the most crucial refereeing solution for social tennis clubs, high schools, colleges, and professional tennis tournaments worldwide.
Patented eyes3 can run on the latest iPhone 12 Pro Max and utilize the cutting edge 5G mmWave technology for data transmission. Configurable up to ten iPhone 12 Pro Max for maximum precision (or 20+ for redundancy purposes). Thanks to Apple's A14 Bionic chip, running at 11 trillion operations per second on each iPhone, it enables Edge AI-Powered eyes3 wireless electronic line-call system delivers the highest level of precision for definitive IN/OUT line-calls.
By incorporating the latest 5G mmWave technology, eyes3 can connect all ten iPhones for multi-angle instant replay, Frame by Frame scrubbing, Zoom IN/ Zoom OUT during live matches. As a result, a CHALLENGE during a game will take less than 4 seconds to process.
eyes3 can deliver ball spin, speed, height, and vital real-time analytics that is valuable and easy to use for players, coaches, spectators, and tournament organizers.
eyes3 is entirely wireless and can be deployed in minutes anywhere with no messy cabling or even power sockets. It is adaptable to a wide range of grass, clay, and hard courts. eyes3 is International Tennis Federation (ITF) Approved Live Scoreboard Real-time score broadcast and TV/YouTube/Facebook connectivity. Challenge results and history. Instant video highlights replay: score and match analytics. Analytics Trajectory analytics include ball speed, height, spin: player velocity, position heat maps. Match and score analytics.