VOSAH – Voice Of Stray Animals Hapur making you pause to think that there are paws to consider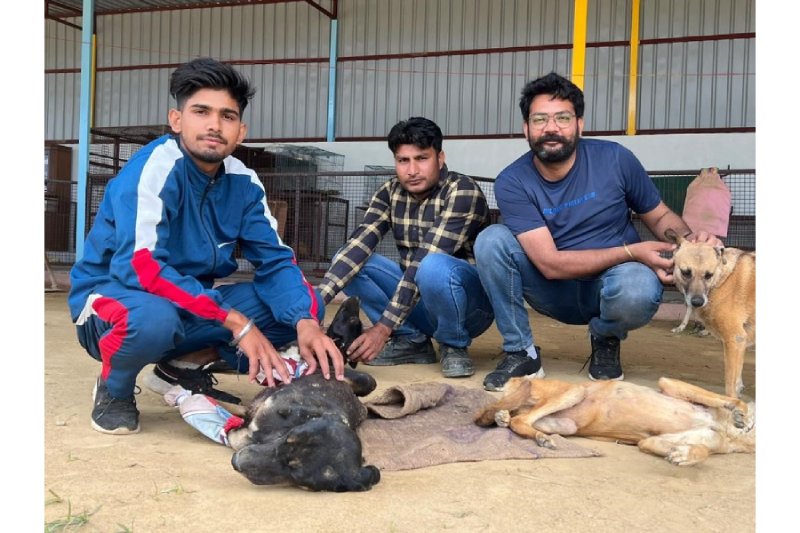 Stray, abandoned, and lost animals find refuge in shelter homes for animals. It is imperative for society to have NGOs for stray animals. These NGOs help by rescuing, rehabilitating, and rehoming animals helping innocent souls, they provide for their survival. One such active NGO is VOSAH (Voice Of Stray Animals Hapur) located in Hapur, Ghaziabad. Being in existence for over one and a half years, with a dedicated team of volunteers this NGO has introduced many initiatives to help provide a safe environment and paralysed shelter for stray dogs.
VOSAH provides safe havens for dogs in need. Once they rescue these voiceless, innocent lives they provide medical facilities, first aid, food, and shelter to help them recuperate from illnesses or abuses.
VOSAH is doing every bit to look after these stray dogs and make them lead normal and healthy life.
The work done by VOSAH is essential in ensuring the well-being of the dogs because if these dogs are left uncared for it would jeopardise their health and affect their lives.
The plight of stray dogs is miserable, therefore it's a moral imperative to fend for these dogs as all lives are vital, regardless of how little. According to Mr. Harendra Singh, the founder of VOSAH, saving animals is like serving the community, big or small we should be benevolent to all. He helps the paralysed injured dogs by providing them with customised wheelchairs to see them recover and lead a normal life. He finds comfort and delight in serving them. He believes in this quote by Rodger A Caras, "dogs are not our whole life but they make our lives whole." For Mr. Singh, staying around them and adding colours to their lives is a blissful state.
We should learn to empathise with the stray animals and not be cruel to them. Devote your time to them and lighten up their lives. Also, volunteers play a pivotal role in the day-to-day operations of an NGO. Therefore we as a community should come forward and volunteer for such righteous little acts of kindness for a little goes a long way.