50 Interesting and Fun Facts about Karol Szymanowski, a Polish Pianist and Composer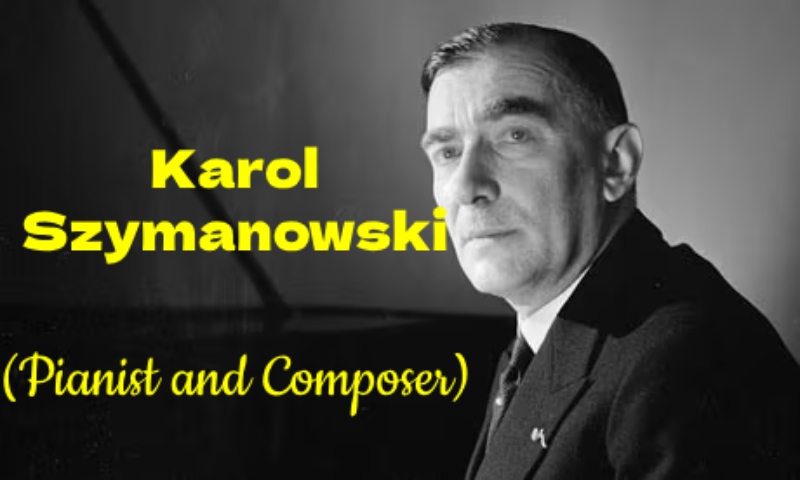 Here is a look at Polish pianist and composer Karol Maciej Szymanowski's life and career. He belonged to the influential Young Poland modernist movement of the late 19th and early 20th centuries. His compositions exhibited creativity, a wide range of stylistic explorations, and absolute orchestration expertise. Most significantly, he contributed to developing Poland's distinctive national style after it became independent in 1918. Here are some interesting and amazing fun facts about Karol Szymanowski.
Who was Karol Szymanowski?
Here is a look at the life and work of Karol Szymanowski.
Quick Look
Personal
Birth name: Karol Maciej Szymanowski
Birth date: 6 October 1882
Birthplace: Tymoszówka, Russian Empire
Died on: 29 March 1937 (aged 54)
Death place: Lausanne, Switzerland
50 Interesting and Fun Facts about Karol Szymanowski
On October 6, 1882, Karol Szymanowski was born into the affluent Korwin-Szymanowski family of the Mazovia area, which includes Warsaw as its capital. Karol Szymanowski, or Karol Maciej Szymanowski, was the most prominent Polish composer of the early 20th century.
Before joining in the Gustav Neuhaus Elisavetgrad School of Music in 1892, he took lessons in music from his father privately.
Karol Szymanowski learned to play the piano and create music at a young age. He moved to Warsaw in 1901, where he studied harmony, counterpoint, and composition on his own until 1904. He studied at the Warsaw State Conservatory from 1901 to 1905, and from 1926 until his retirement in 1930, he served as its director.
He left Warsaw because he found the musical scene there to be too constrained and moved to Berlin, where he founded the Young Polish Composers' Publishing Co. (1905–1922) to publish new works by his countrymen.
He had the opportunity to interact with several notable Polish artists during that time, including Arthur Rubinstein, Grzegorz Fitelberg, Stanisław Ignacy Witkiewicz, and Stefan Żeromski. He traveled all around Europe and North Africa because there weren't many prospects for him to perform music in Congress Poland.
Karol Szymanowski established the Young Polish Composers' Publishing Company (1905–12) in Berlin, with the main objective of disseminating new works by his countrymen.
The opera Hagith (1913), one of his works from this time period, demonstrates the influence of Strauss, Wagner, and Scriabin.
Early works by Karol Szymanowski, such as his Étude Op. 4 No. 3 and his first two symphonies, demonstrate the influence of the late Romantic German school as well as the early works of Alexander Scriabin.
Later pieces like the Third Symphony and his Violin Concerto No. 1 demonstrate his impressionistic and partially atonal style.
His sets of Mazurkas for piano, the ballet Harnasie, and the Fourth Symphony are only a few examples of the music from the Polish Górale people that impacted him during his third period.
The opera Hagith and two song cycles, The Love Songs of Hafiz, which serve as a bridge between his first and second stylistic periods, were written by him while he was living in Vienna (1911–1914).
Due to his bad knee, Karol Szymanowski was unable to serve in the military during World War I. As a result, he returned to his native Poland.
Between 1914 and 1917, while exiled from the European musical community, he wrote several compositions and dedicated himself to studying Islamic culture, ancient Greek drama, and philosophy.
His works from this time, including Mity (1914; "Myths"), Metopy (1915; Métopes), and Maski (1916; "Masques"), are notable for their high levels of creativity and variety of styles.
Karol Szymanowski's music became less dynamically extreme, and the composer began to use coloristic orchestration, polytonal, and atonal material while maintaining the expressive melodic style of his earlier works.
Szymanowski finished writing the two-volume novel Efebos in 1918. His trips, particularly those to the Mediterranean region, gave him fresh artistic and personal experiences.
From 1917 to 1921, Karol Szymanowski produced or first intended several of his musical and literary works, including Król Roger (King Roger). In 1919, he moved to Warsaw.
The most famous opera by Szymanowski, King Roger, was written between 1918 and 1924. Hagith, Symphony No. 2, The Love Songs of Hafiz, and Stabat Mater are some of his other notable compositions.
Despite having little prior administrative experience, Szymanowski accepted the position of Director of the Warsaw Conservatory in 1926. In 1928, he developed a serious illness and temporarily lost his position.
Karol Szymanowski was an honorary member at numerous music academies across the world and briefly held the position of rector at the Warsaw Conservatory.
He moved to Warsaw in 1927 to enhance musical education in Poland and took over the directorship of the Warsaw Conservatory for five years.
He went to Villa Atma in Zakopane, where he laboriously composed. Following the establishment of an independent Polish state in 1918, Szymanowski had a strong interest in Polish folk music and worked to construct a Polish national style—a task not attempted since Chopin.
Karol Szymanowski also lost his atonal vocabulary and adopted a more conservative stance. He developed his new style while residing in Zakopane, the regional capital of the Tatra mountain people, and incorporated their tonal language, syncopated rhythms, and winding melodies.
After receiving a TB diagnosis in 1929, he went to Davos, Switzerland, for medical treatment.
In 1930, Szymanowski returned to his position at the Conservatory, but a ministerial decision caused the institution to dissolve two years later.
Both the stage production of Harnasie and the performance of King Roger under the direction of Josef Munclingr on October 21, 1932, in Prague, accurately reflected Szymanowski's original conception of the work.
A series of performances abroad, primarily with Karol Szymanowski at the piano and Grzegorz Fitelberg conducting, followed a Polish recording of his Symphony No. 4 in 1932.
The symphony was performed in 1933 in London, Bologna, Cleveland, Moscow, Zagreb, and Bucharest. It was also performed in 1934 in Paris, Sofia, and London, and 1935 in Stockholm, Oslo, Bergen, Berlin, Rome, Liège, and Maastricht. The Hague hosted the performance in 1937.
Karol Szymanowski received numerous honors and awards throughout his career, but the National Prize for Music in 1935 stands out.
Szymanowski had additional treatment in 1936 at a sanatorium near Grasse, but it was no longer successful.
Karol Szymanowski stopped using folk music directly in his compositions around the 1930s, although he still used folk music material, and his forms and orchestration are reminiscent of his earlier works.
The Symphony No. 4 (1932), Veni Creator (1930), and Litania Do Marii Panny (1930–33; "Litany to the Virgin Mary") are some of the significant compositions from this last era.
On March 29, 1937, Karol Szymanowski died at a Lausanne sanitarium. His sister Stanisawa carried his body back to Poland, where they were interred at Skałka in Kraków, the "national Pantheon" for the most distinguished Poles.
Published in 1969 was Karol Szymanowski's extensive communication with pianist Jan Smeterlin, a prominent supporter of his piano compositions.
Szymanowski is best known for his four symphonies (including No. 3, Song of the Night, featuring a choir and vocal soloists, and No. 4, Symphonie Concertante, featuring a piano concerto), two violin concertos, and other orchestral compositions.
The operas Hagith and King Roger are among his theater productions, as are the ballets Harnasie and Mandragora. The four Études, Op. 4 (of which No. 3 was once his most well-known composition), numerous mazurkas, and Métopes are only a few of the piano compositions he produced.
His Stabat Mater and the Three Myths for violin and piano, Nocturne and Tarantella, two string quartets, a sonata for violin and piano, as well as other compositions are also included. Some of the orchestral songs he wrote are set to texts by Hafiz and James Joyce.
20 Mazurkas for piano (1924–25) and the ballet-pantomime Harnasie (1923–31) are notable works from this time period.
Karol Szymanowski also undertook a great deal of travel, promoting his works in London, Paris, and the United States. His operas Hagith and Król Roger (1918–24; "King Roger") won him praise on an international acclaim.
International acclaim has been bestowed upon Szymanowski's music. His music was extremely well-liked in the 1920s and 1930s.
Karol Szymanowski's compositions have been performed all over the world by orchestras that featured conductors like Emil Młynarski, Albert Coates, Pierre Monteux, Philippe Gaubert, Leopold Stokowski, and Willem Mengelberg, as well as soloists like Arthur Rubinstein, Harry Neuhaus, Robert Casadesus, Paweł Kochański, Bronisław Huberman, Joseph Szigeti, and Jacques Thibaud.
His Stabat Mater performances in Europe and the United States were global events, developing well in Naples, Paris, Liège, New York, Chicago, and Worcester.
Karol Szymanowski's music has seen a rebirth and has been performed all over the world in the previous two decades. Conductors and musicians including Pierre Boulez, Edward Gardner, Vladimir Jurowski, Mark Elder, and Krystian Zimerman have all recorded it.
Numerous honors were bestowed upon Karol Szymanowski, including the Commander Cross of the Order of Polonia Restituta, the Academic Golden Laurel of the Polish Academy of Literature, Order of Merit of the Republic of Poland, the Officer Cross of the Order of Polonia Restituta, the Officer of the Order of the Crown of Italy, the Knight of the Legion d'Honneur, and an honorary plaque at the Accademia Nazionale di Santa Cecilia.
In addition, he was an honorary member of the Czech Academy of Learning, the Latvian Conservatory of Music in Riga, the St. Cecilia Royal Academy in Rome, the Royal Academy of Music in Belgrade, and the International Society for Contemporary Music. He also held the title of Doctor Honoris Causa at the Jagiellonian University in Kraków.
In honor of Karol Szymanowski's 125th birthday and the 70th anniversary of his death, the Polish Parliament voted on November 16, 2006, to declare 2007 "The Year of Karol Szymanowski."
On October 3, 2007, the National Bank of Poland released special commemorative coins featuring Szymanowski in the amounts of zloty 200, zloty 10, and zloty 2.
Karol Szymanowski is honored by having both the Kraków Philharmonic and the Karol Szymanowski Academy of Music named after him.
Karol Szymanowski and 24 other notable Poles received Poland's highest decoration, the Order of the White Eagle, posthumously from President Andrzej Duda on November 11, 2018, the 100th anniversary of Poland regaining its freedom.
In Jaroslaw Iwaszkiewicz's novel Fame and Glory, Karol Szymanowski served as the model for the character of composer Edgar Szyller.