Dr. Reed Tuckson and Dr. Chris T. Pernell interview Akeem Mair in Real Conversations on Protecting Ourselves Against COVID-19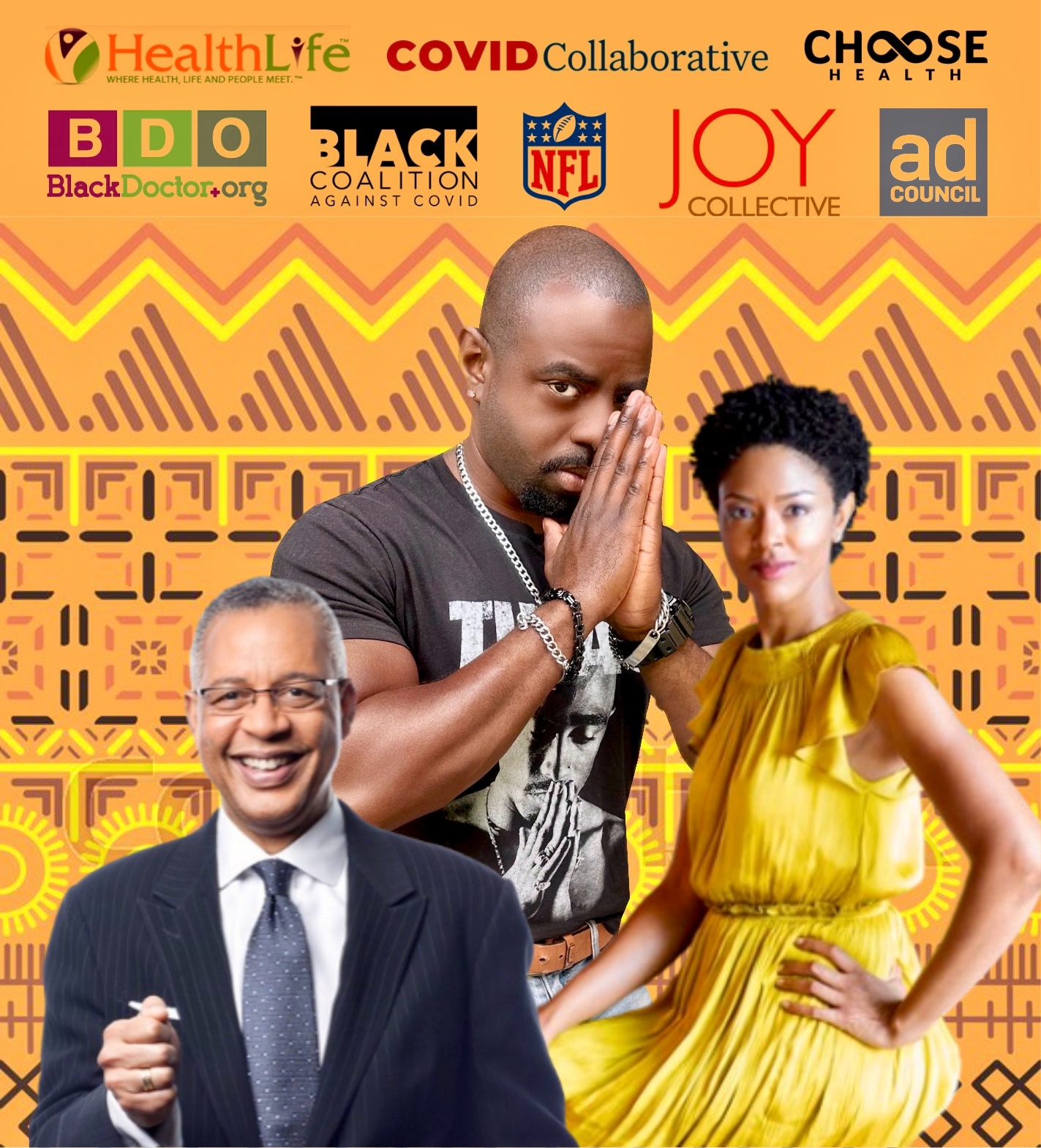 Akeem Mair and Wesley Mair were invited to attend the end-of-year Town Hall meeting, real conversation protecting ourselves as guests of COVID-19 on Tuesday, December 7, 2021. Blackdoctor.org, the black coalition against COVID-19, chose Health Life, the Ad Council, the Covid Collaborative, NFL Alumni Health, and the Joy Collective to host this event. Chris Carter, Will Shields, and Bard Hopkins were NFL alumni.
Recently, Akeem Mair and Wesley Mair featured in the ad council PSA title Do it for Me, which won the gold At The Anthem award. "The Do It For Me" campaign is intended to initiate conservation to raise Awareness of the COVID-19 vaccine and will provide Americans with accurate and timely information to address any inquiry concern regarding the vaccine side effect efficacy and clinical trials. The objective is to change the public perspective from vaccine fear to vaccine confidence.
How Akeem attend the Town Hall Meeting
Sherry Thompson contacted Akeem Mair and Wesley Mair, COVID-19 vaccine campaign Coalition Consultant at JOY Collective. Hi! It was a pleasure to speak with you both over the phone, and thank you again for the accident work you did on our young adult PS says, which we have been distributing at various black community events. I'm ecstatic that you've agreed to participate in our virtual event on 12/7 in partnership with the Black Coalition Against COVID-19 (BCAC) and BlackDoctor.org. As previously indicated, I am involved with our incredible agency, Joy Collective, which has been assisting me in leading all of our outreach efforts in the black community. Patty Baltazar, Joy Collective's Executive Director of Purpose-Driven Marketing, received our Headshots and Titles to be displayed on the event's flyers.
Drs. Chris T. Pernell and Reed Tuckson were the event's hosts. Reed Tuckson, Co-Founder of the Black Coalition Against Covid, describes how the Ad Council's "Do It For Me" public service announcement profoundly affected him when he first saw it on television. Since then, he has disseminated the commercial through numerous meetings and platforms in an effort to enlighten and educate the minds of many African Americans about the COVID-19 vaccination and virus. Despite having the highest COVID-19 mortality rates in the United States, African Americans are among the least lucky to receive the vaccine.

Reed Tuckson, MD, Founding Member of the Black Coalition Against COVID, stated, "As Black health academicians, researchers, and clinicians, we understand our empathy-based responsibility to provide our community with resources and guidance on surviving this pandemic.
Chris T. Pernell, MD, MPH, FACPM, is the Chief Strategist Integration and Health Equity Officer at Newark, New Jersey's University Hospital. "While Dr. Pernell was researching, writing, and speaking about the virus's devastating effect on people of color — she has appeared on CNN, BBC, CBS, MSNBC, and "The Dr. Oz Show" — her cherished father was fighting for his life a few miles away in another hospital. Timothy Pernell, a Black man who rose from groundskeeper to research physicist at Bell Labs, died of COVID-19 complications on April 13." NorthJersey.com's Julia Martin explains.
Dr. Reed Tuckson and Dr. Chris T. Pernell wanted to know why Akeem was so emotional about his sibling Wesley receiving the vaccination at the event. Akeem explained to Dr. Reed Tuckson and Dr. Chris T. Pernell that his sibling was rejecting the vaccine because it was not FDA-approved and people were becoming ill from using the vaccines. The response from a key was that he sounded the news to someone with government 19 who had previously been in the vaccine and was now pleading for it, but the doctor said the vaccine is only preventive and there is nothing they can do once you have it. With this knowledge, Akeem tested that his brother is to see the vaccination before contracting COVID-19. The same inspiration and encouragement Akeem gave to his brother Wasley to get the vaccine is the aim of the town hall meeting for the African-American community. Through education and awareness, we can vaccinate everyone in our community.
Socials
Instagram @akeemmair
Facebook @Akeem.Mair.Actor
Pinterest @akeemmair
https://youtube.com/c/AkeemMair
https://www.linkedin.com/in/akeemmair
https://mobile.twitter.com/akeemmair/
https://resumes.actorsaccess.com/Akeemmair
https://www.backstage.com/u/Akeemmair/
https://talent.castingfrontier.com/akeem-mair
https://www.castittalent.com/AKEEMMAIR
https://app.castingnetworks.com/talent/public-profile/383dc2ca-ceeb-11eb-b081-335789d7d844
https://www.tumblr.com/akeemmair
https://www.quora.com/profile/Akeem-Mair-1