Altina Schinasi: Google Doodle Celebrates the116th Birthday of Designer of Harlequin "Cat-Eye" Glasses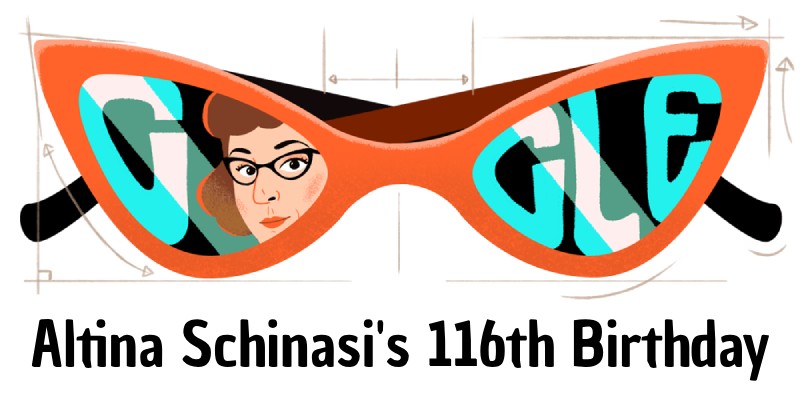 Altina "Tina" Schinasi was an American artist, designer, and inventor best known for designing the Harlequin eyeglass frame, also known as the wildly popular "cat-eye" eyeglass frame, which is the theme of today's Google Doodle on Altina Schinasi's 116th Birthday. In addition to patenting numerous additional innovations throughout her career, Altina Schinasi also made documentaries.
On August 4, 1907, Altina Schinasi was born to immigrant parents in Manhattan, New York. Her father was a Sephardic Jewish Turk, and her mother was a native of Salonica, which was then part of the Ottoman Empire. Schinasi studied painting in Paris after finishing high school, which inspired her love of the arts.
She returned to the US, enrolled in The Art Students League in New York, and started working as a window dresser for several Fifth Avenue stores. She was able to work and gain knowledge from famous painters during this time, including George Grosz and Salvador Dali.
The now-famous "cat-eye" frames that Altina Schinasi is known for were developed as a result of her job as a window display designer. She noted that the only option for women's glasses tended to be round frames with mundane designs at the window display of a nearby optician's office.
The shape of the Harlequin masks Altina Schinasi witnessed people wearing in Venice, Italy during the Carnevale festival was imitated in her design of a new choice for women as a result of her observation. She began by cutting paper demos of her innovative frame design because she thought the sharp edges to be face-flattering.
Altina Schinasi presented her invention to all of the big producers, all of whom rejected her because they thought her design was too edgy. But she remained steadfast. She got lucky when a local shop owner asked for an exclusive design for six months since he believed in her concept.
To their joy, the Harlequin glasses soon gained popularity and brought Altina Schinasi a lot of attention. Harlequin glasses rose to prominence among American women's fashion in the late 1930s and early 1940s. For her invention, Schinasi won the Lord & Taylor American Design Award in 1939. Important publications like Vogue and Life also gave their approval.
Altina Schinasi, a well-known and prosperous artist, also dabbled in the film industry. She created the 1960 documentary George Grosz' Interregnum on the renowned artist and her former instructor. It received an Academy Award nomination and took home the top prize at the Venice Film Festival.
Altina Schinasi did not slow down as she aged. She created original portrait chairs and benches that she dubbed Chairacters, authored and published her memoir The Road I Have Traveled (1995), and volunteered as an art therapist.
Nearly a century after its creation, Altina Schinasi's cat-eye design is still having an impact on global trends in fashion accessories.