Google Doodle Celebrates the 109th Birthday of Belgian Cyclist Willy De Bruyn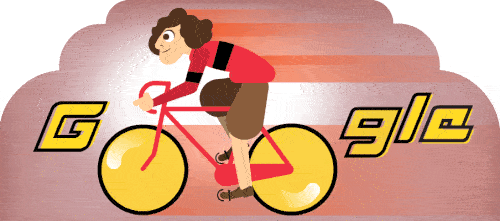 Today's Google animated Doodle honors Belgian cyclist Willy De Bruyn on his 109th birthday on August 4, 2023. He was born intersex on this day in 1914 in Erembodegem, Belgium, with a physique that didn't conform to the binary categories of male and female.
Willy De Bruyn's parents had to register him as a boy or a girl because gender conventions were considerably stringent at this time. Despite being given the name Elvira and being assigned the gender female at birth, he began to have doubts about his assigned gender when he was a teenager.
After finishing school, Willy De Bruyn spent some time working in the diner where he had grown up with his parents. He took up cycling during that period and, at the age of 15, won his first competition.
Willy De Bruyn was therefore regarded as a woman both socially and legally, and as a result, in 1934 and 1936, she won the title of female world champion cyclist. But after a few years, he stopped fighting against women because he found the competition environment uncomfortable, despite his success.
Willy De Bruyn relocated to Brussels and took positions that were only available to men, including dishwasher, sawmill, and baker, but was sacked when it was revealed that his ID stated "female." He had spent years thinking about and researching his gender identity and intersex characteristics at this time.
Willy De Bruyn made the decision to officially become a man and presented the Oudenaarde court with a doctor's certificate proving it. The court first rejected the request, but a year later, after considerable pleading from attorneys and further doctor's notes, De Bruyn was granted his identity card and was officially recognized as Willy.
Willy De Bruyn started competing against guys since he was still enjoying cycling. He married fellow cyclist Clementine Juchters in 1938, and the two of them founded and operated Café Denderleeuw, a sports bar, in Brussels for many years before relocating to Antwerp.
Willy De Bruyn is famous today for his athleticism, his tenacity in his quest to obtain legal manhood, and his struggle for intersex acceptance. The first street in Brussels to be named after an intersex person was dedicated to the cycling champion in 2019.