Amácio Mazzaropi: Google Doodle celebrates Brazilian actor's 109th birthday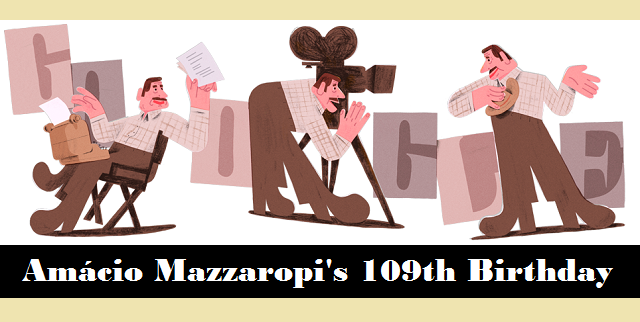 Google Doodle celebrates the 109th birthday of a Brazilian actor and filmmaker Amácio Mazzaropi, known for his character "Jeca Tatu" and one of the greatest comics of Brazilian cinema, on April 9, 2021.
Who was Amácio Mazzaropi?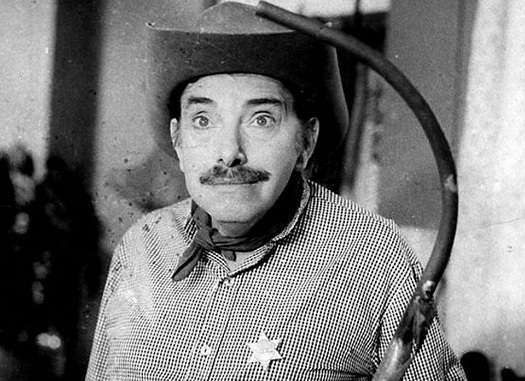 Amácio Mazzaropi was born on April 9, 1912, in São Paulo, Brazil. He was a Brazilian actor, screenwriter, producer, and director. A comic actor from a circus background, he became famous in Brazil with his character Jeca Tatu, a depiction of the rural caipira. Mazzaropi appeared in film in 1952, with Sai da Frente. In 1958 he set up his own film studio, PAM Filmes, producing and distributing his own movies.
Considered the best comic in Brazilian cinema, Amácio Mazzaropi is the only artist who became a millionaire making films in the country. His productions have been a public phenomenon for over three decades.
At only two years old, his family moved to Taubaté in the interior of São Paulo, where his maternal grandparents were. Mazzaropi spent time as a child visiting his grandfather's country home, which impacted the on-screen persona he later created.
In 1919, his family got back to the capital and Mazzaropi entered the primary school at Colégio Amadeu Amaral, in the neighborhood of Belém. A decent student, he was perceived for his ease in decorating poetry and announcing it, becoming the center of consideration at school parties.
In 1922, the paternal grandfather dies and the family moves again to Taubaté. Amácio Mazzaropi keeps on interpreting types in school activities and starts to go to the circus world.
At fourteen years old, in 1926, Amácio Mazzaropi got back to the city of São Paulo still with the dream of partaking in circus shows. At last he joins the Circo La Paz caravan .
Without being able to stand alone, in 1929 Amácio Mazzaropi got back to Taubaté with his parents, where he began to work as a weaver, yet he couldn't avoid the stage and worked in a school in the neighborhood.
With the Constitutionalist Revolution of 1932, extraordinary cultural unrest follows, and Amácio Mazzaropi debuts in his first play called The Heritage of Father João. In 1935, he managed to persuade his parents to go on tour with his organization and to act like actors. Until 1945, Troupe Mazzoropi travels through numerous municipalities in the interior of São Paulo, yet there is no cash to improve the organization's structure.
Days after the demise of his dad, Amácio Mazzaropi made his debut at Teatro Oberdan close by Nino Nello, being an actor and director of the play Son of a shoemaker, a shoemaker ought to be invited with enthusiasm by the public.
Invited by Abílio Pereira de Almeida and Franco Zampari, Amácio Mazzaropi debuts his first film, named "Sai da Frente" ("Get Out of the Way," 1952), shot by Companhia Cinematográfica Vera Cruz , where he would produce two additional movies. With the financial difficulties of Vera Cruz, Mazzaropi makes, until 1958, five additional movies by a few production organizations.
That same year, Amácio Mazzaropi sold his home and made PAM Filmes (Produções Amácio Mazzaropi) and began not only producing, yet distributing the movies all through Brazil. The first work of the new production organization is Chofer de Praça.
In 1960, Amácio Mazzaropi starts to create one of his latest movies. famous, Jeca Tatu, which opens in theaters the next year. There he thought of the plan to proceed as a hillbilly, embodied in Marazzaropi's future performance as Monteiro Lobato's character Jeca Tatu.
In 1961, Mazzaropi gains a farm where he starts the construction of his first recording studio, which would create his first color film, Tristeza do Jeca, which was likewise the main film broadcasted on TV by Excelsior, winning the award for a best-supporting actor, for Genésio Arruda, and best song.
After five years, Amácio Mazzaropi released the film O Corintiano, a box office record for national cinema. In 1972, he was gotten by the then President of the Republic, General Emílio Garrastazu Médici, to whom he asked for more help for Brazilian cinema. In 1973, he produced Portugal, meu Saudade, with scenes recorded in Brazil and Portugal.
Amácio Mazzaropi's 33rd film, Maria Tomba Homem, could never be completed. After 26 days in the hospital, Mazzaropi died on June 13, 1981, a victim of bone marrow cancer at 69 years old at the Albert Einstein hospital in São Paulo.
In three decades, Mazzaropi partook in 32 film productions, the first as an actor, yet since 1958, likewise as a producer.
From Chofer de Praça in 1958, as well as being the protagonist, Amácio Mazzaropi additionally aggregates the functions of producer and screenwriter, working together often with the directors. A collection of 22 of his movies, in seven volumes, has recently been released on DVD. Some had the name Jeca in the title, even though he played this character just in the film Jeca Tatu.
Mazzaropi recorded four compacts in his career. In 1968 and 1995, records were released with compilations of his greatest hits in cinema.
Opened in 1992, the Mazzaropi Museum is situated on similar property as the old studios, gathering the career history of one of the most famous names in Brazilian cinema, theater, and TV.
At the Carnival of 2013, the São Paulo School of Samba Academicians of Tucuruvi paid tribute to Mazzaropi for the centennial of his birth, which occurred in 2012, introducing the plot Mazzaropi: the adorable hillbilly. 100 years of joy.
Strangely, while Amácio Mazzaropi became one of Brazil's most acclaimed comedic actors, he was likewise a significant provider of milk to Leites Paulista. Today, Fazenda Santa is Hotel Fazenda Mazzaropi, home to the Mazzaropi Museum, which has a collection of more than 20,000 items.
On April 9th, 2021, Google observes Amácio Mazzaropi's 109th Birthday with a Google Doodle. Today's Google Doodle artwork is delineated by Brazilian visitor artist Arthur Vergani.