Best Aesthetics practitioner in London award winner by British Aesthetics award 2020 / Santana Ramsey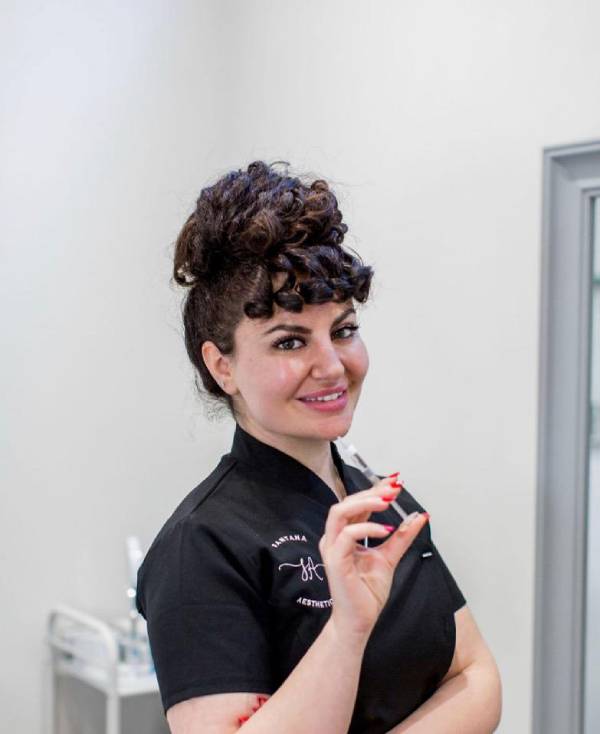 Founder of Santana Aesthetics, she is a highly successful entrepreneur in her field and has even won 'Best Aesthetics practitioner in London' award given to her by British Aesthetics awards 2020.
A bit of background information about Santana Ramsey and why she is successful has a lot to do with her past. Born in Assyria in 1990 she came to Britain when she was approximately 1 years old. She has lived most of her life in West London achieving great heights in her educational and professional career.
In High-school/College she achieved an 'A star' for Art, which is an amazing achievement at a young age, she then went onto university to complete a degree in Art and Design at 'The University of East London' in 2009.
She is extremely good with Art and design, however at the age of 21 Santana found herself wanting something else.
She managed to find herself a job in administration and was soon promoted to 'Admin manager' which for many people this is a great achievement, however Santana found herself wanting more and a change in career, she landed a job in the Care industry, and being promoted within a two-month time frame to senior care staff meant she was good at her job.
She has been able to rise up the ranks in the care industry which focused on young adults with mental health, autism and learning disabilities, after some time she was managing three care homes. She discovered that she really enjoys working with others and seeing the difference she can make in people's lives.
In 2019 she realized she has a passion for beauty and because she is the go getter type of person, she decided to take action; she has combined her abilities of her Artistic side and her desire to help others in a career in Aesthetics.
Now that she works as an Aesthetics practitioner, her clients are at the centre of her heart always and she will always ensure that they are properly taken care off.
In her current position she has learnt that no two people will have the same needs, being that either physical or emotional, and because of this she has even had to turn clients away if she has felt it is not in their best interest to proceed.
As people can have a misconception of the industry coining terms such as 'duck lips or 'plastic' Santana wishes to change the way people perceive her work by focusing on her clients and ensuring that procedures are only done for the purpose of preserving youthfulness, enhancing beauty and making sure her clients do not take it to the extreme.
The main purpose of her role as an Aesthetics practitioner is to boost her client's confidence, she is able to do this by focusing on every client individually and ensuring she listens to each client's needs attentively. Her ability to interact in a kind and caring way helps clients feel at ease and in safe hands, especially as her confidence radiates that she definitely loves her job.
Santana's key to professional success stems from her belief system that you should always be yourself, and being able to connect with clients is crucial, keeping to the promises you make and providing a high level of standard for service.
Santana really enjoys seeing her clients faces light up once they see the mirror after any procedure as this is a huge indicator of a job well done.
If you could take any advice from Santana, it would be this, follow your dreams, always make a goal and then achieve that goal before you progress onto another goal. This will ensure greatness and put you on the path to success.
Social media..
https://instagram.com/santanaaesthetics?utm_medium=copy_link
https://www.facebook.com/santanaaesthetics