BlizzCon 2023: What's New? Cataclysm Returns to World of Warcraft Classic, Diablo 4 DLC and More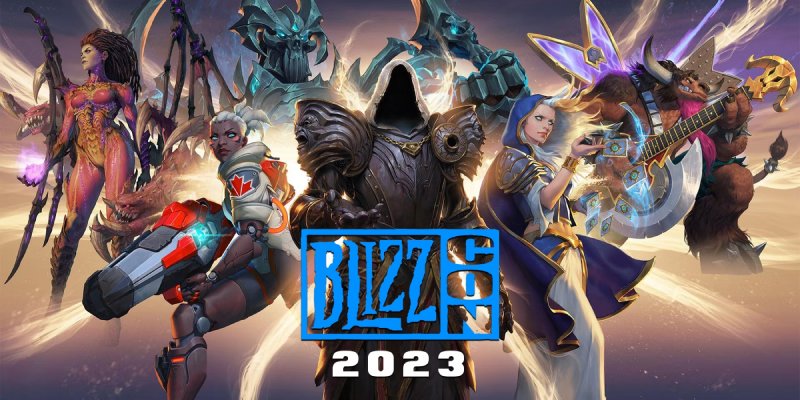 It's the first time since 2019 that BlizzCon has taken on its customs. Although there was an online ceremony for Blizzard's convention in 2021, since the COVID-19 pandemic started in 2020, there hasn't been an in-person event. With today's 2023 edition, that all changed as fans flocked back to the Anaheim Convention Center to get the latest information on the studio's games.
With an Opening Ceremony, players received updates on games like World of Warcraft, Overwatch 2, and more. For Blizzard, it was a particularly significant occasion because it happened so soon after Microsoft finished acquiring the company this fall. Because of that move, this year's BlizzCon stage was the center of attention. The company did not take that lightly and brought in the big guns. We saw the new DLC for Diablo 4, got a sneak peek at an ambitious new DLC plan for World of Warcraft, and even got a cameo from Xbox chief Phil Spencer. Although the show was lengthy and full of details, we have them all for you right here.
A massive new story is added to World of Warcraft
A significant story update is coming to World of Warcraft. Chris Metzen, a veteran of Blizzard, unveiled the Worldsoul Saga, an ambitious content plan. It will happen over three expansions, according to Metzen. During the opening ceremony, Blizzard teased not one, but all three of those expansions.
Players will explore a subterranean kingdom in the first expansion, The War Within. Midnight, which transports players back to Quel'Thalas, will come next. Lastly, The Last Titan takes place in Northrend.
With several trailers for The War Within, we were able to see a preview of all those plans. One was a live-action teaser that merely hinted at an intense tale centered around a massive, world-piercing sword. The second video showcased new features and was much more informative. New zones like Hallowfall and the Ringing Deeps are added in the expansion. A short list of additional features was also provided to us. Hero Talents increase customizability, Warbands let players connect their characters, and Delves is a new end-game activity. Fall 2024 is when the expansion is scheduled to launch.
In World of Warcraft Classic, Cataclysm is back
Regarding the classic version, Cataclysm Classic will bring significant updates to World of Warcraft. In case you forgot, the highly appreciated World of Warcraft expansion Cataclysm was launched back in 2010. In the first half of 2024, the update is scheduled to go live. Season of Discovery, which initially has a level 25 level cap, is also coming to the MMO's Classic version. That cap will be progressively raised by Blizzard, who will also gradually add more rewards. The release date is November 30.
Plans for Overwatch 2 in 2024, with a sneak peek at new heroes
Aaron Keller, the director of the Overwatch 2 game, and other team members took the stage early to provide several updates on the follow-up. The shooter's next hero, Mauga, a Samoan Tank class character holding a chain gun in each hand, was first revealed. He can charge unstoppably with Overrun, and for a short while, his team can use Cage Fight to gain unlimited ammunition. For keen-eyed fans, the character has been long-awaited since his debut in a short story four years prior. Players can test him out for free right now, and he'll be added to the roster in season 8.
Keller also made fun of two recent heroes. Season 10 will welcome a hero by the name of Venture, and Season 12 will welcome a second character by the codename of Space Ranger. The rest of BlizzCon will provide more information on both.
Keller continued by outlining the group's newly developed "clarity of vision," which serves as the roadmap for 2024. Another point-capture game mode called Clash is being developed by the team. Along with it comes a new map called Hanaoka, which is an updated version of Hanamura. The way that lore, seasons, and rewards function in the game will also be changed.
We got a glimpse at Diablo 4: Vessel of Hatred
Blizzard provided a recap of the current Season of Blood for its Diablo 4 block. This includes a boost to experience that enables players to reach level 100 considerably more quickly. The season will debut five class-specific rings from the previous season of the game starting next week. To facilitate builds, an entrancing preview of the game will be released on December 5. Abbatoir of Zir, a six-week event, will also take place on that date. On December 12, a holiday event known as Midwinter Blight will take place (and it might just feature a killer Santa Claus).
Additionally, Blizzard hinted at a few new features for season 3, such as a leaderboard-adding Gauntlet mode. A brief trailer for the forthcoming story expansion Vessel of Hatred was also shown to us. It is scheduled to launch in late 2024 and will feature both a new region and one from Diablo 2. A brand-new class that has never been in a Diablo game before will also be included, though Blizzard hasn't revealed what it is. Next summer, more details about the expansion will be released.
Hearthstone now has cooperative Battlegrounds and 50-card packs
An overview of Showdown in the Badlands, the upcoming expansion for the card game, was provided by the Hearthstone team. Its Wild West theme was showcased in a new trailer, which also hinted at some new cards. Reno Lone Ranger, the first neutral hero card in the game, will be added. The expansion launches on November 14.
Additionally, Blizzard revealed Catch-up Packs, which come with as many as 50 cards from the previous two years. Every player will receive some packs, and some will also be included in the Badlands bundles for Showdown. For individuals who wish to purchase them outside of that, it's unclear how much those costs.
Additionally, Battlegrounds will get a co-op mode dubbed Battlegrounds Duos. During battles, it will allow teammates to trade cards with each other and share a health pool. There will be more details revealed throughout the convention. The mode is scheduled to launch in early 2024.
Warcraft Rumble is out now (but you knew that)
Mobile game available for free Just before BlizzCon started, Warcraft Rumble started to roll out, so it only made sense that it would receive some attention during the event. We mainly received a rundown of how it works, including information on raids, PvP, and dungeons. The segment was a surprise shadow drop from Blizzard, even though the game had been out for almost a day.
Phil Spencer outlines Blizzard's mission statement
Even though it wasn't quite an announcement, Phil Spencer, the CEO of Xbox, made a significant statement as BlizzCon got underway. While Spencer did not reveal any new information (such as the addition of Blizzard titles to Game Pass), he did provide a mission statement for Xbox's partnership with the company. He acknowledged the long-defunct Starcraft series, dropped hints about Blizzard titles arriving on Xbox, and said the company will collaborate closely with Blizzard to shape its future. Without confirming anything new, it was a significant PR moment for the two companies that laid the groundwork for the future.