Chains can never bound you, if you have got wings you can fly, has been proven by a Kashmiri girl- SAMINA MUSHTAQ KHAN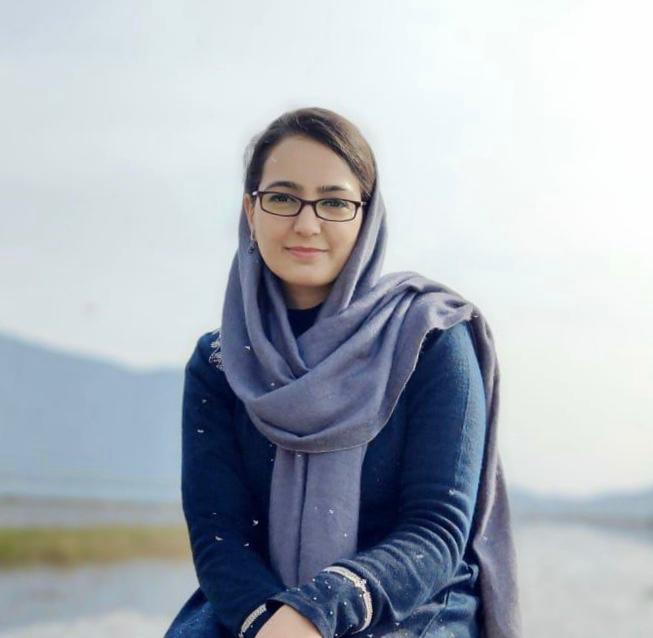 Samina Mushtaq Khan hails from the downtown area of Srinagar, prominently known as Shehr-e-khaas Srinagar, Jammu & Kashmir and is currently working in a bank. She has been brought up in a middle class family. Although coming from a conservative society she has never given up on her dreams. Samina is a library Science Graduate and have been fond of book since form childhood, but never got much time to read. Library, for Samina is a place of solace and she would recommend every confusing soul to visit there once, as it has been quoted, 'if in chaos visit the library, you will definitely come up with the answer/solution to your problems.
Currently, Samina is working in a banking sector and as per her proclamations it sometimes becomes hard to meet both ends.
Coming from the place, known as paradise on the universe: 'The Kashmir'. This place has beauty spreading all over, and it mesmerizes the eyes that see it. So, for her, this place has something, a spark, she believes, which keeps on pushing to write more and more. The dusk and dawns, as per her, are so soothing to the eyes that nobody can resist himself to pen down about his emotions. Samina considers her an open book which she believe can be read by anyone but to understand her one needs to get dived in those words of hers, which for her are like twining galaxies.
Her debut book 'Obsessed with the dawns' published under the banner of Lieper publications Pvt Ltd. has brought her laurels and has been acclaimed on various platforms throughout India. She has started her writing journey post 2014 after she has survived a trauma, as per her statements.
Besides being a writer, Samina has a deep interest in reading as well. She considers books as her mentors and keeps on reiterating people to read more and more. As per her beliefs, reading adds spice to the life and boost up the learning process, besides enhancing your skills.
As of now, she has opted for self-publishing venture, took part in various anthologies and recently worked on a co-authorship project under the name 'In search of skies.'
She has been an active participant in poetry competitions an open mic events. She has also judged various online poetry competitions and offline as well. She has been frequently invited on various open mic events as guest speaker.
Samina Khan, an uprising author from the valley has already CLA (Coimbatore Literary awards, organised by Markfly publishers) and AAGHAAZ 2K20 organised by AuthorInYou, winner trophies in her credit. Samina said that hard work, consistency and dedication always pay off. She has also won nominations for other prominent awards for her debut book entitled 'Obsessed with the dawns'. Samina Mushtaq Khan, resident of Shehr-e-khan has bagged Special mention in Cherry Book Awards Fest. The online award fest which was organised by Cherry Book awards in association with teams of Inspirant and Digital Golgappa.
Samina Khan considers her words a relatable tale of everyone's life. Her words have the power of creating a magic around. She has the power to enlighten the broken pieces of heart. She knows the magic to connect to her readers.
Samina Khan finds writing a soul soother. She holds a belief that words can connect more easily to the world around than any other source of medium.
Samina khan likes to write about pain which for her is a colloquial affair.
While thrusting on her future plans, she opines of publishing a collection of short stories for which she is working hard.
Contact:
Instagram: @khan_samina_mushtaq_
Facebook: saminamushtaqkhan
Twitter: @_Samina_Khan
WordPress: https://authoursaminakhan.wordpress.com/
Email: [email protected]