COVID19-protected kidney stone treatment with Thermobalancing therapy

Thermobalancing treatment through Dr. Allen's Device enables users to dissolve kidney stones without complications, from the comfort and safety of the home. Using this unique patented kidney treatment removes the need to engage with healthcare professionals or visit hospitals for treatment, importantly protecting yourself and others from contracting coronavirus (COVID-19).
Dr. Allen's Device is extremely easy to use. Men and women only need to wear a soft belt with 2 thermoelements around the body. The belt applies these natural thermoelements to the projection of their kidneys on the back, allowing them to receive the Thermobalancing therapy. They improve blood circulation in kidneys to dissolve kidney stones, or renal calculi, gradually and naturally, without any side effects.
Kidney stone disease is an extremely painful condition which is common in people across the world, as around 12% of men and 6% of women are at risk of stone formation. Its prevalence is also increasing across both developed and developing nations. Likewise, the price of standard treatment for kidney stones is also increasing. Therapies such as extracorporeal shock wave lithotripsy (ESWL) and percutaneous nephrolithotomy (PCNL) can cost thousands of US Dollars.
ESWL and PCNL side effects and complications
ESWL and PCNL are currently the standard surgeries to remove a kidney stone. These removal procedures, however, can cause serious adverse events. Common complications immediately after these surgical procedures are bleeding and infection, which in some cases can be extremely dangerous.
After PCNL, for example, 3% of patients develop sepsis, a life-threatening condition which, without prompt treatment, can lead to multiple organ failure and even death. Years after having ESWL and PCNL, patients can see complications such as high blood pressure, diabetes mellitus and chronic renal failure or chronic kidney disease.
Moreover, after ESWL and PCNL, about 50% of patients develop new renal calculi within the next 5 years, and face the same risks and problems all over again.
To receive these treatments, people must contact doctors by visiting surgeries, clinics and hospitals. As coronavirus (COVID-19) spreads from person to person, visiting the doctors is proving an undesirable hazard, which also places medical staff at risk.
The use of Dr Allen's Device at home, therefore, removes the unnecessary risk of contracting the virus for users and medical professionals alike.
Use Dr Allen's Device for kidney stone disease and staying away from COVID-19
Fine Treatment https://finetreatment.com/ is a London and Oxford-based British healthcare company, a manufacturer and distributor of wearable therapeutic Dr. Allen's Devices. The free worldwide delivery of Dr. Allen's Device is guaranteed by the Royal Mail tracking service.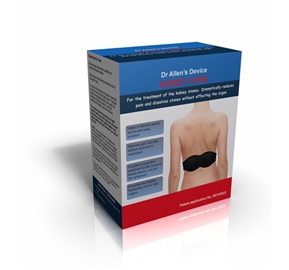 10-year long medical observations and a clinical study on Thermobalancing therapy in people with kidney stone disease have demonstrated that Dr Allen's Device dissolves renal calculi effectively. Scientific articles about Thermobalancing therapy published in peer-reviewed medical journals can be found on the Fine Treatment website: https://finetreatment.com/thermobalancing-therapy-medical-scientific-data/
Dr. Allen's Device is an MHRA-approved Class 1 medical device. Everyone can use it at home without worry, as this treatment is effective and harmless. In addition, Dr. Allen's Device is only a one-time purchase. And, certainly, the benefit of avoiding hospital visits and minimizing the risks of getting a coronavirus (COVID-19) is a significant advantage of this treatment with Dr Allen's Device.