C&S Wholesale Grocers Plans to Buy 400 Grocery Stores and Merge with Kroger and Albertsons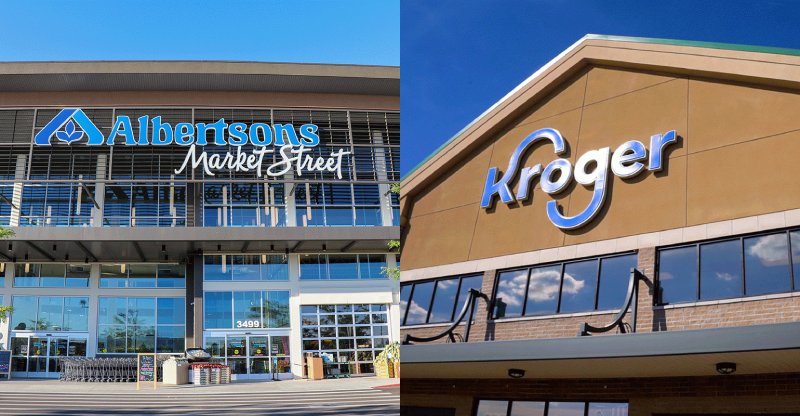 More than 400 grocery stores will be sold to C&S Wholesale Grocers for over $2 billion as part of a transaction that Kroger Co (KR.N) and Albertsons Cos Inc (ACI.N) hope would earn U.S. regulatory approval for their proposed $24.5 billion merger.
With support from SoftBank Group Corp., C&S Wholesale Grocers is negotiating to purchase grocery stores that Kroger Co. and Albertsons Cos. are selling to obtain regulatory permission for their $25 billion merger.
The transaction would significantly increase the footprint of privately held C&S, which is primarily a supplier rather than an operator of grocery stores. Currently, under the Grand Union and Piggly Wiggly brands, it runs roughly twenty locations.
According to one of the sources, Japanese investment firm SoftBank Group Corp (9984.T) is in discussions with C&S about contributing to the financing of a minor amount of the transaction.
According to the people, who asked to remain anonymous because the situation is private, C&S, which has teamed with SoftBank for the sale, might announce a deal as soon as this week to acquire the majority or all of the stores they are unloading for antitrust reasons. If they couldn't find purchasers for them, the companies declared in October that they would spin off 100 to 375 stores.
How many stores C&S is acquiring and how much it is paying for them are both unknown.
Rick Cohen, the executive chairman of C&S and the CEO of Symbotic Inc., is involved in the supply chain industry through SoftBank, a major Japanese tech investor.
The fact that SoftBank has a joint venture with the warehouse automation company Symbotic Inc (SYM.O), whose CEO Rick Cohen is, despite the company's preference for technology-related agreements, means that it is connected to Cohen, executive chairman of C&S.
According to the sources, the stores that Kroger and Albertsons plan to close are mostly in the Mountain and Pacific Northwest states, with a few also in California, Texas, Illinois, and the East Coast.
They said that it was still uncertain whether the agreement would alleviate regulators' concerns that a merged Kroger and Albertsons would have too much power over grocery prices. An agreement may be struck as early as this week, they said.
Previously, Kroger and Albertsons announced they might sell between 100 and 375 of their shops by transferring them to a new company that would be owned by Albertsons stockholders. Kroger stated the 650-store maximum for divestitures in a regulatory filing.
In a market where the supply of food is quite competitive, C&S has been attempting to establish its own store presence. When Ahold Delhaize (AD.AS) chose to switch to self-distribution in 2019, it lost one of its biggest clients.
The Kroger-Albertsons merger, which the companies hope to complete in the first quarter of 2024, would create a retail behemoth with over 5,000 outlets, big enough to compete with the nation's largest supermarket retailer, Walmart Inc.
The transaction would harm wages and competition, according to several state treasurers and secretaries of state, who have requested the Federal Trade Commission to stop it. Senators and Congressmen have also condemned the agreement.
According to its website, C&S, a New Hampshire company with headquarters in Keene, provides more than 100,000 distinct products to more than 7,500 supermarkets, chain stores, military bases, and other locations where foods are sold. Additionally, it runs stores under the Piggly Wiggly and Grand Union brands.
When East Coast supermarket behemoth Ahold Delhaize USA, owner of the Stop & Shop, Giant Food, Giant/Martin's, Food Lion, and Hannaford chains, began a three-year supply chain transformation plan to switch to self-distribution in late 2019, C&S lost one of its largest wholesale customers. This includes signing new leases for a warehouse in Manchester, Connecticut, and a C&S site in Bethlehem, Pennsylvania, as well as purchasing three warehouses from C&S.