'Under 3 second' club's newest electronic hypercar is the Lotus Emeya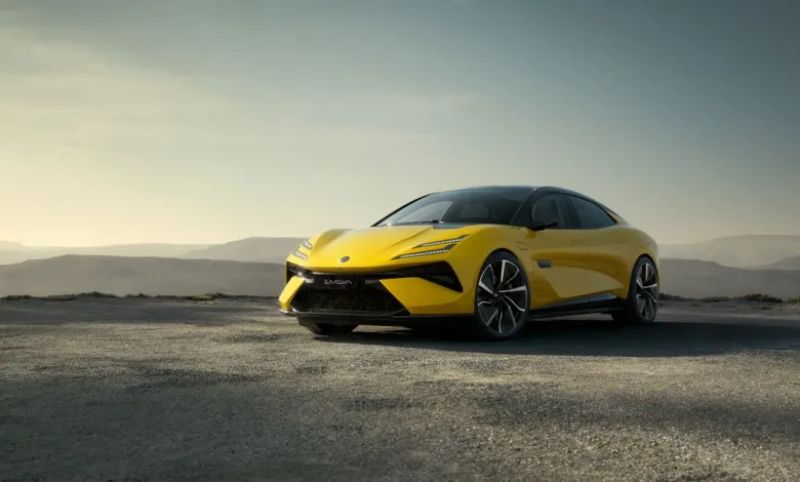 A four-door sedan with nearly 1,000 horsepower and a burning ambition to achieve 60 mph in under three seconds, Lotus unveiled the 2024 Emeya electric hypercar.
Lotus claims that the Grand Tourer "is one of the fastest GTs in the world," but before we accept that hyperbole, we'll need to see some objective testing. With a top speed of 155 mph and a zero to 60 mph duration of 2.8 seconds, the Emeya nevertheless feels quick. The Emeya is anticipated to compete with other high-end sports vehicles when it enters production in early 2024, including the Audi E-tron GT and Porsche Taycan.
Many of the most important specifications, such battery capacity and range, were kept quiet by Lotus. The Emeya is anticipated to be "broadly similar" to Lotus' first electric vehicle, the Eletre SUV, which had a range of about 310 miles, according to the manufacturer. The fourth quarter of this year is when more details are anticipated to be made public.
Given its dual-motor configuration, it probably includes a battery pack with a usable power capacity of more than 100kWh. Furthermore, according to Lotus, it can accept up to 350kW of DC rapid charging, which should increase range by 93 miles in just five minutes.
It is anticipated that the engine will generate up to 905 horsepower and 985 Nm of torque. Additionally, the aerodynamic layout is intended to increase range and enhance efficiency and handling. The long history of the company in motorsports served as inspiration for an active rear diffuser that will aid the airflow under the automobile.
Speaking of airflow, Lotus claims that a 296mm-wide genuine spoiler, which is almost 100mm larger than the Eletre's, provides a net downforce of more than 215kg. This results in highly stable handling at higher speeds when combined with the active rear diffuser, and Lotus plainly invites its customers to take advantage of this.
The Chinese company Geely's Lotus is currently reimagining itself for the electric age. The Emeya is the second of three brand-new electric vehicles that Lotus aims to release over the course of the next four years, along with a sports car (obviously), a coupe-sedan, and an additional SUV. The Eletre crossover SUV, with a battery capacity of over 100kWh and 600 horsepower, was officially unveiled last year.
The switch to electric is intended to boost Lotus' s struggling sales figures. According to Motor1, the company only sold 576 vehicles in 2022, a 62 percent decrease from the previous year. Additionally, the business reported an annual loss of £145.1 million ($180.9 million) and may be looking to lay off over 200 employees.