Doodle for Google 2019 – India Winner: Google honored Children's Day with a doodle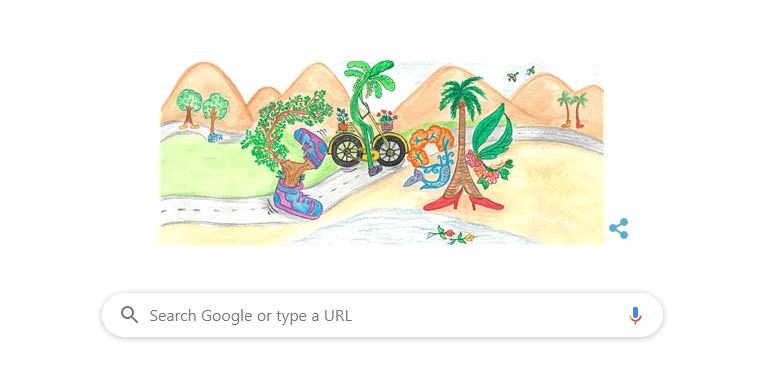 Google is preparing to celebrate Children's Day 2019 by announcing the National winner of 'Doodle for Google' on Thursday, November 14th. Google honored Chacha Nehru's birthday with a doodle made by seven-year-old, Divyanshi Singhal, from Gurgaon – who is the winner of the 2019 Doodle for Google competition in India.
Every year Google organizes a doodle contest for school children in India and the doodle submitted by the National winner of the contest is included on the Google homepage on Children's Day.
The 2019 version of the annual Doodle for Google contest, which was open for entries until September 30, was held in four different groups and four entries from each group brought 20 national finalists. Of these finalists, a total score dependent on public voting, scores by visitor judges, and a board of Google officials will pick the National Winner, the organization said while explaining the current year's 'Doodle for Google' contest. The winning section will be highlighted as Google doodle on this current Children's Day.
The youthful winner's doodle made it to the Google India homepage on Children's Day.
Since 2009, Google is hosting its Doodle for Google for school children in India every year to invite them to make their very own doodle for Google India homepage. The contest as a part of the current year's theme 'When I grow up, I hope …' urging youthful netizens to exhibit their creative mind through distinct artworks, the Gurgaon-based 2nd grader hoped, through her doodle, to have 'Walking Trees' in the future to preserve the next generations from Deforestation.
Hailing from DPS, Gurgaon, Singhal expressed her dishearten of trees being chopped down. She stated, "When I grow up, I hope the world's trees can walk or fly. The land could be cleared so easily without making them die. There would be so little deforestation and humans can just ask the trees and their friends to move to another place."
When asked how she concocted this wonderful thought, she clarified, "When I visited my grandmother, I was so sad to see the trees around her house being cut. So I thought that if trees could walk or fly, we will not have to cut them."
The current year's Doodle for Google jury included innovative masterminds, for example, Rajiv Chilaka (creator of Chhota Bheem and CEO of Green Gold Animation), Prajakta Koli (India's leading female YouTube Creator), Neha Sharma (famous artist and creator of Neha Doodles), and the Google Doodle team.
The search engine giant got entries from over 1.1 lakh children between classes 1 and 10 the nation over during the current year's contest. Five different winners were chosen and their doodles were shown on the website. The tech organization, on its website, said, "it was heartening to see so many fresh, creative depictions for a better world—from cleaning up the ocean, to flying solo using technology, to simply dreaming about a world without boundaries".
The 20 finalist Doodles were then displayed online for public voting. The entries during the current year's theme were staggeringly innovative across all class groups. Notwithstanding the national winner, 5 group winners were additionally selected. More than 6 lac public votes helped us decide the following group winners for the 5 class groups. The one winner will be among the 20 finalists which were put to public voting from October 25 to November 6.
The winner of the contest, aside from their doodle being set on Google India homepage, will get an Rs. 500,000 college scholarship, an Rs. 200,000 technology package for their school, a Certificate/Trophy of accomplishment, and an excursion to Google Office.
The doodles of the four Group Winners, who don't become the National Winner, will be highlighted on the Doodle for Google gallery. They will likewise get an Rs. 250,000 college scholarship, an Rs. 100,000 technology package for their school, a Trophy/Medal of appreciation, certificate of accomplishment, and an excursion to Google Office in India.