Dua Lipa will headline the biggest music event in Victorian history Always Live concert series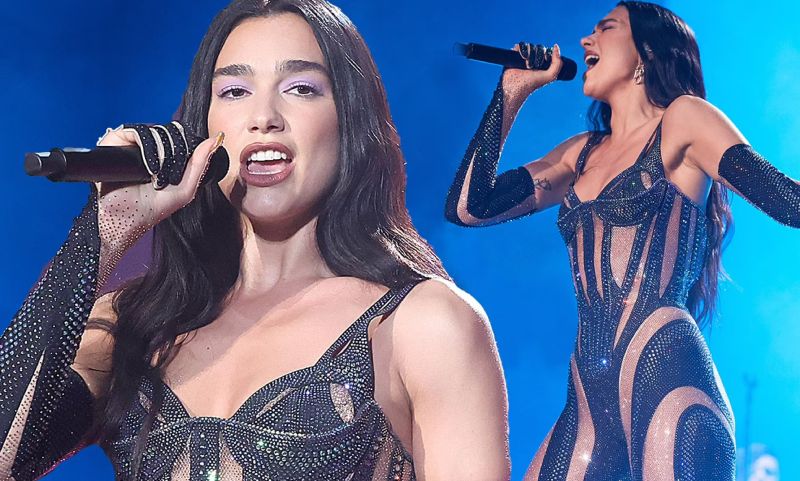 Dua Lipa, quite one of the biggest pop stars in the world, will play a one-off show at St Kilda's Palais Theater in October as a part of another state-sponsored, two-month-long music festival.
Dua Lipa, Crowded House, and Sampa the Great lead the new additions to the lineup of the Victorian Government's Always Live concert series, which will run into venues in the state in the not-so-distant future.
Featuring over 150 events at in excess of 90 venues, spread across 12 regions, today's announcement adds to a slew of as-of-now announced gigs, for example, Nick Cave and Warren Ellis at Hanging Rock in the Macedon Ranges with Courtney Barnett, Khruangbin at Sidney Myer Music Bowl with Kamasi Washington, Amyl and the Sniffers headlining Chopped festival in Victoria's Goldfields and more.
Touted as "the biggest music event in Victoria's history", Always Live will see in excess of 150 neighborhood and international musicians perform on in excess of 90 events across 12 regions at all around adored venues, including Melbourne's Palais Theater.
The event, a statewide celebration of live contemporary music, was a long-held dream of late Australian music executive and promoter Michael Gudinski.
The British disco-pop star is the top billing of the Victorian Always Live festival line-up, which was disclosed on Thursday and incorporates rapper Sampa the Great and Australian acts Crowded House, Yothu Yindi, and Magic Dirt.
Just 2500 fans will actually want to see 26-year-old Lipa perform at the iconic St Kilda venue as a part of the festival, and it will be the main small theatre show of the singer's global tour. The star is independently performing as of now announced stadium shows around the country in November.
Occurring over October, November, and December, the not-for-benefit Always Live event is supporting in excess of 90 shows in provincial settings across the state remembering for Horsham, Phillip Island, Queenscliff, Echuca, Wodonga, Bendigo, and at Hanging Rock in the Macedon Ranges. The Victorian government is burning through $14 million on supporting the event.
English singer Sophie Ellis-Bextor, most popular for her iconic track Murder on the Dancefloor, will play a private show in the gardens of the National Gallery of Victoria on St Kilda Road. American indie rock band Big Thief is playing the Melbourne Recital Center.
Crowded House will play at Gateway Lakes on the Murray River in Wodonga close by folk outfits Angus and Julia Stone and Boy and Bear, while bar acts Magic Dirt, Wendy Matthews, Kate Ceberano and The Black Sorrows will all play heritage venues in a series of suburban shows.
Sampa the Great will play a one-off exclusive show at Hamer Hall in December in the wake of supporting superstar Billie Eilish. ARIA Award-winner Jessica Mauboy will play in Bright in the state's high country while Yothu Yindi likewise plays Hamer Hall.
At Thursday's line-up uncover 23-year-old Melbourne singer-songwriter Aishwarya said is important for the festival as the help act Lipa at the Palais was "wild".
"I only started putting out music in lockdown so my experience with live [performance] is really limited," she said. "Now I'm supporting Dua Lipa. What is life?"
Rapper Briggs, who will play a "house party" event upstairs at the Curtin Hotel in Carlton with his music crew Bad Apples, said the festival's focus on more modest venues was critical for musicians as well as for roadies and behind-the-stage staff who likewise lost work during lockdowns.
"Those who put stages together, who do the sound at these smaller places… sometimes a lot of that gets forgotten – the people who make the shows happen."
Continuously Live was the brainchild of the late Michael Gudinski, who previously pitched the idea to Premier Daniel Andrews after he assisted the premier and his wife Catherine with securing tickets to see Billy Joel at New York's Madison Square Garden in 2017.
From that point, utilizing taxpayer cash to carry the Piano Man to Melbourne morphed into a 2018 election promise to stage a 10-day, statewide music festival. The festival will currently extend over right around the three-month season.
Recently headline acts Nick Cave and Billy Joel was announced to play at Hanging Rock and the MCG respectively. Currently on the docket were performances from Khruangbin, Amyl and the Sniffers, Tash Sultana, Baker Boy, Isabella Manfredi, Middle Kids, Alice Skye, and Isaiah Firebrace.
A one-night Foo Fighters show at Kardinia Park in Geelong in March was likewise upheld under the Always Live banner.
Continuously Live chief executive Steve Smith said it required nine months of haggling with Live Nation touring to protect the private show with Lipa at the Palais, in favor of her tour through arenas around the country.
"She can sell out arenas, so the concept was, 'let's do something really up close and really special'," he said.
How much government cash is being paid to international artists like Lipa for Always Live isn't uncovered publicly.
Minister for Tourism, Sport, and Major Events Steve Dimopoulos said the line-up was a "good balance" at one-third of international acts and two-thirds of local acts.
"Why we invested in these parts of it was to embed Victoria's place nationally and globally as one of the huge musical capitals of the world. You don't do that just with local talent, you do that with a mix of offerings," he said.
Dimopoulos said the different gigs in territorial Victoria would likewise be "pretty profound economically" for small towns.
"Many towns will get Airbnb or hotel accommodation [bookings] and the local pubs will benefit from this," he said.
Smith said he would have liked to see the festival become a long-lasting, yearly fixture with state government financing.
On Thursday Matthew Gudinski, Michael's child and heir to the Mushroom music empire said the music festival would "reaffirm" Victoria as the music state of Australia.
"Always Live was a dream my late father had to reassure our state's live music roots and I am proud to be part of the team making it a reality," the Always Live chairman said.
Dua Lipa to play a private Melbourne theater show
Today's announcement incorporates Lipa performing a close show at Melbourne's Palais Theater, the main small theatre show of her world tour. Crowded House will perform at Gateway Lakes on the banks of the Murray River in Wodonga, joined by Angus and Julia Stone and Boy and Bear, while Sampa the Great will showcase impending album As Above, So Below at Melbourne's Hamer Hall.
"Always Live was a dream my late father had to reassure our states' live music roots and I am proud to be part of the team making it a reality," says Always Live chairman Matt Gudinski, whose dad, Michael Gudinski, considered the drive preceding his passing.
Different highlights of the Always Live program incorporate Jessica Mauboy performing a show for the community in the provincial Victorian town of Bright, and the legendary Yothu Yindi at Hamer Hall. The UK's Sophie Ellis-Bextor will play to 100 fans in the NGV Garden restaurant, while chillwave pioneer Toro y Moi will perform at Northcote Theater.
Somewhere else, Briggs, Mo'Ju and Chasing Ghosts will perform at the Curtin Hotel on an event arranged by Briggs' Bad Apples label, highlighting First Nations' ability. Melbourne label Chapter Music will celebrate its 30th birthday celebration, with Chapterfest uniting any semblance of NO ZU, Laura Jean, Gregor, Teether, and Kuya Neil and the sky is the limit from there.
"It has been my honour to work with the music community to dream up this Always Live program," said programming director Emily Ulman. "The enormous offering that we present today reflects the energy and atmosphere of contemporary live music in Victoria, and further positions Melbourne and Victoria as the live music capital of Australia."
Dua Lipa will headline the biggest music event in Victorian history Always Live concert series.avif