FIBA EuroBasket Women 2023: Full Schedule, Preview, Draws, Groups, and How to Watch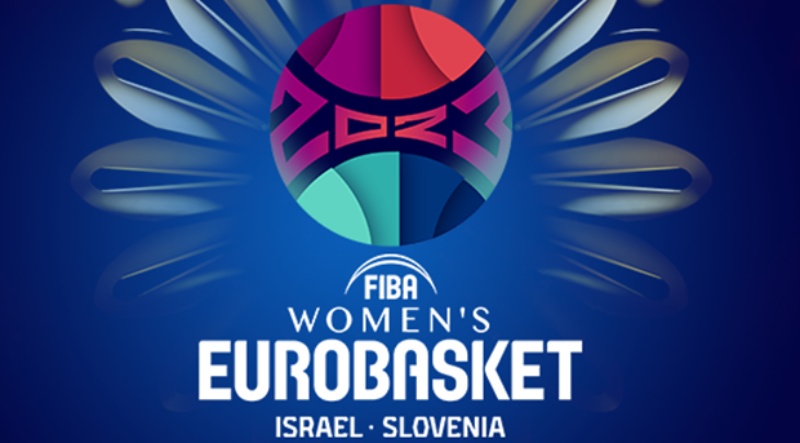 The 39th edition of the continental women's basketball tournament sanctioned by FIBA Europe will be the 2023 European Women Basketball Championship, also known as EuroBasket Women 2023. Israel and Slovenia will co-host it from June 15 to June 25, 2023. The games will be held in Tel Aviv and Ljubljana. There will be 16 teams competing for the title of European champion.
After the draw in Slovenia divided the 16 teams participating in the 39th edition of Europe's premier women's basketball competition into groups, the stage is set for the FIBA Women's EuroBasket 2023.
Katia Levitsky and Rankica Šarenac, ambassadors for the FIBA Women's EuroBasket 2023 and co-hosts Israel and Slovenia, assisted in drawing the teams.
FIBA Europe President Turgay Demirel, FIBA Executive Director Europe Kamil Novak, Slovenian Basketball Federation President Matej Erjavec, and Israeli counterpart Amiram Halevy, President of the Israeli Basketball Association, attended the ceremony at the Brdo estate near Ljubljana.
From 15 to 25 June, the tournament will be held in Israel and Slovenia. Teams will be divided into four groups of four and seeded according to the FIBA World Rankings.
The most important information about the tournament, including group breakdowns, the full schedule, and how to watch the games, can be found here.
Following the seedings determined by Nike's FIBA World Ranking Women, the draw divided the 16 qualified teams into four groups of four teams each.
Israel and Slovenia, the hosts of the FIBA Women's EuroBasket 2023, had the right to choose a partner federation that would play in their respective countries. Israel collaborated with the Czech Republic to play in the same group in Tel Aviv, while Slovenia and its partner Serbia were foreordained to go into various groups in Ljubljana.
The following are the groups for the FIBA Women's EuroBasket 2023: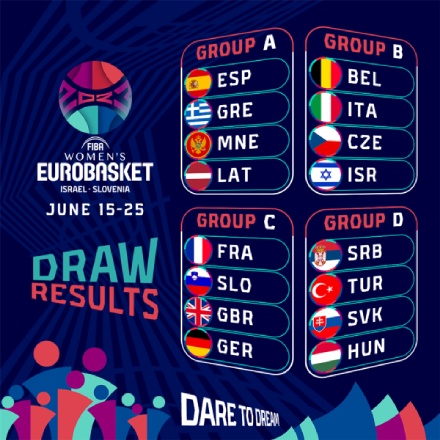 Which teams will compete in the FIBA Women's EuroBasket 2023?
The following teams have been assigned the No.1 seeds for their respective groups: reigning champion Serbia; four-time champion Spain; 2021 silver medalist France; and 2021 bronze medalist Belgium, all of whom are currently ranked among the top 10 teams in the world:
( ) denotes current FIBA world ranking
EuroBasket Women 2023 Preview: Group A
Spain (4)
Greece (17)
Montenegro (21)
Latvia (25)
Spain, the tournament's top-ranked team, are expected to comfortably win Group A after finishing 7th as co-hosts in 2021. The Rio 2016 silver medalists are led by small forward Maria Conde, who, at the age of 20, was a member of the Spanish team that won gold at the 2017 EuroBasket.
Latvia, Greece, and Montenegro are likely to compete for second place in Group A with each other. Montenegro is making their seventh consecutive appearance at the competition after only making their debut at EuroBasket in 2011. It is to Latvia's credit that they were unbeaten during the qualifiers. Even though Greece finished last in 2021, Mariella Fasoula, a forward for CB Avenida, has the size and skill to give a lot of teams a real problem in the matchup.
EuroBasket Women 2023 Preview: Group B
Belgium (7)
Italy (14)
Czechia (23)
Israel (49)
Israel's opponents will face a raucous home crowd in Tel Aviv, giving the tournament co-hosts a slight advantage in Group B. However, Israel are the underdogs of this group and will need to rely on the experience and skill of former Phoenix Mercury guard Jennie Simms to progress in the competition.
Belgium, on the other hand, faces the opposite issue. The Cats are expected to win the group after winning bronze in 2021 and 2017, and they have WNBA champion and Finals MVP Emma Meesseman and Chicago Sky teammate Julie Allemand, two of the best women's players in the game right now.
Czechia and Italy join Israel and Belgium in Group B; The former are hoping to improve on their previous 15th-place finishes, while the latter may surprise everyone at the EuroBasket this year. Cecilia Zandalasini, a two-time Turkish Super League champion, and WNBA winner in 2017 will need to bring her A-game to Tel Aviv to accomplish this.
EuroBasket Women 2023 Preview: Group C
France (6)
Slovenia (19)
Great Britain (20)
Germany (36)
Group C is anyone's guess, except world No. 6 France, which has won the last five EuroBasket finals as runners-up (more on that fantastic stat in a moment).
As co-hosts of the tournament, Slovenia and Israel have the advantage of playing in front of a home crowd and having Georgios Dikaioulakos, the 2023 EuroLeague Coach of the Year, on the sidelines.
Great Britain's stunning run to the semi-finals in 2019 shows that they can be a bit of a surprise, as evidenced by their failure to qualify for the 2021 tournament. Great Britain, on the other hand, has the potential to make another stunning run in 2023 with Temi Fagbenle, the leading scorer in 2019, leading the attack.
After a 12-year absence, Germany finally returns to the EuroBasket, but their head-to-head records against their group opponents are tough to read (0-8 against France, 1-3 against Great Britain, and they have yet to play Slovenia).
Then there is France, a team that has won multiple elite international competitions, including Olympic bronze and silver. However, Les Bleus fans and players must be wondering if France will finally win the European championship in 2023 for the first time in 14 years.
France went on to win the EuroBasket gold in 2001 and 2009, and reach the final at every European Championships from 2013 to 2021 but fell short each time. France has won eight silver medals in total at the competition, and they must be determined to win gold, which they have yet to win in five competitions. Wouldn't that be a great way to get ready for the Paris 2024 basketball tournament, which will be held in France next year? Valeriane Vukosavljevic, a small forward for USK Praha, leads Les Bleus' roster, which ranks among the most extensive in all of basketball.
EuroBasket Women 2023 Preview: Group D
Serbia (8)
Türkiye (11)
Slovakia (22)
Hungary (24)
At EuroBasket 2023, Group D is arguably the most competitive. The White Eagles, who have won the EuroBasket three times in the last eight years (gold in 2015 and 2021, bronze in 2019), won an impressive bronze at the Rio 2016 Olympic Games, and advanced to the quarter-final stage at the 2022 World Cup (where they would lose to the eventual champions USA), appear to be the favorites to automatically advance as group winners.
So don't be surprised if Turkey, led by Teaira McCowan, beat Serbia to the top spot in Group D. At 2.01m (6ft 7 in), the Dallas Wings and Galatasary center is a double-double machine and will cause problems for any defender she faces.
Even though Slovakia and Hungary will be viewed as outsiders to progress from the group, their world rankings suggest that both teams can pull off an upset. At 2.08 meters (6 feet 10 inches), Hungary's Bernadett Hatar will be a force in the paint on both sides of the ball. On the other hand, Slovakia is in good form after beating Israel and Latvia in the build-up to the EuroBasket.
FIBA Women's EuroBasket 2023: Schedule
EuroBasket Women 2023 Schedule: Group A
Thursday 15 June
Montenegro v Greece
Latvia v Spain
Friday 16 June
Spain v Montenegro
Greece v Latvia
Sunday 18 June
Montenegro v Latvia
Spain v Greece
EuroBasket Women 2023 Schedule: Group B
Thursday 15 June
Belgium v Israel
Italy v Czechia
Friday 16 June
Czechia v Belgium
Israel v Italy
Sunday 18 June
Belgium v Italy
Czechia v Israel
All Group A and B games will be hosted in the Menora Mivtachim Arena in Tel Aviv, Israel.
EuroBasket Women 2023 Schedule: Group C
Thursday 15 June
Germany v France
Great Britain v Slovenia
Friday 16 June
Slovenia v Germany
France v Great Britain
Sunday 18 June
Germany v Great Britain
Slovenia v France
EuroBasket Women 2023 Schedule: Group D
Thursday 15 June
Türkiye v Serbia
Slovakia v Hungary
Friday 16 June
Hungary v Türkiye
Serbia v Slovakia
Sunday 18 June
Türkiye v Slovakia
Hungary v Serbia
All Group C and D games will be hosted in Arena Stozice in Ljubljana, Slovenia.
Qualification for quarter-finals
Monday 19 June
B2 v A3
A2 v B3
Tuesday 20 June
C2 v D3
D3 v C3
In the quarterfinals, the winners of these games will join the winners of the group.
Quarter-finals – Thursday 22 June
Group A winner vs C2 – D3 winner
Group B winner vs D2 – C3 winner
Group C winner vs A2 v B3 winner
Group D winner vs B2 v A3 winner
Semi-finals – Saturday 24 June
Final and third-place game – Sunday 25 June
How do I watch the 2023 FIBA Women's EuroBasket?
With a Courtside 1891 Event Pass, fans can watch all the action live and on-demand, as well as extended highlights (with some possible geographic restrictions).