USGA honored Johnny Miller on the 50th anniversary of his U.S. Open victory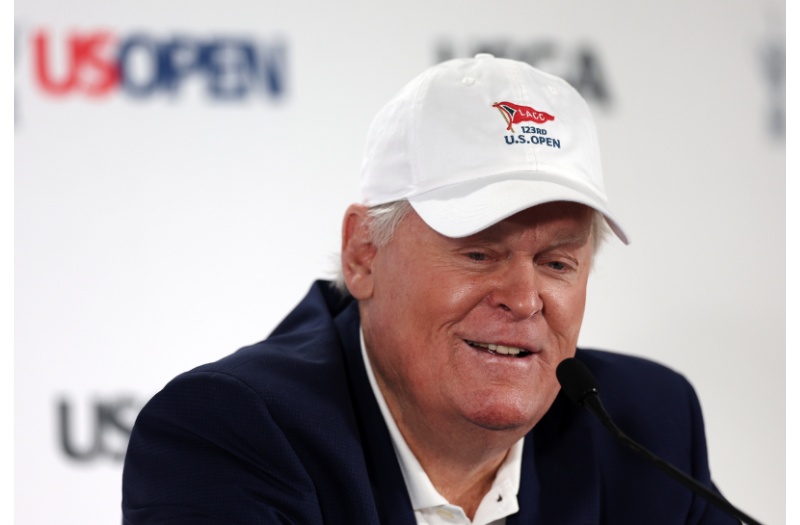 Wednesday, Johnny Miller was back in front of the microphone, and he talked about himself.
Specifically, the 1973 U.S. Open championship, which he won with a 63 in the final round at Oakmont, which is still considered to be one of the greatest rounds in the history of major championships.
Miller received the USGA's highest honor for distinguished sportsmanship in golf, the Bob Jones Award, in 2023. Miller's memorable round, in which he started six shots behind the leader and trailed 11 players, including Arnold Palmer, Jack Nicklaus, Gary Player, and Lee Trevino, will mark the 50th anniversary of the award.
After 30 years as NBC's unfiltered lead analyst, Miller retired four years ago and is still able to spin a yarn.
"The secret of a 63 is the fact that I shot it on Sunday and it was enough to win the U.S. Open. There will be guys that will shoot 61 or 62, but can they do it on Sunday to win?" Miller said at the Los Angeles Country Club, which is hosting this year's U.S. Open. "That's what makes the round what it is."
Miller's 63-hole score has been matched, but never surpassed. Miller, who at the time was a 26-year-old San Francisco resident with shaggy hair, finds that his final round is not the only one that stands out.
"It wouldn't have done any good if I finished second," Miller said. "It would have been a nice round, but the fact that to win it and to beat Arnold Palmer in his backyard — I played with him on Thursday and Friday. For me to play in front of Arnold Palmer's gallery in 1973 at Oakmont in his backyard was not easy to do. It's not like they stuck around to watch my putt after Arnie made a 15-foot birdie putt and I had a 10-footer. The whole gallery is gone. It was hard playing in front of his gallery. His gallery was nuts. That was not a normal gallery.
"That part of it, the fact that I got through the Arnold Palmer part was a big relief to get through that and still be in contention."
There was something different that Miller said was "amazing" about the week.
"I had a lady that came up to me on Monday after the round. She was on the 18th green, and she says: 'You're going to win the U.S. Open; I'm never wrong. You don't have to worry; you're going to win.' She was there on Tuesday, Wednesday, Thursday, Friday, and then Saturday when I shot 76. I never saw her again after that.
"I was a little bit down on the fact that — not because she wasn't there, but I was starting to believe her, that I was going to win. I went to the practice tee on Sunday and I was not very hopeful at all. I wasn't even a little bit hopeful that I had a chance because I saw the guys that were in front of me on the leaderboard."
Then he birdied the first four holes "and I knew that I was in the running. The hair on the back of my neck sort of stood up when I said to myself: 'You've got a chance to win.' That made the adrenaline just start pumping. It was a fun round. It was almost a perfect ball-striking round."
In regulation, Miller hit all 18 greens. He said that John Schlee later informed him that Palmer used profanity when he looked at the leaderboard after reaching the No. 12 tee.
"He thought he was leading. He was not leading anymore. He was one behind me after thinking he had the championship in his backyard in his back pocket," Miller said. "Actually when I finished on 18, something told me I had won, and I never really worried about whether those guys were going to catch me. I could feel that I had won the U.S. Open.
"Even though I had to wait about an hour and I don't know how many minutes — you probably know — someone told me I had won. It's pretty cool."