First Nonstop Flight to Europe Departing from San Antonio International Airport in May 2024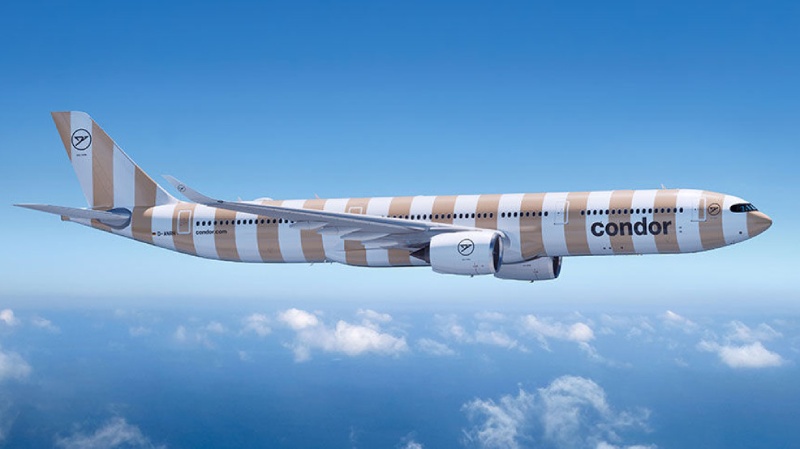 The first nonstop flight to Europe will land at San Antonio International Airport in May. The first season of the nonstop service to Frankfurt, Germany, will begin on May 17, 2024, and end on September 6, 2024. The seasonal flight would run on Mondays, Wednesdays, and Fridays, three times per week.
A significant step in the local hospitality industry's mission to promote San Antonio to international markets has been reached with the addition of the city's first nonstop service to Europe.
German airline Condor is to start operating flights from San Antonio International Airport to Frankfurt in May, the company and local officials announced on Thursday.
"Simply said, San Antonio International Airport has arrived on the world stage," Mayor Ron Nirenberg told the crowd at an announcement downtown Thursday afternoon.
Beginning the next year, the service will be limited to the months of May 17 through September 6. The airline will run flights on Mondays, Wednesdays, and Fridays, three times a week.
The flights will be run by Condor Airlines, which touts itself as "Germany's most popular leisure airline," on its Airbus A330-900neo aircraft, which has 216 economy seats, 64 premium economy seats, and 30 business class seats.
The website for Condor already has tickets available for sale. A scan of the ticketing system revealed that a round-trip from May 17 to May 24 might only cost $980.
The estimated flight times from San Antonio International Airport (SAT) to Frankfurt International Airport (FRA) are 10 hours and 15 minutes, and from FRA to SAT, they are 11 hours and 25 minutes.
There are numerous onward connections available for passengers leaving from the crowded German airport to destinations in Europe, the Middle East, Africa, and India.
In the summer of 2022, according to Director of Airports Jesus Saenz Jr., more than 300 passengers per day were departing for Europe and nearly the same number were arriving at San Antonio International Airport.
He said that in 2022 and 2023, a "vast majority" of their passengers were traveling to Germany.
Therefore, he stated, "So that's one of the biggest reasons it was very attractive to want to move in that direction."
Saenz anticipates that some of the visitors who may have been driving up I-35 to Austin-Bergstrom International, which offers nonstop flights to Frankfurt, London, and Amsterdam, will be able to return thanks to the flights.
"This is just the beginning of so much more to come at SAT," Saenz said in a news release. "We fully believe San Antonio will utilize this service to Europe and take advantage of Condor's extremely competitive airfares. Once that happens, we anticipate Condor will expand their services even further."
But in a press conference before Thursday's official announcement, local authorities reacted angrily to inquiries about why it took so long to book a direct flight to Europe.
The same issue about why the city hadn't previously enlarged the airport, which currently has a $2.5 billion plan, may be raised, according to City Manager Erik Walsh.
"Some of this stuff — the relationships and the establishment of those connections from a marketing standpoint with airlines outside this country — we should have done that a long time ago," Walsh said. "And so we are being very diligent now. But no question there's a lot of things we could have done better 20 years ago."
However, now that it has the flight, city officials are announcing it loudly from the rooftops.
Although Condor is poorly recognized outside of Europe, it is actively growing its U.S. network and stepping up competition with its former owner, the German airline Lufthansa. In the past year, Condor has introduced brand-new nonstop routes to Boston, JFK in New York, Boston, Los Angeles, and San Francisco.
The company said at the time that it was reacting "to the extreme pent-up demand for North American travel."
The cost of Condor's decision to expand its network to San Antonio is borne by both the city and the airline.
Condor will get subsidies from the city totaling $1.3 million over the next two years. Included in that are approximately $374,000 in waived landing, terminal, and inspection costs as well as a $900,000 marketing grant, which according to Airport Director Jesus Saenz will aid Condor in promoting San Antonio to European tourists.
Greater: Last year, Visit San Antonio, a public-private nonprofit that promotes the city to convention planners and leisure travelers, and SATX, the region's economic development agency, established a fund to give subsidies to airlines to boost new nonstop service. As of August, the fund had around $2 million.
Instead of giving Condor a monetary donation, the groups decided to use the fund to compensate the airline if fewer people than anticipated purchase tickets for the service, essentially making up the revenue shortfall. However, the top executives of the groups stated that due to expected strong passenger volumes, they do not anticipate spending any money on the Frankfurt flight.
According to CEO Marc Anderson, Visit San Antonio will open an office in Germany on October 1 to work on digital marketing and pitch San Antonio to tour operators and travel agencies. In October of last year, Visit San Antonio opened a tiny office in London.
The president and CEO of Greater: SATX, Jenna Saucedo-Herrera, praised the possible financial gain.
"With each new nonstop flight, our region is better positioned to support and attract new corporate growth that, in turn, develops greater career opportunities for the San Antonians here today and those it will attract in the future," she said. "That's what gets me so excited, frankly — the opportunity to continue to grow greater jobs for San Antonians and ultimately provide pathways to economic mobility and prosperity."
Supply and demand
Before beginning its latest expansion last year, Condor already provided service to Las Vegas, Anchorage, Halifax, and other North American cities. Since the two airlines share a code, passengers can use their Alaska Airlines mileage points on flights operated by Condor from the United States to Frankfurt.
New A330neos, wide-bodied aircraft made by European company Airbus, will replace the carrier's long-haul fleet. 30 seats are in business class, 64 are in premium economy, and 216 are in economy on the aircraft.
According to Turtiainen, the starting price for round-trip business class tickets is slightly over $2,000. Costs for premium economy tickets average $1,200.
Tickets are on sale now.
It will take 10 hours and 15 minutes to get to Frankfurt, and 11 hours and 25 minutes to get back to San Antonio.
According to city officials, demand played a key role in Condor's decision to launch service in San Antonio.
In 2022, according to Saenz, 300 people daily will fly from the San Antonio airport to Europe. Every day, about the same number of visitors from Europe arrived at the site.
According to research commissioned by Greater: SATX and Visit San Antonio, 42 passengers traveling to or from London and 31 passengers traveling to or from Frankfurt pass through San Antonio International every day. This translates to 30,660 passengers traveling to and from London each year and 22,630 passengers flying back and forth to Frankfurt. All of those passengers are now traveling to their destinations through one or more connecting flights.
San Antonio International is beginning a $2.5 billion, 20-year expansion. By 2028, a third terminal will be constructed, Terminal A will be renovated and long-haul flights to Asia and deep South America will be able to land there. But now that the airport's runways are long enough for the wide-bodied jets that travel from the United States to Frankfurt and back, it can manage flights to Europe.
London and Frankfurt have been a primary focus for city officials, Greater: SATX, and Visit San Antonio as they pursue nonstop service to 18 destinations in the United States, Canada, and Mexico.
According to Saucedo-Herrera, the two most popular European cities for San Antonio tourists are London and Frankfurt.
London nonstop flights have been available from Austin-Bergstrom International Airport since 2014. One of the events that signaled Austin's status as a budding metropolis of digital wealth and fame was British Airways' statement a decade ago that it would connect the airport to Heathrow Airport. Since then, nonstop service to Frankfurt and Amsterdam has been increased at the airport.