Francisco Toledo: Google Doodle celebrates Mexican Zapotec painter's 81st birthday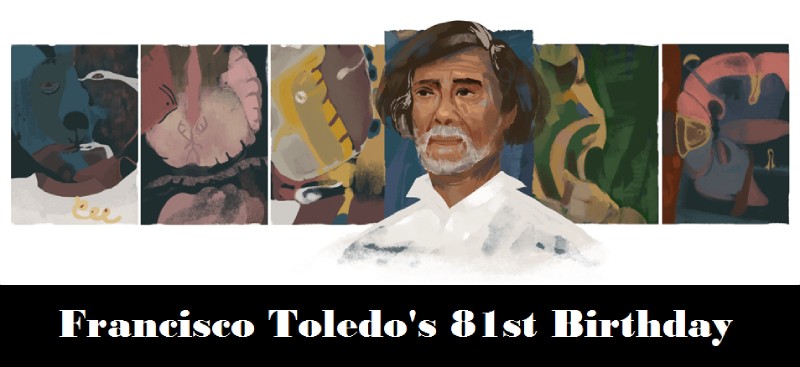 Google Doodle praises the 81st birthday of a Mexican Zapotec painter, sculptor, and graphic artist Francisco "El Maestro" Toledo, who is broadly viewed as one of the most influential contemporary artists in modern Mexican history and part of the Breakaway Generation of Mexican art, on July 17, 2021.
Who was Francisco Toledo?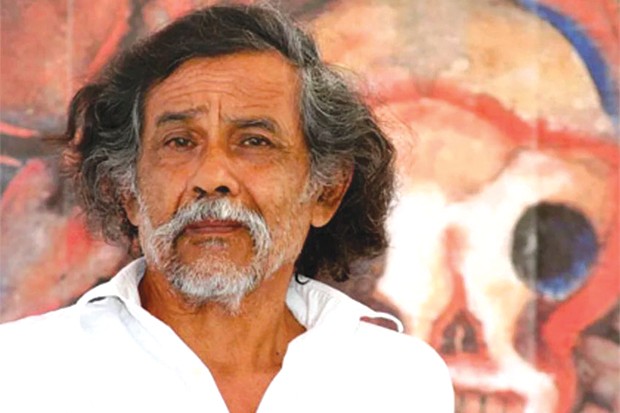 Francisco Benjamín López Toledo was born on July 17, 1940, in Juchitán (or Mexico City, as per a few sources), Oaxaca, the heartland of the Indigenous Zapotec civilization. In a career that spread over seven decades, Toledo created a huge number of works of art and became generally viewed as one of Mexico's most significant contemporary artists. An activist as well as an artist, he promoted the artistic culture and heritage of his home state of Oaxaca.
Francisco Toledo learned at the Escuela de Bellas Artes de Oaxaca and the Centro Superior de Artes Applicadas del Instituto Nacional de Bellas Artes, Mexico, where he studied graphic arts with Guillermo Silva Santamaria. As a youngster, Toledo studied art in Paris where he met Rufino Tamayo and Octavio Paz.
Francisco Toledo worked in different media, including pottery, sculpture, weaving, graphic arts, and painting. There have been exhibitions of his work in Argentina, Brazil, Colombia, Ecuador, Spain, the United Kingdom, Belgium, France, Japan, Sweden, the United States, as well as other countries. His work is known for its depiction of flora and fauna, mythical imagery, and erotic content. Art critic Dore Ashton described Toledo as "a modern artist who, like others such as Paul Klee, Marc Chagall, and Miró, has learned the value of the sweeping glance into the minutest corners of nature."
Francisco Toledo began his professional career in the 1960s when he returned from his trip around Europe. He used the information he had received to develop the recent style of Mexican art.
At the age of 19, a solo exhibition of his work in Fort Worth, Texas, gotten international attention. Toledo lived and worked in Paris beginning in 1960 and got back to Mexico in 1965.
After his return, the artist made a lot of paintings and sculptures of stone, wood, and wax. A significant number of these early artworks were introduced at the show coordinated in 1973 at the Carl Finkler Gallery in Paris and a few years in New York City at the Martha Jackson Gallery.
Francisco Toledo lived momentarily in New York in the late 1970s, holding an exhibition at the Everson Museum of Art in Syracuse, New York. In 1980, Mexico City's Museo de Arte Moderno (Museum of Modern Art) hosted the first retrospective of his art. His work was displayed at both the Museo del Palacio de Bellas Artes in Mexico City and the Mexican Fine Arts Center Museum of Chicago in 1984. Toledo settled in Oaxaca during the 1980s.
From that point forward, the artist Francisco Toledo had exhibited all around the world, including such countries as Argentina, Brazil, Colombia, Ecuador, Spain, the United Kingdom, Belgium, France, Japan, Sweden, the United States, and somewhere else.
In 1960, the artist Francisco Toledo moved to Paris where he produced prints in the studio of Stanley William Hayter and set up his hallmark aesthetic. Returning to Mexico in 1965, Toledo started producing works that address his Zapotec heritage. He proceeds to live and work in Juchitán, Mexico.
Francisco Toledo was included at the Venice Biennale in 1997. An exhibition of more than 90 of his works was displayed at the Whitechapel Gallery in London and the Reina Sofia Museum in Madrid in 2000. In 2017, the Fondo Cultural Banamex published a four-volume catalogue of Toledo's work, the result of a five-year investigation to track pieces held in museums, galleries, and private collections around the world.
Francisco Toledo's paintings reflect the mythology of Mexico and regularly display the influence of Surrealism and Paul Klee's playful manner. In his paintings, Toledo protects and promotes the cultural peculiarities of his home country by joining its artistic traditions with the ones of Western Europe. Among the fundamental subjects of his canvases are legendary personages and the nature of his native Oaxaca.
Known as an active participant in the cultural life of his native city and of Mexico in general, Francisco Toledo attempted his hand as an illustrator. Thus, he produced drawings for an incredible number of books devoted to the ancestral history of his country, for example, 'Chilam Balam', 'Guachi', 'Sahagún' and others. Inspired by 'Report For an Academy' of Franz Kafka, the artist made a series of fifteen prints also.
Francisco Toledo dedicated most of his life and career to protect the culture and traditions of his people, to develop and promote art in his country. As a social and cultural activist, he established the Museum of Contemporary Art of Oaxaca (Museum de Arte Contemporaneo de Oaxaca), the Patronage of the Preservation and Conservation of the Cultural Patrimony of Oaxaca, a library for blind people, a centre of photography and the Eduardo Mata Music Library.
Regardless of this, Francisco Toledo participated in the foundation of the art library at the Graphic Arts Institute of Oaxaca which fund is these days estimated to be more than 10,000 books on Mexican Art.
Francisco Toledo died on 5 September 2019 at the age of 79 in Bordeaux, France.
For almost seven decades, Francisco Toledo explored every visual medium imaginable to create around 9,000 works—from a scorpion sculpture made using turtle shells to cloth puppets. Today, his legacy endures in libraries, art institutions, and museums he established in Oaxaca, a considerable lot of which are free to enter.
Francisco Toledo's pieces of art are these days saved in some notable art galleries and museums, including the Metropolitan Museum of Art, the Museum of Modern Art, both in New York City, and the Rufino Tamayo Museum in Mexico.
On July 17, 2021, Google featured Doodle on its homepage for celebrating Francisco Toledo's 81st Birthday.