'Godzilla: King of the Monsters' Steps Into Box Office as 'Aladdin' and 'Rocketman' Duel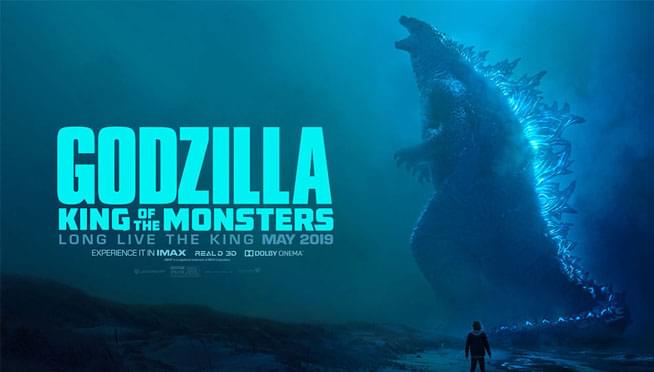 "Aladdin" surpassed box office desires with a $112 million Memorial Day weekend, yet its lasting power in theaters will be challenged as the next two ends of the week will be stacked with new releases that will take into account family and melodic adoring audiences that filled in as the Disney remake's core demographic.
Be that as it may, the film anticipated to take No. 1 this end of the week has more stepping and crushing than singing. Warner Bros. also, Legendary are back with the third installment of their MonsterVerse series, "Godzilla: King of the Monsters," which is anticipated for an opening this end of the week in the $55-65 million range. Commentators have been mixed on the film, giving it a 56% score on Rotten Tomatoes.
That is eminently lower than the $93.1 million begin earned by last American "Godzilla" released in 2014, yet the film at any rate gets an opportunity to coordinate the $61 million opening earned by "Kong: Skull Island" in March 2017. That film proceeded to gross $161 million domestic and $566 million around the world, and a comparable result for "King of the Monsters" would set up one year from now's "Godzilla vs. Kong" to procure considerably more prominent numbers. On the off chance that "Godzilla" figures out how to pass $600 million around the world, it will become the first creature feature outside the "Jurassic Park" franchise to do so.
"Godzilla: King of the Monsters" sees the renowned mammoth come back to do fight against a portion of his most well known opponents, driven by the three-headed dragon King Ghidorah. Through everything, humankind is adhered attempting to endure the surge, while the puzzling Monarch organization does its best to figure out how to speak with the animals.
The film stars Kyle Chandler, Vera Farmiga, Millie Bobby Brown, Bradley Whitford, Sally Hawkins, Charles Dance, Thomas Middleditch, Aisha Hinds, O'Shea Jackson Jr., David Strathairn, Ken Watanabe and Zhang Ziyi. Michael Dougherty coordinated from a content he co-composed with Zach Shields.
Another film releasing this end of the week that is filling in as a to some degree more straightforward contender to "Aladdin" is Paramount's "Rocketman," a melodic biopic dependent on the life of Elton John. The film has gotten positive reviews from its Cannes debut with a 88 percent Rotten Tomatoes score and inescapable comparisons with a year ago's smash hit, "Bohemian Rhapsody." But it's improbable that "Rocketman" will coordinate the Freddie Mercury biopic's record accomplishment with a $25 million anticipated opening, with Paramount anticipating a $18-20 million begin.
In any case, "Rocketman" has solid abroad potential as fans of Elton John and his music are probably going to show up not simply in the U.K. however, in theaters around the world. Paramount is banking on the film holding long legs as informal exchange of its playful and hallucinogenic melodic numbers spreads. In the event that it does that, a $400-500 million global theatrical run comparable to "The Greatest Showman" might be conceivable, even with a R rating that was actually sought after by Elton John himself.
"Rocketman" stars Taron Egerton as the popular English pop star, with "Bohemian Rhapsody" co-director Dexter Fletcher helming the film. Jamie Bell, Richard Madden, and Bryce Dallas Howard likewise star, with Lee Hall composing the script.
At long last, Universal and Blumhouse will release "Ma," the horror debut of Octavia Spencer. Featuring the Oscar champ as a lady who charms her way into the lives of a group of high schoolers she becomes fixated on, "Ma" is anticipated for a $20 million opening, with Universal anticipating a begin in the mid-teenagers against a $5 million production budget. Tate Taylor is directing from a script he co-wrote with Scotty Landes.