Google Doodle celebrates We:wa in honor of Native American Heritage Month in the US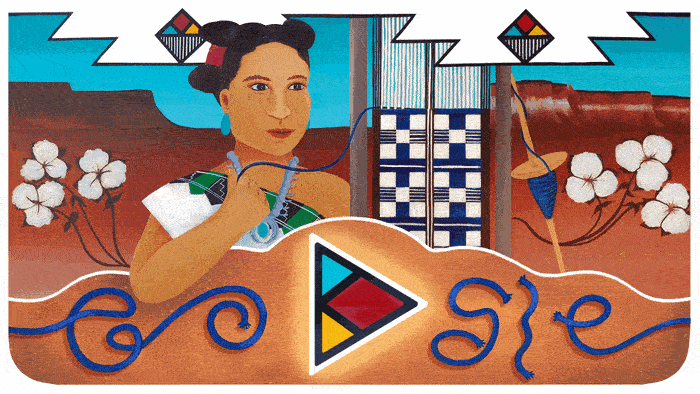 Google interactive game Doodle—delineated by Zuni Pueblo guest artist Mallery Quetawki—celebrates Zuni (A:shiwi) Native American fiber artist, weaver, and potter the late We:wa (wee-wah) in honor of Native American Heritage Month in the U.S. on November 1, 2021. As a Łamana (thah-mah-nah), the late We:wa was a respected cultural leader and mediator within the Zuni tribe, giving their life to the protection of Zuni traditions and history.
Who was We:wa?
We:wa — sometimes stylized "We'wha" — was born of the Donashi:kwi (Badger clan) and a child of the Bit'chi:kwe (Dogwood clan) within the state of New Mexico in 1849, as a part of the Zuni people. That same year, the Zuni public started openly engaging with the American people. Sadly, this prompted misfortune as the American pilgrims carried smallpox with them, which at last killed both of We:wa's parents.
In the Zuni clan, Łamana is a perceived third gender outside of the male-female binary system and adored as a traditional cultural concept reflecting amicability and equilibrium.
Like most Łamana, at a youthful age, the late We:wa started acquiring a variety of skills and abilities done by both men and women in the tribe. They became an expert weaver, a role traditionally taken on by men in the community, and made textiles using various weavers.
After years of training, the late We:wa became one of the first Zuni craftspeople to sell ceramics and woven merchandise to non-Indigenous individuals, which catalyzed the process of Indigenous specialties being valued as fine art in the U.S.
Part of Zuni culture is the role of Łamana — some of the time stylized "lhamana" — an individual assigned male at birth who rather takes on the societal and domestic duties traditionally saved for females, including cooking, cornmeal grinding, pottery.
While commonly Łamana is perceived very early on in childhood, We:wa was treated as a Zuni boy, not being perceived as Łamana until their teenage years. As a distinctive quality, the Łamana will frequently wear a mixture of masculine and feminine clothing.
In 1864, We:wa's adoptive family moved, alongside different families, to other Zuni lands to become farmers. As opposed to their more feminine role to that point, by farming, We:wa was at the time taking on a more masculine role. Around 10 years after the fact, with We:wa's new mother developing older, they took on a greater amount of the feminine duties to help the family.
The late We:wa additionally mastered fundamental Zuni myths, songs, and ceremonies to become a highly respected spiritual leader in the community. Their cultural aptitude prompted the late We:wa travel with American anthropologists James and Matilda Stevenson to Washington, D.C. in 1885 to encourage cultural exchange.
During the late We:wa's milestone visit to the U.S. capital, they called upon high-ranking U.S. authorities to preserve Zuni lands and culture from infringing pioneers.
Indeed, even despite the colonial policy, which undermines Indigenous people groups nationwide, the late We:wa's devotion to their community won't ever flounder. They got back to Zuni Pueblo, where they spent the rest of their life as an artist and community leader.
Today, the late We:Wa's legacy lives on in the around 10,000 Zuni individuals who protect the rich embroidery of Zuni legacy and hold one the most uninterrupted cultural lineages of modern Indigenous tribal communities in the U.S.
At some point in We:wa's thirties, Christian missionaries started living among the Zuni individuals as part of an effort to coordinate the clan into American living, especially through religious education. We:wa spent time with the priest who was shipped off the tribe, Dr. Taylor Ealy, and his wife to help attend to their daughters.
As well as being a refined potter, at that point We:wa had spent numerous years rehearsing the specialty of weaving clothes, and they made garments for the Ealy's. Their eye for colors and patterns made We:wa's dresses and baskets quite desirable.
Around this equivalent time, We:wa met the anthropologist Matilda Coxe Stevenson, who was anxious to meet such a member of the Zuni individuals who were able to learn English to share knowledge between the Americans and the Zuni tribe.
Over time, the two formed a friendship, with Stevenson teaching We:wa how to wash clothes with America's stronger laundry soap. This expertise loaned itself well to many paid positions including washing clothes for the close by Fort Wingate.
Quite a bit of what was known about the Zuni individuals around then originated from the friendship shared between Stevenson and We:wa. Stevenson even commissioned from them some traditional Zuni pottery — a religious process in and of itself — to be shown in a museum.
Afterward, in 1886, the very first designation of the Zuni public, including We:wa, went to Washington D.C., where they met President Grover Cleveland. Notwithstanding, after pressures between the Americans and the Zuni public, We:wa and other tribal leaders were arrested and held in jail for a month. We:wa died of heart failure in 1896 at age 47.
Google Doodle for celebrating We:wa
On November 1, 2021, Google featured a game Doodle on its home page for celebrating the late We:wa in honor of Native American Heritage Month in the U.S.
To best honor We:wa's life, Google has made a fun mini-game that walks you through the process of weaving cloth into patterns. As you create each bit by bit more complex pattern, you're additionally given an educational goody about We:wa and the Zuni people.
Google Doodle artwork — including the colorful representation of We:wa themself — was made by Zuni Pueblo guest artist Mallery Quetawki. Over on the Google Doodle blog, Quetawki shared some knowledge into the process she went through in learning the history before making this Google Doodle.