How the Front App Empowers Traders Through FISCO Stock Scoring Technology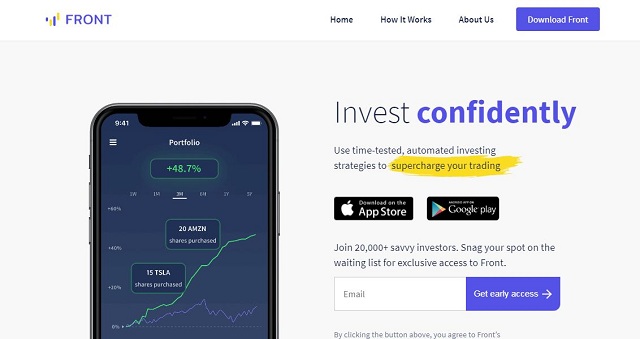 How do you usually trade stocks? You look at a company's financials for the last three months, analyze recent news about that company, do a background check about whether its stocks offered high returns in the past, and then decide whether to invest or not.
This is a time-consuming task. You need to spend hours or even days to analyze a company's current market position before trading. But what if you could get all this information with just one tap on your screen? Instead of analyzing everything manually, you let AI do the hard work on your behalf. You are wondering how that's possible? The Front app makes all that happen in a matter of seconds.
Front's operating process
Front analyzes the core components of stock and suggests whether it's wise to invest in it. Bam Azizi, the CEO of Front Financial Inc., believes the app will make newbie investors confident about their investment decisions. Too many investors doubt their choices and eventually end up losing a lot of money. But once you install Front, you will let AI do all the analysis. From processing a particular stock's performance to checking its compatibility with your portfolio diversity, Front covers everything.
Bam recently said in an interview, "Front's main goal is to offer a simple trading experience so that investors become confident about putting money in different stocks. Fear in this industry has never made anyone rich. If you want to make money through stock trading, you must invest in the right stocks at the right time. And Front will help you make the right decisions while cutting the time needed for research and analysis."
All-in-one app
Front is not just an app that analyzes different stocks and makes recommendations on whether you should invest in specific shares or not. It also brings all your trading apps in one place.
Suppose you trade via TD Ameritrade and Robinhood. But every time you want to check the details of stock, you have to unlock the app, go to your profile, and then see the information. Again, this is a time-consuming process.
Front, on the other hand, connects to different trading apps, including TD Ameritrade and Robinhood. Instead of opening multiple apps, you can use Front to find information about brokerage returns and stock performances.
The FISCO score
Front uses a proprietary algorithm that monitors the stock market 24/7. It keeps evaluating the ups and downs of different stocks before providing any information about them. Suppose you want to know about a specific stock's performance, but you don't have enough time to go through its financial history. Front provides a FISCO score that rates the company's stock performance over time. It ranks from Very Poor to Exceptional so that you know whether to invest in that stock or pass for the moment.
With the Front app, you can lower the risk of losing money in stock trading. As the CEO says, "You should invest with data, and not with your gut."