Interesting and Fun Facts about David McCallum, a Scottish Actor and Musician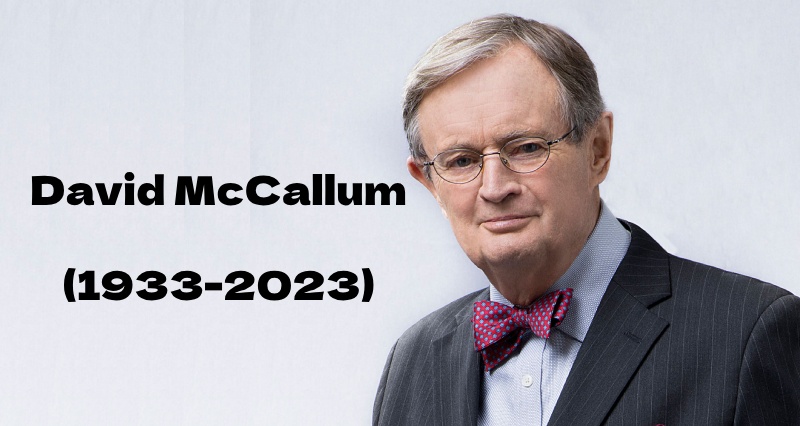 David McCallum, a veteran of NCIS who was widely recognized for his Emmy-nominated performance in The Man From U.N.C.L.E., died peacefully this morning at New York Presbyterian Hospital from natural causes while being attended by family. He had just turned 90 and had his birthday less than a week prior. Here are some interesting and fun facts about David McCallum.
McCallum, a fan favorite, served as the final surviving original cast member of CBS' NCIS for two decades, portraying Chief Medical Examiner Donald "Ducky" Mallard, an eccentric but extremely effective detective with a talent for psychological profiling.
Here is a look at the life and work of David McCallum.
Personal Details — Quick Look
Birth name: David Keith McCallum Jr.
Birth date: 19 September 1933
Birthplace: Glasgow, Scotland
Died on: 25 September 2023 (aged 90)
Death place: New York City, New York, U.S.
Alma mater: Royal Academy of Dramatic Art
Famous as: Actor, Musician
Years active: 1947–2023
Spouses: 

Jill Ireland (m. 1957; div. 1967)​
Katherine Carpenter (m. 1967)​

Children: 5; Jason McCallum, Paul McCallum, Peter McCallum, Sophie McCallum, Val McCallum
Parents: 

Father name: David McCallum Sr.
Mother name: Dorothy Dorman 
30 Interesting Facts about David McCallum
David McCallum, the son of symphonic violinist David McCallum Sr. and cellist Dorothy Dorman, was born on September 19, 1933, in Maryhill, Glasgow, Scotland. He was the younger of his parents' two sons.
His family relocated to London when he was just three years old after his father was given the chance to perform as a concertmaster in the London Philharmonic Orchestra. He resided with his mother in Gartocharn beside Loch Lomond when the family was forced to flee during the Second World War.
David McCallum received a scholarship to attend University College School, a private boys' school in Hampstead, London. In order to prepare for a future in music, his parents encouraged him to learn the oboe. In 1946, he recorded boy voices for the BBC radio repertory company.
He enlisted in the military at the age of 18 and joined the Middlesex Regiment's 3rd Battalion, which was attached to the Royal West African Frontier Force. In March 1954, he received a Lieutenant promotion.
Before enlisting in the army, David McCallum participated in local amateur theater during his late teenage years. He portrayed the role of Oberon in the Play and Pageant Union's open-air production of "A Midsummer Night's Dream." He entered the Royal Academy of Dramatic Art in London after being released from his army service, where he studied with Joan Collins.
In 1951, David McCallum was appointed assistant stage manager of the Glyndebourne Opera Company. Later in the 1950s, he made cameo appearances in a number of British films in supporting roles. In the movie "Ill Met By Moonlight," he made his acting debut in an uncredited role. In the movie "Whom the Gods Love, Die Young," he played a tragic prince.
In the years that followed, David McCallum portrayed a young offender in "Violent Playground" (1957), an outlaw in "Robbery Under Arms," and Harold Bride, a junior radio operator on the RMS Titanic, in "A Night to Remember" (1958). His first performance in a major American film industry was in the biographical drama 'Freud: The Secret Passion' (1962), directed by John Huston. This was followed by a role in Peter Ustinov's 'Billy Budd'.
On May 11, 1957, in London, David McCallum wed actress Jill Ireland, whom he had met while working on the movie "Hell Drivers." Three sons—Paul, Jason, and Valentine (Val)—were born to them collectively. The couple's adopted son Jason died in 1989 after accidentally drug overdose.
He portrayed Lt. Cmdr. Eric Ashley-Pitt, also known as "Dispersal," in the 1963 epic World War II movie "The Great Escape," which was based on real events. He played Judas Iscariot in the epic American movie "The Greatest Story Ever Told" from 1965.
David McCallum introduced his wife to Charles Bronson, a co-star in the 1963 movie "The Great Escape," whom she eventually left and married in 1968.
He married Katherine Carpenter in 1967, and they together have two children: Peter and Sophie.
He made many television appearances as a guest star in the early 1960s, including two appearances each on "The Outer Limits" and "The Great Adventure." He also made cameos in episodes like "Profiles in Courage," "Sir Francis Drake," "The Travels of Jaimie McPheeters," and "Perry Mason."
David McCallum's breakout performance came in the spy-fiction series "The Man from U.N.C.L.E.," where he appeared from 1964 to 1968 as the enigmatic Russian agent Illya Kuryakin. His portrayal of the mysterious persona made for the ideal counterpoint to Robert Vaughn's character, which the producers recognized and promoted him to a co-starring role.
Even during the cold war era, Illya Kuryakin's role—along with his Beatle-style blond haircut—made him a sex symbol and a phenomenon in popular culture. In the feature films "To Trap a Spy" (1964) and "The Spy with My Face," as well as the 1983 television movie "Return of the Man from U.N.C.L.E.," he repeated the role.
David McCallum later developed a recognizable face on British television and made appearances on shows including "Colditz" (1972–74), "Kidnapped," and "Sapphire & Steel" (1979–82). However, his lead performance in the 1975 American adaptation of "The Invisible Man" did not garner favorable reviews, and the show was canceled after one season.
Run for Your Wife, which toured Australia from 1987 to 1988, featured McCallum on stage there. Jack Smethurst, Eric Sykes, and Katy Manning were also cast members.
'Music…A Part of Me' (1966), 'Music…A Bit More of Me' (1966), 'Music…It's Happening Now!' (1967), and 'McCallum' (1968) were four albums produced by David Axelrod and Capitol Records with David McCallum. In 2016, he released the crime novel "Once a Crooked Man."
He participated as a main cast member in various television shows over the course of the following two decades, including "Mother Love" (1989), "Trainer" (1991–1992), "VR-5" (1995), and "Team Knight Rider" (1997–1998). He also hosted the television show "Ancient Prophecies" and narrated the famous documentary "Titanic: The Complete Story" (1994).
In addition to playing supporting roles in several major films, David McCallum also starred as Sol Madrid, the titular character, in 1968.
In the Mother Love TV miniseries from 1989, McCallum co-starred alongside Diana Rigg. In the television series Trainer, McCallum portrayed one of the main characters, the gambler John Grey, between 1991 and 1992.
In an episode of Murder, She Wrote from 1989, he had the role of an English literature professor.
McCallum made two guest appearances on American television series in the 1990s. He had a guest star role in one episode of Babylon 5 as Dr. Vance Hendricks in the Season 1 episode Infection. He also played the law enforcement officer Frank Cobb of the fictional Broken Ridge of the Ausland Confederation in season one of seaQuest DSV. Broken Ridge is an underwater mining camp off the coast of Australia by the Great Barrier Reef.
For A&E Networks in 1994, David McCallum provided the famous narration for the documentary Titanic: The Complete Story. He had worked on two Titanic-related projects before; the first was the 1958 movie A Night to Remember, in which he had a supporting role.
The TV special Ancient Prophecies was hosted and narrated by McCallum that same year. This show told of persons and locations historically connected with prophesying the end of the world and the start of new periods for mankind. It was quickly followed by three further specials.
In 1999, David McCallum was granted US citizenship, and he is a Republican. He and his wife are active members of a number of nonprofit groups that assist the United States Marine Corps.
He played Walter Thornhill in the drama series "The Education of Max Bickford" in the new century (2001-02). However, he came very near to Illya Kuryakin's level of fame with his role as Chief Medical Examiner Dr. Donald 'Ducky' Mallard in the CBS series 'NCIS' (2003–present).
David McCallum's portrayals of Dr. Donald 'Ducky' Mallard in 'NCIS' and Illya Kuryakin in 'The Man from U.N.C.L.E.' are two of his best performances. Because of the former, he gained notoriety on par with that of the Beatles and amassed more fan mail than any other actor in Metro-Goldwyn-Mayer's history.
McCallum became the last remaining member of the original NCIS ensemble after series star Mark Harmon left the show in the fall of 2021 (Season 19).
In addition to being nominated for two Emmy Awards, David McCallum was also nominated for a Golden Globe for his portrayal of Russian secret agent Illya Kuryakin in the television series "The Man from U.N.C.L.E." For his performance as Hamilton Cade in the 1969 Hallmark Hall of Fame episode "Teacher, Teacher," he was nominated for another "Emmy."
On September 25, 2023, six days after turning 90, David McCallum died at the NewYork-Presbyterian Hospital in New York City of natural causes.