Interesting and Fun Facts about Indian Actor Sivaji Ganesan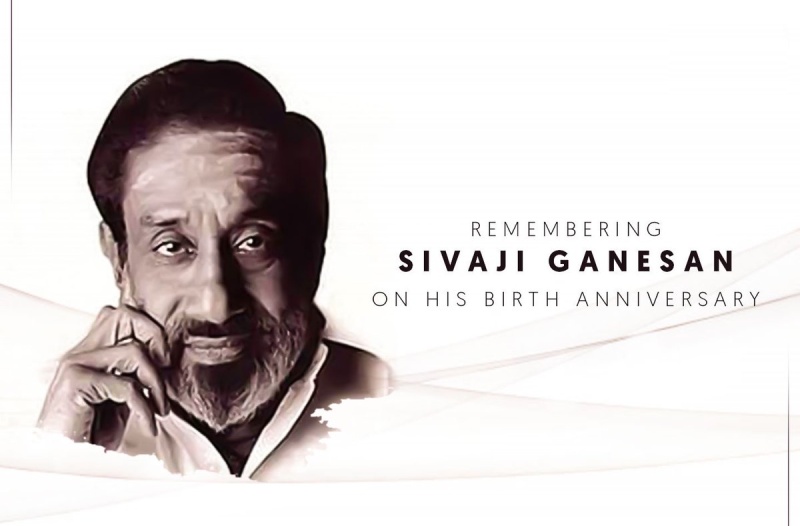 Search engine giant Google celebrates the 93rd birthday of Indian actor and producer V. Chinnaiya Manrayar Ganesamoorthy, better known by his stage name Sivaji Ganesan, with a Doodle on October 1, 2021.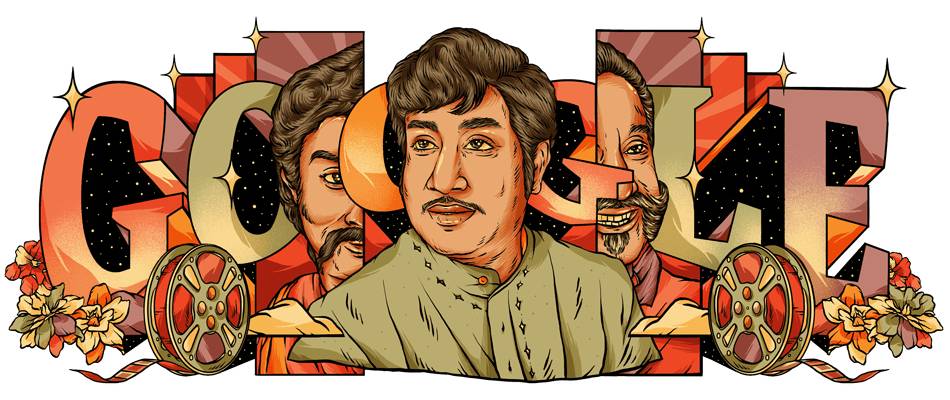 Here is a look at the life and work of Sivaji Ganesan.
Personal
Birth name: V. Chinnaiya Manrayar Ganesamoorthy
Birthdate: 1 October 1928
Birthplace: Villupuram, Madras Presidency, British India
Died on: 21 July 2001 (aged 72)
Death place: Chennai, Tamil Nadu, India
Father name: Chinnaiya Manrayar
Mother name: Rajamani Ammal
Spouse(s): Kamala
Nationality: Indian
Sun sign: Libra
Also known as:

Sivaji Ganesan
Nadigar Thilagam
Simmakuralon

Notable awards:

Kalaimamani (1962)
Padma Shri (1966)
Padma Bhushan (1984)
Chevalier (1995)
Dada Saheb Phalke Award (1996)
NTR National Award (1998)
25 Interesting Facts about Sivaji Ganesan
Sivaji Ganesan was an actor in Tamil Cinema. He is otherwise called "Nadigar Thilagam", which signifies 'the pride of actors' (Tamil: நடிகர் திலகம்). He was one of the most respected film actors in India. He was notable for his acting skills and adaptability. He became an actor after performing as a stage actor in his childhood.
In 1946, Sivaji Ganesan leaving his mark playing the title role of the Maratha emperor Sivaji—the historical character who gave him his screen name—in C.N. Annadurai's play Sivaji Kanda Indhu Rajyam.
Ganesan earned the name 'Shivaji' after his depiction of Chhatrapati Shivaji in the play Shivaji Kanda Hindu Rajyam. Social reformer EV Ramasamy gave him this name.
At the point when Annadurai formed the Dravida Munnertra Kazhagam (DMK) political party in 1949, Sivaji Ganesan joined and made his film debut with the classic DMK film Parasakthi (1952).
Sivaji Ganesan worked in many on-stage plays before making a debut in Tamil movies with the 1952 release Parasakthi. He started working on stage at 10 years old when after he joined a drama troupe in Sangillyandapuram.
Ganesan was a trained dancer in numerous classical dance forms like Bharatanatyam, Kathak, and Manipuri.
By the mid-1950s, Sivaji Ganesan had started to move away from the DMK and its atheistic policies.
Sivaji Ganesan soon achieved popularity by showing up in a few legendary films—one such film, Veerapandiya Kattabomman (1960), is likely his most popular work.
Ganesan was the first Indian artist to visit the United States as India's cultural ambassador in 1962. He went there on the invitation of then US President John F Kennedy.
Ganesan, capable of a wide range of types, is viewed by numerous individuals as one of the most gifted actors in world film. Maybe his most distinctive feature was his highly expressive, resounding voice.
Sivaji Ganesan's first blockbuster came from the film Vasantha Maligai in the year 1972. Following this movies like Gauravam, Raja Cholan, Karna, Pasamalar, Kappalottiya Thamizhan, Bale Pandiya, Thirisoolam, and so forth became extreme blockbuster movies. His last works are Padayappa and Pooparika Varugirom released in the year 1999.
In his filmy career spanning almost five decades, Sivaji Ganesan was seen in right around 300 movies, depicting the leading role in essentially every one of them, in different languages including Tamil, Hindi, Telugu, Malayalam, and Kannada. Ganesan was last seen in a supporting role in the 1999 release Pooparika Varugirom before he died on July 21, 2001.
Sivaji Ganesan likewise dabbled in politics during the 1980s, serving in the Indian parliament and as president of the Tamil Nadu faction of Janata Dal.
Ganesan was known for his eidetic memory — the ability to recall pictures, sounds, or objects in memory. This assisted him with memorize scripts in a look.
Sivaji Ganesan was the first Indian actor to get a 'Best Actor' award at an international film festival. He won the best actor awards at the Afro-Asian Film Festival held in Cairo, Egypt in 1960 for his depiction in the 1959 Tamil film Veerapandiya Kattabomman.
Ganesan was active in politics from his early days. In the wake of being affiliated with numerous political outfits, Ganesan at long last drifted his own political party Thamizhaga Munnetra Munnani in the year 1988. His party challenged 50 seats in the Tamil Nadu Assembly election, be that as it may, it couldn't get a lot of achievement.
In 1989, Sivaji Ganesan became the president of the Tamil Nadu wing of former VP Singh's Janta Dal. In contrast to his successful career in films, Ganesan had a forgettable stint in politics.
Sivaji Ganesan has won the President's Award over 12 times for his performance in different movies. He was likewise honored with civilian awards like Padma Shri, Padma Bhushan, and Dada Saheb Palke Award, the highest award in India for people associated with the film industry.
Suffering from respiratory issues, Sivaji Ganesan was admitted to the Apollo Hospital in Chennai on 1 July 2001. He died on 21 July 2001 at 72 years old only three months before his 73rd birthday for which he had special plans.
A documentary Parasakthi Muthal Padayappa Varai was made to honor Sivaji Ganesan's legacy.
Sivaji Ganesan is viewed as one of the best Indian actors of all time. His legacy is carried on for international audiences through the performances of the numerous contemporary Indian acting greats who refer to Ganesan as a major inspiration.
Pondicherry (Puducherry) was the first state to erect a statue of Sivaji Ganesan out of appreciation for his acting skills and his immense fan base in the state and it was uncovered by the then Puducherry Chief Minister N. Rangasamy. A statue of Ganesan was erected on Kamarajar Road in Chennai, Tamil Nadu to pay tribute to the actor and was divulged by the then Tamil Nadu Chief Minister M. Karunanidhi in 2006.
The South Indian Film Artistes' Association as a tribute to Ganesan, pronounced that 1 October, the birthday of Ganesan, would be seen as Actors' Day by the association Chennai film industry.
The Government of Maharashtra has initiated a state award, in the name of Ganesan, which is given under the Best Actor category every year named "Sivaji Ganesan Award".
On 1 October 2021, Google honored Sivaji Ganesan's 93rd birth anniversary with a Google Doodle on their Indian homepage.