Interesting Facts About Indian Actress and Dancer Zohra Segal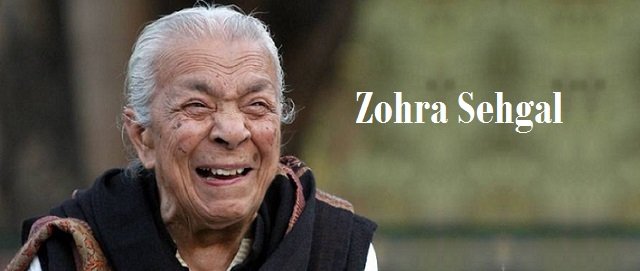 Google Doodle celebrates Indian actress, dancer, and choreographer Zohra Segal (Sehgal) on September 29, 2020. Doodle, represented by visitor artist Parvati Pillai, honors the day in 1946 on which Segal's renowned early work was a role in the film "Neecha Nagar" ("Lowly City") was released at the Cannes Film Festival.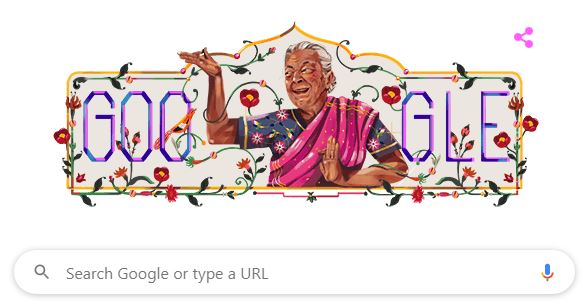 Here's a look at the life and work of Indian actress, dancer, and choreographer Zohra Segal.
Personal
Birth name: Sahibzadi Zohra Mumtazullah Khan Begum
Birthdate: 27 April 1912
Birthplace: Saharanpur, Uttar Pradesh, India
Died on: 10 July 2014 (aged 102)
Death place: Delhi, India
Father name: Mumtazullah Khan
Mother name: Natiqua Begum
Spouse(s): Kameshwar Nath Segal
Sun Sign: Taurus
Nationality: Indian
Famous As: Actress, dancer, choreographer
Education:

Queen Mary College, Lahore
Mary Wigman's ballet school in Dresden, Germany

Notable awards:

Sangeet Natak Akademi Award (1963)
Padma Shri (1998)
Kalidas Samman (2001)
Padma Bhushan (2002)
Sangeet Natak Akademi Fellowship (2004)
Padma Vibhushan (2010)
36 Interesting Facts about Zohra Segal
Zohra Segal was an Indian actor, choreographer, and dancer, most popular for featuring in various Indian and British movies during her long and famous career.
Zohra Sehgal was born Zohra Mumtazullah Khan Begum, in Rampur, Uttar Pradesh, on April 27, 1912, to Mumtazullah Khan and Natiqua Begum. Hers was a major family with seven children, and she was the third child of her parents. Not long after she was born, the family moved to Chakrata (part of modern-day Uttarakhand). She was brought up in a highly conservative environment, as she belonged to a Rohilla Pathan Muslim family.
Zohra Segal contracted glaucoma and lost vision in one eye when she was 1 year old. Following this, she was taken to Birmingham, England, where she was treated successfully.
Zohra Segal was very not normal for different girls of her age in those days. She grew up as a "tomboy" who played with boys and climbed trees. She lost her mom when she was still very youthful. Her mom wanted every one of her girls to study. Accordingly, Zohra joined 'Queen Mary College' in Lahore after graduating from secondary school.
After graduating from 'Queen Mary College,' Lahore, Zohra Segal joined a ballet school in Dresden, Germany, and studied modern dancing.
Zohra Sehgal met Uday Shankar in Europe. He vowed to work with her back in India.
Zohra Segal was likewise pressurized to get married in her mid-20s. Notwithstanding, since she had perceived how her sister's marriage had disintegrated, she decided to conflict with the common standards and wouldn't wed youthful. By that point, she had begun getting interested in performing arts.
Before long, one of her uncles, who lived and worked in Edinburgh, invited Zohra Sehgal over and arranged an acting tutor for her. She in this way moved to Europe and joined acting classes. Be that as it may, one of her aunties, Dicta, got her enlisted into dancing classes at Mary Wigman's ballet school, situated in Dresden, Germany.
Zohra Segal became the first Indian to learn dance at the school. Soon, she perfected ballet and modern dance and rose as an incredible dancer. She started performing on stage in various parts of Europe.
While remaining in Europe, Zohra Segal went over a ballet show named 'Shiv-Parvati' by ace Indian choreographer Uday Shankar. She became Uday's fan promptly and met him behind the stage. It was a life-changing meeting for her, as Uday guaranteed her that he would work with her once she finished her dance training.
At some point later, Uday got a chance to act in Japan, and he invited Zohra Sehgal to be essential for his dance troupe. She acknowledged the offer, and it was the start of a long and productive collaboration. During the 1930s, Zohra hit the dance floor with Uday's troupe across countries and landmasses, in Japan, Egypt, and the US. Soon, she became the lead dancer in the troupe.
Uday got back to India in 1940, and Zohra went with him. She started functioning as a dance teacher at the 'Uday Shankar India Cultural Center' in Almora.
A few years after the fact, Zohra Segal moved to Lahore with her husband and set up her dance institute, the 'Zohresh Dance Institute.' However, the political and common disturbance was uncontrolled in India in those days, and Hindu–Muslim couples were not entertained. They subsequently got back to Bombay.
Her older sister worked with the popular 'Prithvi Theater' in Mumbai. Zohra Sehgal joined a similar theater group as an actor. She at that point partook in numerous theatrical plays the nation over.
Zohra Segal was a liberal by ideology. Accordingly, in 1945, she left 'Prithvi Theater' and joined a leftist theater group named 'IPTA.' She did numerous plays with them in front of an audience. She likewise started the following period of her career with them and wandered into films.
Zohra Segal made her full-fledged film debut in 1946, with the film 'Dharti Ke Lal.' The film featured Balraj Sahni in the lead role and depended on the Bengal famine of 1943. The film was appreciated by pundits for its realism. It was additionally one of the first movies that denoted the appearance of the Indian "new wave" cinema.
The very year, Zohra Segal showed up in one more film, 'Neecha Nagar.' It was another realistic drama. The film ended up being limitlessly successful both basically and economically and won the 'Palme D'Or Award' at the 'Cannes Film Festival.' It is still viewed as one of the most significant Hindi movies ever.
Zohra Segal generally played supporting roles in these commercially and widely praised films. These were additionally the first few Indian movies in history that got international critical approval. Notwithstanding her achievement in these movies, Zohra generally did theatrical plays throughout the next few decades.
Her husband died in 1959. Following this, she moved to Delhi, to begin her dance academy, the 'Natya Academy.' Apart from acting, she likewise choreographed songs in numerous movies, for example, Raj Kapoor's 'Awaara' and Guru Dutt's 'Baazi.'
Her international notoriety was additionally taking off with the international praise she got for her movies. During the 1960s, she moved to the U.K. and showed up in two Western TV series: 'Doctor Who' and 'The Indian Tales of Rudyard Kipling.'
In the last part of the 1960s, Zohra Segal showed up in British movies, for example, 'The Long Duel' and 'The Vengeance of She.' As she got more proposals to star in English movies, she showed up in films, for example, 'The Courtesans of Bombay' and 'Tales that Witness Madness.'
During the 1990s, Zohra Segal got back to India and started working in Hindi movies. She showed up in numerous popular movies, for example, 'Dil Se..,' 'Dillagi,' and 'Veer-Zara.' The 2007 film 'Saawariya' was her last film as an actor.
Sehgal's most outstanding movies incorporate Neecha Nagar, Afsar, Bhaji on the Beach, The Mystic Masseur, Bend It Like Beckham, Dil Se.., Saaya, Saawariya, and Cheeni Kum; and the TV serials The Jewel in the Crown, Tandoori Nights and Amma and Family.
At 90 years old, Zohra Segal played the central character in the 2002 film Chalo Ishq Ladaaye. She has likewise acted in English-language movies, for example, Bend It Like Beckham.
In 1998, Zohra Sehgal was awarded the highest Indian civilian honor, the 'Padma Shri.'
Zohra Segal has acted with Prithviraj Kapoor, Ashok Kumar, Dev Anand, Govinda, Shah Rukh Khan, Salman Khan, Amitabh Bachchan, and Ranbir Kapoor.
Zohra Segal was known as the "Laadli of entertainment" and "doyenne of Indian Theater".
She was otherwise called the Grand Old Lady of Bollywood.
Zohra Segal was awarded Kalidas Samman in 2001 and the Sangeet Natak Akademi in 2004.
India's National Academy for Music, Dance and Drama presented her its highest award, the Sangeet Natak Akademi Fellowship for lifetime achievement.
Zohra Segal was additionally honored with the Padma Vibhushan in 2010.
Zohra Sehgal was married to Indian dancer, choreographer, and researcher Kameshwar Segal. The couple had two children together. They stayed together until he died in 1959. Zohra never remarried.
Zohra showed up on "Doctor Who" as the only actor to have lived for so many years and as the first person to be more than 100 years on the show.
Zohra Segal died because of cardiac arrest on July 10, 2014, in New Delhi. She was 102 years of age at the time of her demise.
Following her death on July 10, 2014, Olaf Pooley became the oldest living cast member and remained so until his demise on July 14, 2015. Zohra Segal remained the longest-lived cast member until 2019 when she was surpassed by Earl Cameron.
On September 29, 2020, Google honored the work of Zohra Segal with Google Doodle.