Interesting Facts about Kanō Jigorō, the Father of Judo Martial Arts
Search engine giant Google celebrates the 161st birthday of a Japanese educator, athlete, and founder of Judo "Father of Judo" Kanō Jigorō (嘉納治五郎). Judo was the first Japanese martial art to acquire widespread international recognition and the first to become an official Olympic game.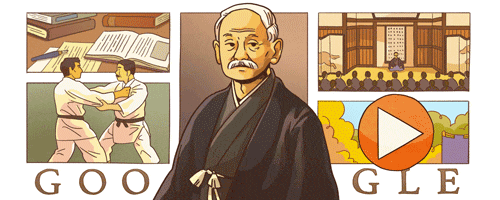 Here is a look at the life and work of Kanō Jigorō (嘉納治五郎).
Personal
Birthdate: 28 October 1860
Birthplace: Mikage, Ubara-gun, Settsu Province, Tokugawa, Japan
(present-day Hyogo Prefecture)
Died on: 4 May 1938 (aged 77)
Death place: Hikawa Maru, Japan
Father name: Kanō Jirōsaku (née Mareshiba Jirōsaku)
Spouse: Sumako Takezoe
Nationality: Japanese
Sun sign: Scorpio
Style: Judo, Jūjutsu
Famous as: Founder of judo martial art
Rank: Kōdōkan jūdō: Shihan & Founder
Kitō-ryū: Menkyo
Tenjin Shin'yō-ryū: Unverified
40 Interesting facts about Kanō Jigorō (嘉納治五郎)
Kanō Jigorō was born to a sake-brewing family in the town of Mikage, Japan (presently within Higashinada-Ku, Kobe) on October 28, 1860. when Kanō was nine years of age, his mother died, and his father moved the family to Tokyo. The young Kanō was enrolled in private schools and had his English language tutor. In 1874 he was shipped off a private school run by Europeans to further develop his English and German language skills.
The name Judo signifies "the gentle way" and the sport is based on standards like justice, courtesy, safety, and modesty. Kanō Jigorō considered the to be martial arts as a way of uniting individuals, even while throwing adversaries to the mat. He is known as "Father of Judo".
One day, Nakai Baisei (a friend of the family who was a member of the shōgun's guard), referenced that jūjutsu was an amazing form of physical training, and showed Kanō a few procedures by which a smaller man may conquer a bigger and stronger adversary. Seeing a potential for self-defense on this, Kanō decided he wanted to gain proficiency with the art, regardless of Nakai's insistence that such training was outdated and risky. Kanō's father likewise discouraged him from jūjutsu, as he disregarded the tormenting his son suffered, yet after taking note of Kanō's deep interest in the art, he permitted him to train on condition Kanō would strive to master it.
To develop strength, Kanō Jigorō became determined to study the martial art of Jujutsu. During his time as a student at Tokyo University, he, at last, found somebody who might teach him—Jujutsu master and former samurai Fukuda Hachinosuke.
On 5 August 1879, Kanō Jigorō took an interest in a jūjutsu demonstration given for former United States president Ulysses S. Award. This demonstration occurred at the home of the noticeable businessman Shibusawa Eiichi.
Pedagogical innovations credited to Kanō Jigorō incorporate the use of black and white belts, and the acquaintance of dan ranking to show the relative ranking among members of a martial art style. Notable mottoes credited to Kanō incorporate "maximum efficiency with minimum effort" (精力善用 seiryoku zen'yō) and "mutual welfare and benefit" (自他共栄 Jita kyōei).
Some well-known works propose that Kanō acquired a teaching license in this school, yet this has not been documented: no Tenjin Shin'yō-ryū certificate(s) with Kanō's name visible is portrayed anyplace in the Kōdōkan museum or any published source. Nor is such rank specified in any authentic Tenjin Shin'yō-ryū archival documents.
In 1881, Kanō Jigorō started training in Kitō-ryū with Iikubo Tsunetoshi (Kōnen). Iikubo was an expert in kata and throwing, and fond of randori. Kanō applied himself completely to learning Kitō-ryū, trusting Iikubo's throwing techniques specifically to be better compared to in the schools he had previously studied. It is Iikubo who issued Kanō's just verified jūjutsu rank and teaching credential, in particular a certificate of Menkyo (not Menkyo Kaiden) in Nihonden Kitō Jūdō, dated October 1883.
During the mid-1880s, there was no clear separation between the jūjutsu that Kanō was teaching and the jūjutsu that his teachers had taught previously. Kanō's Kitō-ryū teacher, Iikubo Tsunetoshi, went to Kanō's classes two or three times each week to help Kanō's teaching. Eventually, students and masters started to exchange places, and Kanō started to defeat Iikubo during randori.
judo, Japanese jūdō, the system of unarmed combat, is presently primarily a sport. The rules of the sport of judo are mind-boggling. The goal is to neatly throw, pin, or master the rival, the latter being finished by applying strain to arm joints or to the neck to make the adversary yield.
Kanō Jigorō (嘉納治五郎) (1860–1938) gathered the information on the old jujitsu schools of the Japanese samurai and in 1882 established his Kōdōkan School of judo (from the Chinese jou-tao, or roudao, signifying "gentle way"), the start of the sport in its modern form.
Kanō eliminated the most perilous strategies and focused on the practice of randori (free practice), even though he likewise preserved the classical techniques of jujitsu (jūjutsu) in the kata (forms) of judo.
By the 1960s judo affiliations had been set up in many countries and partnered to the International Judo Federation, which is headquartered in Budapest, Hungary.
Judo's direction has changed since its origin. Kanō Jigorō planned judo to be a protected, agreeable technique for physical education.
Kanō Jigorō's initial work was affected by different techniques and institutions. Notwithstanding, after judo was brought into the Japanese public schools, a process that occurred somewhere in the range of 1906 and 1917, there was expanding standardization of kata and tournament technique.
Kanō Jigorō (嘉納治五郎) additionally directed the development and growth of his judo association, the Kodokan Judo Institute. This was a noteworthy effort in itself, as the Kodokan's enlistment developed from fewer than a dozen students in 1882 to more than 1,000 dan-graded members by 1911.
In May or June 1882, Kanō Jigorō began the Kodokan dojo with twelve mats, in space belonging to the Eishō-Ji (永昌寺), a Buddhist temple in what was then the Shitaya ward of Tokyo (presently the Higashi Ueno district of Taitō ward).
The Kodokan moved to a 60-mat space in April 1890. In December 1893, the Kodokan began moving to a bigger space situated in Tomizaka-Cho, Koishikawa-Cho, and the move was finished by February 1894.
In 1909, Kanō Jigorō consolidated the Kodokan and supplied it with 10,000 yen (then, at that point, about US$4,700). The Kodokan moved indeed during Kanō's lifetime, and on 21 March 1934, the Kodokan dedicated this 510-mat facility. Visitors at the opening incorporated the Belgian, Italian, and Afghan ambassadors to Japan. In 1958, when the Kodokan moved to its present eight-story facility, which currently has more than 1200 mats, the old building was sold to the Japan Karate Association.
In his professional life, Kanō was a teacher. Significant postings included serving as director of primary education for the Ministry of Education (文部省, Monbushō) from 1898 to 1901, and as president of Tokyo Higher Normal School from 1900 until 1920. He played a key role in making judo and kendo part of the Japanese public school programs of the 1910s.
On 18 April 1888, Kanō Jigorō and Reverend Thomas Lindsay introduced a lecture called "Jiujitsu: The Old Samurai Art of Fighting without Weapons" to the Asiatic Society of Japan. This lecture occurred at the British Embassy in Tokyo. Its theme was that the main principle of judo included acquiring triumph by respecting strength. Being an idealist, Kanō had a wide focuses on judo, which he saw as something that at the same time included self-defense, physical culture, and moral behavior.
During March 1922, Kanō Jigorō carried this to realization through the presentation of the Kodokan Bunkakai, or Kodokan Cultural Association. This association held its first meeting at Tokyo's Seiyoken Hotel on 5 April 1922 and held its first public lecture three days after the fact at the YMCA hall in Kanda. The mottoes of the Kodokan Cultural Association were "Good Use of Spiritual and Physical Strength" and "Prospering in Common for Oneself and Others." Although those are literal translations, the phrases were typically converted into English as "Maximum Efficiency with Minimum Effort" and "Mutual Welfare and Benefit." The theories of this association were depicted in some detail in an article published in an American magazine Living Age in September 1922.
Kanō was likewise a pioneer of international sports. Achievements included being the first Asian member of the International Olympic Committee (IOC) (he served from 1909 until 1938); officially representing Japan at most Olympic Games held somewhere in the range of 1912 and 1936, and serving as a leading representative for Japan's offered for the 1940 Olympic Games.
Toward satisfying his duties as a member, in 1912, Kanō set up the Japan Amateur Athletic Association (Dai Nippon Tai-iku Kyokai), which had the mission of overseeing amateur sport in Japan.
Kanō Jigorō (嘉納治五郎) was the official representative of Japan to the Olympics in Stockholm in 1912, and he was associated with organizing the Far Eastern Championship Games held in Osaka during May 1917. In 1920, Kanō represented Japan at the Antwerp Olympics, and during the mid-1920s, he served on the Japanese Council of Physical Education.
He didn't have a lot of influence in organizing the Far Eastern Championship Games held in Osaka in May 1923, nor did he attend the 1924 Olympics in Paris, yet he did represent Japan at the Olympics in Amsterdam (1928), Los Angeles (1932), and Berlin (1936). From 1931 to 1938, he was additionally one of the leading international spokesmen in Japan's bid for the 1940 Olympics.
Kanō Jigorō (嘉納治五郎) entered Tokyo Imperial University in June 1877. He studied political science and economics, which around then were taught by the Department of Esthetics and Morals. He graduated in July 1882, and the next month he started work as a professor, fourth class, at the Gakushuin, or Peers School, in Tokyo.
In 1883, Kanō Jigorō was appointed professor of economics at Komaba Agricultural College (presently the Faculty of Agriculture at University of Tokyo), however, during April 1885, he got back to Gakushuin, with the position of principal.
In January 1891, Kanō Jigorō was delegated to a position at the Ministry of Education. In August 1891, he surrendered this position to become a dean at the Fifth Higher Normal School (present-day Kumamoto University). One of the teachers at Fifth Higher somewhere in the range of 1891 and 1893 was Lafcadio Hearn.
Around this same time, Kanō Jigorō married. His wife, Sumako Takezoe, was the daughter of a former Japanese ambassador to Korea. Ultimately, the couple had six daughters and three sons.
Throughout the mid-year of 1892, Kanō went to Shanghai to assist with building up a program that would permit Chinese students to study in Japan. Kanō revisited Shanghai in 1905, 1915, and 1921.
In January 1898, Kanō was designated director of primary education at the Ministry of Education, and in August 1899, he got a grant that permitted him to study in Europe. His boat left Yokohama on 13 September 1899, and he arrived in Marseilles on 15 October. He spent about a year in Europe, and during this tour, he visited Paris, Berlin, Brussels, Amsterdam, and London.
Kanō Jigorō (嘉納治五郎) got back to Japan in 1901. Soon after getting back to Japan, he continued his post as president of Tokyo Higher Normal School, and he stayed in this position until his retirement on 16 January 1920. He additionally established Nada Middle High School in 1928 at Kobe, which later became one of the highest-ranked private high schools in Japan.
Kanō's educational philosophy was a combination of both traditional Japanese neo-Confucianism and contemporary European and American philosophies, to incorporate Instrumentalism, Utilitarianism, and "evolutionary progressivism", as Social Darwinism was then known.
Kanō Jigorō (嘉納治五郎) became active in the work of the International Olympic Committee (IOC) in 1909. This came to fruition after Kristian Hellström of the Swedish Olympic Committee wrote to the governments of Japan and China to inquire as to whether they planned to send teams to the 1912 Olympics.
In 1934, Kanō Jigorō quit giving public exhibitions. The reason was his failing health, most likely compounded by kidney stones. In any case, Kanō kept going to significant Kodokan events, for example, Kagami-biraki (New Years' ceremonies) at whatever point he could, and he kept partaking in the Olympics business.
In May 1938, Kanō died at sea, during a trip that he made a member of the IOC on board the NYK Line motor ship Hikawa Maru.
Judo didn't die with Kanō. Instead, during the 1950s, judo clubs jumped up all through the world, and in 1964, judo was presented as an Olympic sport in the Tokyo Olympics and was once again introduced at the Munich Olympics in 1972. Kanō's posthumous reputation was in this manner guaranteed.
Kanō Jigorō's official honors and decorations incorporated the First Order of Merit and Grand Order of the Rising Sun and the Third Imperial Degree. Kanō was enlisted as the first member of the International Judo Federation (IJF) Hall of Fame on 14 May 1999.
Google honored Kanō Jigorō (嘉納治五郎) on his 161st birth anniversary with a slideshow doodle on October 28, 2021.