Interesting Things to Know about the 49ers Plans to Sign Multi-year Contract Extensions with John Lynch and Kyle Shanahan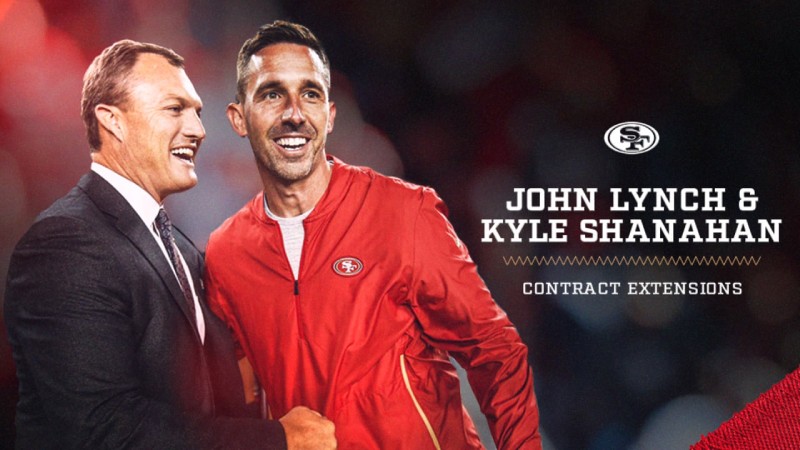 The San Francisco 49ers announced that they had extended the contracts of general manager John Lynch and head coach Kyle Shanahan for multiple years. The 49ers' winning run is currently the second-longest in franchise history during the regular season, and on Friday, the team announced multiyear contracts for general manager John Lynch and coach Kyle Shanahan.
To accomplish this, the Niners on Friday announced multiyear contract extensions for Shanahan and John Lynch. The trades follow San Francisco's 30-12 victory over the New York Giants on Thursday night, which raised the Niners' season record to 3-0, the team's second perfect start in the previous four years.
Together with matching six-year contracts in hand, Kyle Shanahan and John Lynch moved to San Francisco in 2017 to begin their individual careers. The Niners have developed into one of the league's most consistently successful teams after undergoing a complete rebuild in the first couple of years.
The duo joined the 49ers in February of 2017, and since then they have taken the team to the playoffs three times, won the NFC West division twice (in 2019 and 2022), advanced to three NFC Championship games (in 2019 and 2021-22), and attended Super Bowl LIV. Over the past seven seasons, the 49ers have compiled a regular season record of 55-46 while also going 6-3 in the postseason under their direction. San Francisco has won 45 games since 2019, which is second-most in the NFC and tied for fourth-most in the NFL.
Since moving to San Francisco, John Lynch has been careful to sign players who represent the team's culture both on the field and in the community. He was in charge of selecting players like All-Pro DL. Nick Bosa, TE George Kittle, S Talanoa Hufanga, WR Deebo Samuel, and LB Fred Warner were all acquired, while the team also found success in the late rounds with QB Brock Purdy and LB Dre Greenlaw, among other significant players like Pro Bowl FB Kyle Juszczyk and DL Javon Hargrave. Lynch also played a key role in the trades that brought in RB Christian McCaffrey and T Trent Williams. Lynch was honored by the Pro Football Writers of America as Executive of the Year in 2019.
The Niners have played in a Super Bowl, advanced to two previous NFC Championship Games, and amassed 45 regular-season victories over the past four seasons, which is tied for the fourth-most in the NFL, and six postseason victories, which is second.
When the Niners sacked Chip Kelly and general manager Trent Baalke following a 2-14 record in 2016, Niners CEO Jed York sought stability at the top of the organization after passing through three head coaches in as many seasons — Jim Harbaugh, Jim Tomsula, and Chip Kelly — from 2014 to 2016.
York sought a coach and general manager who would share the same goals while still pushing one another to improve. After conducting several interviews, he hired John Lynch away from the Fox broadcast booth to be his general manager, shocking the NFL world. Kyle Shanahan, who was the Atlanta Falcons' offensive coordinator at the time, was named as the team's coach.
York expressed his satisfaction with John Lynch and Kyle Shanahan's work since their arrival at the league meetings in March.
"Trust is earned and it's reestablished in any relationship that you have," York said then. "But that's what you need to be successful. You have to be able to make mistakes to get to a championship. I've been around folks where you're looking at every single draft decision that you make or every single trade that you make, and you're looking at it from an individual standpoint versus we've been in three NFC Championship Games and one Super Bowl in the last four years. That's a pretty good run. … It's not ultimately where we want to be, but it's a pretty good run."
On February 6, 2017, Kyle Shanahan was appointed the 20th head coach in the history of the organization.
Following his successful coaching of the 49ers to a 13-3 regular season record, the NFC West Division Title, and a spot in Super Bowl LIV in 2019, he was awarded Coach of the Year by Sporting News and NFC Coach of the Year by the Committee of 101.
The highest win increase from one season to the next in franchise history was nine wins for San Francisco from 2018 to 2019.
San Francisco has averaged 367.3 net yards per game under his leadership, ranking seventh in the NFL since 2017.
John Lynch's contract ran through 2024, while Kyle Shanahan's ran until 2025 before their latest extensions. The team withheld information about the latest extensions.
Lynch's contract with the 49ers was previously extended through the 2024 season, while Shanahan's was through the 2025 campaign. The details of their new contracts are not yet known.
Coach Kyle Shanahan and General Manager John Lynch, who are off to a 3-0 start in their seventh season together, both have contract extensions.
The partnership has been renewed, the 49ers said on Friday. As of right now, Kyle Shanahan and John Lynch are employed by the terms of contracts they signed in the summer of 2020 after winning the Super Bowl.
The news was released about 30 minutes after Kyle Shanahan ended a media conference call to discuss Thursday night's 30-12 victory over the New York Giants in the home opener. Terms were not disclosed, other than the fact that they are "multi-year" extensions, but it is believed handshake agreements were in place last month. John Lynch, Shanahan, or the York family ownership made no statements.
The 49ers would need to win their 13th straight regular-season game to break their franchise record by two. It is the NFL's longest active winning streak. And it doesn't matter if it skips over their disastrous NFC Championship Game in Philadelphia.
With a 30-12 victory over the New York Giants at Levi's Stadium on Thursday night, the 49ers improved to 3-0 on the year.
Since Week 8 of the previous season, the 49ers have won 13 straight games in the regular season. The 49ers went 15 games without losing during the regular season, going undefeated from Week 12 of the 1989 season through Week 10 of the 1990 season.
The 49ers, who were together for three seasons, won the NFC's top seed and made it to Super Bowl LIV, where they fell to the Kansas City Chiefs, 31-20, at Miami Gardens.
In each of the previous two seasons, the 49ers have made it to the NFC Championship Game.
The 49ers have a regular-season record of 55-46 and a postseason record of 6-3 three games into the Shanahan-Lynch tandem's eighth season.
The 43-year-old Kyle Shanahan is already one of the 49ers' head coaches with the fifth-longest tenure, trailing Bill Walsh (1979–87), Buck Shaw (1946–54), Dick Nolan (1968–75), and George Seifert (1989–96).
In regular-season play, Shanahan has a record of 55-46, including a 45-24 mark in his first two seasons. His six postseason victories are second to Walsh and Seifert's 10 each, who both led their teams to Super Bowl victories, the most recent of which was in the 1994 season, 29 years ago.
Although there may have been a 2026 option, Kyle Shanahan was granted an extension in June 2020 that lasted until 2025. Lynch's contract was extended to 2025 a month after Shanahan's. When Amazon's Prime Video attempted to entice Lynch back into the broadcast booth last year, their productive alliance was put in jeopardy.
After his Pro Football Hall of Fame career came to an end in 2008, John Lynch, 51, began working as a Fox Sports announcer.
Lynch and Shanahan were not made available for comment on Friday's announcement, even though they spoke about the team's state when training camp began two months ago.
According to Kyle Shanahan, wide receiver Deebo Samuel's fourth-quarter catch-and-run for 19 yards did not result in any rib fractures. Samuel resumed the same drive, capping it with a 27-yard touchdown catch, giving the final score of 30-12.
Linebackers Dre Greenlaw and Demetrius Flannigan-Fowles had low-ankle sprains, which were the only additional ailments Shanahan mentioned. Together with Samuel's injury, these are "day-to-day" problems rather than long-term ones.
The consecutive unnecessary roughness fines against Greenlaw did not diminish Shanahan's respect for him.
In contrast to Thursday night's penalty, which was committed after Greenlaw struck wide receiver Darius Slayton as he was being stopped by Charvarius Ward on the sideline in the fourth quarter, Sunday's penalty against the Rams looked to result from an after-the-whistle conversation.
Since the final game of the regular season in 2021, Greenlaw has been flagged for unnecessary roughness six times. He was also disqualified for his helmet-to-helmet hit on Chargers quarterback Justin Herbert last season.
Christian McCaffrey, who leads the NFL in rushing, took all of the offensive snaps in Sunday's victory over the Rams, but he only participated in 61 percent of them on Thursday (51-of-83). Jordan Mason rounded things off with four carries after Elijah Mitchell, who was inactive the previous game, had 28 snaps.
A league-high 353 yards have been gained by McCaffrey on the ground, including 85 on 18 attempts against the Giants. He scored a rushing touchdown for the third game in a row, and by scoring in 12 straight regular-season games, he tied Jerry Rice's franchise record. McCaffrey also had 34 receiving yards and once more impressed Kyle Shanahan with his stiff-arm technique.
Ray-Ray McCloud and Ronnie Bell would alternate playing opposite Samuel because Brandon Aiyuk (shoulder) would be out for the first time since 2020. Bell took 31 snaps towards the end compared to McCloud's 38. Jauan Jennings had 31 as well.
Although other defensive backs and linebackers have occasionally stepped up, the 49ers' defense is still ignited by a five-man pass rush, whether it comes from Javon Kinlaw entering the starting front or linebacker Fred Warner arriving on a blitz up the middle.
One such play occurred when Kinlaw, Arik Armstead, Javon Hargrave, Drake Jackson, and Nick Bosa pursued Daniel Jones after he threw the ball out of bounds on the Giants' first third-down attempt after the break.
On first-half plays, the 49ers' sacks came from Bosa and Hargrave. A lot of people are praising Kinlaw, and Kyle Shanahan attributes this to the fact that he is the healthiest top overall pick for 2020 that he has ever seen. Thursday night, Kinlaw played 19 snaps compared to Bosa's 39, Armstead's 36, and Hargrave's 34.
A day after being dismissed and two days after joining the 49ers, cornerback Anthony Brown was re-signed. In response, the 49ers released Tre Swilling, who had been called up from the practice squad and had only appeared on special teams in the previous two games.