San Francisco 49ers' Nick Bosa becomes the highest-paid defensive player in NFL history by signing a 5 year, $170 million contract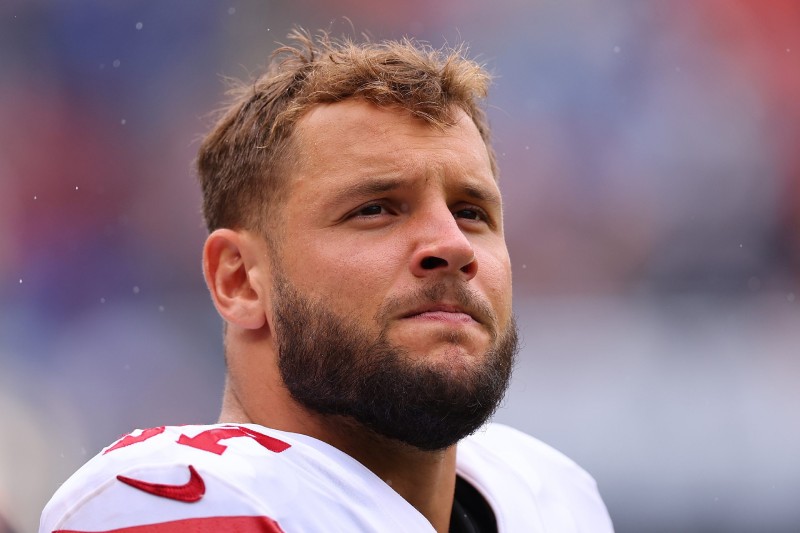 Nick Bosa, the defensive end for the San Francisco 49ers and the current AP NFL Defensive Player of the Year, recently signed a five-year, $170 million contract deal, making him the highest-paid defensive player in NFL history. With a five-year, $170 million agreement from the Niners, Bosa will become the highest-paid non-quarterback in NFL history.
According to Schefter and Rapoport, the agreement includes a $122.5 million guaranteed payment.
Kyle Shanahan, the head coach of the San Francisco 49ers, told reporters he arrived three minutes late to the news conference on Wednesday because he had just learned of the deal.
The league's reigning Defensive Player of the Year is on his way back to the Bay Area to end his holdout, sign his deal, and re-join the team before Sunday's season opener against the Pittsburgh Steelers. Coach Kyle Shanahan, who was unaware of the deal until just moments before his scheduled media availability, walked into the room with a big smile.
"Once we kind of went through the weekend, I just kind of got in my mind that we weren't playing with him," Kyle Shanahan said. "If I would have gone back and forth, that would have been miserable, so I just decided we weren't. I think our team was ready to not [have him] and that was our mindset, and it was a hell of a bonus just getting told that coming in here. So we're obviously real excited about it."
The $122.5 million in guarantees significantly surpasses the $102 million mark set by Joey Bosa's Los Angeles Chargers in 2020, and the $34 million annual payout beats the $31.7 million average held by Los Angeles Rams defensive tackle Aaron Donald.
Beyond the money, the timing of the transaction makes it likely that Bosa will wear his customary red No. 97 jersey on Sunday in Pittsburgh. The Niners have never questioned if Bosa, who has been working out at his home in Fort Lauderdale, will maintain his physical fitness during his holdout, despite Kyle Shanahan's assertion that he needed to speak with him to determine his current state of health.
Nick Bosa will therefore be prepared on Sunday, according to Kyle Shanahan, who even joked that he would play "as many snaps" as the game would let.
"There is (some) question because we haven't seen him, but I think you guys know how I'm talking," Kyle Shanahan said. "He'd have to have a beer belly and be out of shape or something and that's not in Nick Bosa's DNA."
"Obviously pumped up about it," Kyle Shanahan said. "I thought it would come to fruition sometime last week and it didn't, which made me nervous, made me kind of move on with it just because I thought I had to. But I mean, we all knew Nick was going to get rewarded like he did."
He said that Bosa deserved the large deal.
He said, "He's gonna earn it going forward, too."
After the rumored deal, Bosa remarked on Instagram, "Shall we?"
His teammates enthusiastically replied.
Trent Williams, an offensive lineman, wrote, "Yes we shall !!!!!!!! Let's gooooo."
Tight-end Defensive lineman Arik Armstead wrote, "Lessss goooo," while George Kittle added, "171 holy Toledo Batman."
Nick Bosa would be following a blueprint established by Steelers pass rusher T.J. Watt in 2021 if he were to participate. In that particular season, Watt was a "hold-in," reporting to training camp but not taking part in team periods because he was negotiating a new contract.
Four days before the season opener against the Buffalo Bills, Watt signed to a four-year, $112 million agreement. He then recorded two sacks, one tackle for loss, and five quarterback hits in a win.
Nick Bosa's teammates wouldn't be shocked if he were to continue where he left off in 2022 when he recorded a league-leading 18.5 sacks, 51 tackles, two forced fumbles, and 58 quarterback pressures (third in the NFL). Bosa's performance resulted in his first selection to the All-Pro team and third Pro Bowl berth, paving the way for his record-breaking contract on Wednesday.
"I think Bosa's much more than just a little kick (for the team)," left tackle Trent Williams said. "He's a kick-it-out-of-the-back-of-the-end-zone type of kick. Having him back, we're all elated. Couldn't be happier."
It's not shocking that an agreement was eventually reached between the Niners and Nick Bosa. That it took more than six weeks to complete was surprising.
In the weeks leading up to or immediately following the start of camp, San Francisco has a history of re-signing some of its marquee athletes. With tight end George Kittle in 2020, linebacker Fred Warner in 2021, and wide Deebo Samuel in 2022, it followed a similar pattern.
The biggest of those deals, that with Nick Bosa, turned out to be more challenging.
Shanahan and general manager John Lynch were certain that trading Nick Bosa was never a possibility and never voiced any doubt that a deal would be completed. When the agreement wasn't finalized by Wednesday, at least for Shanahan and a few players, that assurance started to wane a little.
For his part, Nick Bosa, who often works out with his brother Joey in Fort Lauderdale during the offseason, attended the team's minicamp in June and reaffirmed his conviction that his reward would come as long as he was patient.
Bosa asserted on June 6 that "I think I'll get what I deserve."
It came out that Bosa earned a deal commensurate with his position as the best defender in the league. We don't yet know how long that will continue to be the case.
Micah Parsons of the Dallas Cowboys, who lost to Bosa for the DPOY award last year, will be qualified for an extension for the first time after this season and is likely to demand a contract that is on par with or even higher than Nick Bosa's new contract.
"Super happy for Nick Bosa," Parsons said Wednesday. "He really showed why he was the best player in the league last year. It gives you something to chase. And not in terms of his contract but in terms of how great he was. … He knows that I'm coming for him. He even said, 'I won this year and I know you'll be coming for it next year.'"
While eagerly awaiting Bosa's return to the Bay Area, the Niners practiced without him on Wednesday. Bosa will then be incorporated into practice over the following several days before the team leaves for Pittsburgh on Friday.
The Niners, who have advanced to three NFC Championship games in the previous four years, are attempting to make a breakthrough and capture the elusive sixth Lombardi Trophy for the team for the first time in months.
"You should have seen me screaming earlier," Warner said. "I'm sure everybody knows how he makes everybody's life easier, not just me. Being one of the most dominant defensive players in the league, the run and pass game, just the most complete player on the edge clears a lot of things up."
Nick Bosa recorded an NFL-high 18.5 sacks in the previous season. The number of sacks was the second-highest for a single season in franchise history. (Aldon Smith led the pack in 2012 with 19.5 sacks.)
Bosa has 156 total tackles, 43 sacks, eight forced fumbles, one interception, and 49 starts in 51 regular-season games throughout his four seasons with the team.
San Francisco's 2023 NFL campaign gets underway on Sunday against the Pittsburgh Steelers.
Nick Bosa will earn $34 million a year, exceeding the $31,666,667 average salary of Los Angeles Rams defensive tackle Aaron Donald, according to the sports salary tracking website Spotrac.
The contract with Nick Bosa is the eighth most valuable altogether. All eight of the top deals include quarterbacks.