WWE Roster Cuts and Releases 2023: Full List of All 20 WWE Superstar Wrestlers Released In 2023 (So Far)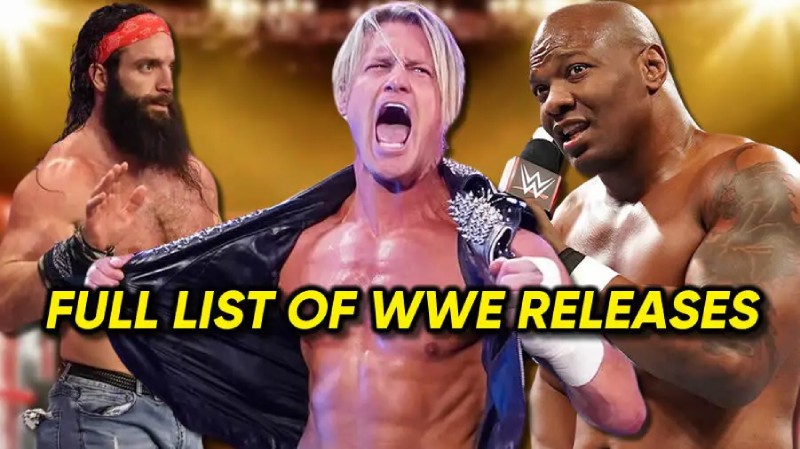 For WWE, 2023 has been a successful year. Having merged with the UFC as a result of an Endeavor agreement to become TKO Group Holdings, the company is prepared to write a new chapter. Unfortunately, that calls for adjustments like firing wrestlers.
WWE had a record-breaking day on Thursday, September 21. It also revealed that SmackDown would move from FOX to the USA Network and that a Premium Live Event would take place in Australia in February. NBC will pay $287 million a year under the five-year agreement, which is worth $1.4 billion and begins in 2024. It is a 40% boost above the agreement WWE had with Fox, according to the Wall Street Journal. This is fantastic news, right?
WWE started releasing talent, wishing them luck in their future ventures, an hour after the second announcement. Amid the COVID-19 pandemic and record earnings in 2021, the corporation took a similar action. Contracts for recent hiring and former world championships were terminated with a 90-day no-compete clause in place.
Despite having a new owner, the WWE is unfortunately continuing one of its oldest traditions. The procedure for roster cuts typically occurs at least once a year at the organization. Nothing has changed this year. WWE fired several non-ring staff last week as a result of the acquisition by TKO Group. According to reports, the company is now trying to hire fewer wrestlers.
Even though WWE has periodically evaluated its roster, the COVID pandemic caused scores of releases between 2020 and 2022. Will 2023 go in the same manner? The list of talent that has been revealed so far is far shorter than in former years. But it's impossible to predict how many more rounds of layoffs the company will endure until 2023 is over.
Interestingly, the roster reductions occur on the same day as WWE announces a new TV rights deal that will see Smackdown relocate to the USA Network as part of a five-year, over $1 billion deal. Following the statement, the stock of TKO Group Holdings decreased. Smackdown will be moved from broadcast TV to cable as a result of the change, while NBC will continue to air four annual primetime specials.
A former WWE World Heavyweight Champion, a seasoned pro, two separate female superstars, and a performer who has actually performed two different roles are among those who have been let go. Except those that the artists themselves publicized on social media, Fightful was the first to report on the releases. You can be sure that we will keep this list updated should WWE release any other superstars from their contracts. Here is a list of everyone cut by WWE so far this year. The wrestlers who are expressly named below are those who made their in-ring debuts, it is important to note. According to reports, WWE has cut a lot of possibilities for development.
WWE releases 2023
Mustafa Ali
Released: September 21
Started with WWE: 2016
Mustafa Ali was the first wrestler to declare their release after initially asking for one.
Ali, whose real name is Adeel Alam, began his career as a police officer. Before joining WWE in 2016 for the Cruiserweight Classic, he participated in a variety of independent competitions. Ali often contested for both the Intercontinental Title and the Cruiserweight Title. Ali, the former Retribution leader, was scheduled to compete against Dominik Mysterio at No Mercy on September 30 for the NXT North American Championship.
Rick Boogs
Released: September 21
Started with WWE: 2017
Former NCAA Championships qualifier Eric Bugenhagen joined WWE in 2017. He changed his identity numerous times until settling on Rick Boogs, who appeared on WWE TV to play the guitar and work out. He tore his quadriceps and patellar tendon while on the active roster, but nine months later, in January 2023, he was back. Boogs won the 24/7 Championship twice.
Aliyah
Released: September 21
Started with WWE: 2015
The fastest victory in WWE history was achieved by Aliyah, aka Nhoph Al-Areebi, in 3.17 seconds. The 28-year-old has worked for WWE since 2015. She was a former WWE Women's Tag Team Champion.
Elias
Released: September 21
Started with WWE: 2014
*Elias also played Ezekiel, his own brother.
Elias, aka Jeffrey Sciullo, joined WWE in 2014 as a guitar-playing musician character. Elias is a well-liked fan favorite and a former WWE 24/7 and IWC World Heavyweight Champion.
Riddick Moss
Released: September 21
Started with WWE: 2014
Former college football player Michael Rillis joined WWE in 2014. Madcap, who was formerly known as Riddick Moss, made his main roster debut in 2020 and then joined WWE, where he won the 24/7 Title. He left the ring for a year, then returned in 2021 to engage in a rivalry with Baron Corbin. He and his real-life partner Emma won the Andre the Giant Memorial Battle Royal before being let go.
Top Dolla
Released: September 21
Started with WWE: 2020
The second time Top Dolla has been released, he is a Hit Row member. The Miami Dolphins signed A. J. Francis as an undrafted free agent in 2013; he had 20 total tackles. He joined WWE in 2020 and, along with the rest of his team, was let go in 2021. Hit Row made a comeback to WWE in 2022 before being let go once more.
Shelton Benjamin
Released: September 21
Started with WWE: 2002-2010, 2017
Shelton Benjamin, a Brock Lesnar teammate, and two-time All-American wrestler, joined WWE in 2000. He was previously the Tag Team, 24/7, Intercontinental, and United States Champion. He was a member of The Hurt Business and Team Angle while he was a wrestler for WWE.
Outside of WWE, Benjamin has wrestled for New Japan Pro Wrestling and was a former Ring of Honor World Tag Team Champion.
Emma
Released: September 21
Started with WWE: 2012-2017, 2022
Emma, formerly Tenille Dashwood, has been let go by WWE twice. It follows WWE's announcement of a 2024 event in Australia.
Her initial character was a clumsy dancer, and the Australian wrestler debuted with WWE in 2011 and wrestled on the NXT brand. She competed in independent wrestling from Ring of Honor to Impact Wrestling after being released in 2017, earning the Impact Knockouts World Tag Team Titles. Before her recent release, in 2022, Emma rejoined WWE.
Dolph Ziggler
Released: September 21
Started with WWE: 2004
Dolphy Ziggler was one of the company's biggest releases. Ziggler, real name Nick Nemeth, has been a member of the WWE since 2004. He belonged to The Spirit Squad and was a product of the OVW, a division of WWE.
He was rebranded as Dolph Ziggler in 2008 and has since been one of the most successful wrestlers in WWE. World Heavyweight, United States, Intercontinental, Smackdown Raw Tag Team, and NXT Title are among the titles that Ziggler has held in the WWE. In 2013, when he made money off of Alberto Del Rio, he was also a former Mr. Money in the Bank.
Ziggler is a three-time All-Mid-American Conference champion wrestler from Kent State outside of the WWE.
Dabba-Kato
Released: September 21
Started with WWE: 2016
Babatunde Aiyegbusi participated in the Polish-American Football League before signing with WWE. He was initially signed by the Minnesota Vikings before being cut in 2015. He made his Raw debut in a Raw Underground segment in 2020 as Dabba-Kato, and in 2021, when he teamed up with Apollo Crews, he became a major player. He was re-introduced as Commander Azeez and alternated between the NXT and main roster.
In 2023, the 35-year-old fought in a few NXT matches under the Dabba-Kato moniker before being let go.
Dana Brooke
Released: September 21
Started with WWE: 2013
Ashley Sebera, an Arnold Classic bodybuilding and fitness athlete, joined WWE in 2013 as Dana Brooke. She joined WWE's main roster in 2016 after becoming a staple on NXT. Brooke is a 15-time WWE 24/7 Champion who has been in numerous high-profile matches and comedic backstage vignettes.
Mansoor
Released: September 21
Started with WWE: 2018
A few hours following the first release list, the Maximum Male Models duo Mace and Mansoor were also made available.
Mansoor was the first wrestler of Saudi descent to represent WWE. At a tryout in 2018, WWE scouted him. Mansoor joined the main roster in 2021 after becoming a regular wrestler when WWE moved to Saudi Arabia, partnering and feuding with Mustafa Ali. Mansoor and Mace have been a couple ever since they joined LA Knight's modeling agency, Maximum Male Models, in 2022.
Mace
Released: September 21
Started with WWE: 2016
A few hours following the first release list, the Maximum Male Models pair Mace and Mansoor were also made available.
Houston Texans' 2013 NFL Draft selection Mace, also known as Brennan Williams. He started as a member of the WWE commentary team after joining WWE in 2016. Williams joined Retribution in 2020 and took the name Mace. Up until he joined Maximum Male Models, he continued to use that gimmick.
Quincy Elliott
Released: September 21
Started with WWE: 2022
Quincy Elliott, also referred to as Congo Crush on the independent scene, joined WWE in 2022 and has only made appearances on NXT Level Up and NXT.
Shanky
Released: September 21
Started with WWE: 2020
Gurvinder Malhotra, a.k.a. Shanky, is a two-time CWE Heavyweight Champion and a member of The Great Khali's Continental Wrestling Entertainment. He joined WWE in 2020 and made an appearance at the Superstar Spectacular in 2021. Before working on a dancing gimmick, Shanky formed a heel group with Jinder Mahal and Veer. He recently made his debut appearance in 14 months, competing in India against Gunther for the Intercontinental Title.
Yulisa Leon
Released: September 21
Started with WWE: 2021
A second-generation wrestler, Jennifer Iglesias' father competes under the ring name "Bronco." She entered into a contract with WWE in 2021, and the wrestler from Mexico was given the moniker Yulisa Leon. Leon tore her ACL while competing on 205 Live and NXT in 2022. She first asked for her release from the company not long ago, and she eventually returned to the ring in May 2023.
Kevin Ventura-Cortez
Released: September 21
Started with WWE: 2022
Ikeman Jiro
Released: September 21
Started with WWE: 2020
Brooklyn Barlow
Released: September 21
Started with WWE: 2022
Bryson Montana
Released: September 21
Started with WWE: 2022