Joyce vs Zhang 2: Preview, Prediction, Schedule Date, Time, Location, Ring Walks, How and Where to Watch Boxing Fight Match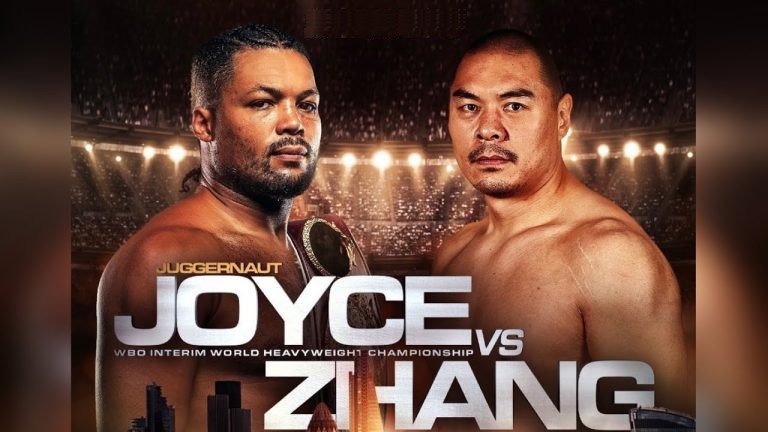 Joe Joyce is back in the boxing ring tonight against Zhilei Zhang in a make-or-break rematch. The Juggernaut' lost in their first encounter in April when Zhang somewhat shocked the crowd at the Copper Box Arena.
Joyce entered the fight much lighter than usual, and as a result, he suffered at the hands of the 'Big Bang', who is capable of terrifying hand speed and strength. Zhang consistently found success near the right eye of the British fighter. When the pressure finally became too much, a TKO was declared in round six, stripping Joyce of his WBO interim title.
For the 38-year-old, it is suddenly a must-win situation. A win here would put Joyce well outside of contention for the world championship, which is amazing to think about given the stunning way in which he defeated Joseph Parker a little over a year ago.
Joe Joyce lost to Zhilei Zhang through technical knockout in April, marking his first loss as a professional. This weekend, the Briton has a second chance.
In Round 6, Zhang, 40, shocked the London audience by outboxing Joyce and striking the 38-year-old so severely that the referee intervened.
The Chinese heavyweight did this, depriving Joyce of the WBO interim title. Joyce will attempt to reclaim the title on Saturday to potentially face Oleksandr Usyk.
Will the "Juggernaut"'s rematch with "Big Bang" be a repeat or an act of retaliation?
Here is everything you need to know.
Joyce vs. Zhang 2's scheduled date, time, location, and ring walks
On September 23, 2023, Joyce vs. Zhang 2 will take place in London's OVO Wembley Arena.
The undercard is scheduled to start at 5 PM BST, and the main event ring walks are scheduled for 10 PM BST.
When is the fight?
The second Joyce vs. Zhang match is scheduled for Saturday, September 23, at London's Wembley Arena.
The main card is scheduled to start at 7.30 p.m. BST (11.30 a.m. PT, 1.30 p.m. CT, and 2.30 p.m. ET), with the main event's ring walk scheduled for around 10.30 p.m. BST (2.30 p.m. PT, 4.30 p.m. CT, and 5.30 p.m. ET).
Full Joyce vs. Zhang 2 fight card and undercard
Anthony Yarde, who is making his comeback following his spectacular loss to Artur Beterbiev in January, is the big name on the undercard.
Joe Joyce vs Zhilei Zhang 2
Anthony Yarde vs Jorge Silva
Moses Itauma vs Amine Boucetta
Pierce O'Leary vs Kane Gardner
Zach Parker vs Khalid Graidia
Ezra Taylor vs Joel McIntyre
Royston Barney-Smith vs Engel Gomez
Tommy Fletcher vs Alberto Tapia
Aloys Youmbi vs Erik Nazaryan
Sean Noakes vs Lukasz Barabasz
How can I watch it?
The event will be broadcast live in the UK on TNT Sports (formerly BT Sport) and Discovery+. ESPN+ will broadcast the event live in the US.
If you wish to view the event while traveling abroad, a VPN may be required to unblock your streaming app. We're here to help, and our roundup of VPNs offers discounts on popular VPNs. The terms of their service provider as well as any local laws where they are must be followed by viewers who are using a VPN.
Odds
Joyce – 21/20
Zhang – 17/20
Draw – 18/1
Full card (subject to change)
Zhilei Zhang (C) vs Joe Joyce 2 (WBO interim heavyweight title)
Pierce O'Leary (C) vs Kane Gardner (WBC international super-lightweight)
Anthony Yarde vs TBA (light-heavyweight)
Sam Noakes vs Carlos Perez (lightweight)
Zach Parker vs Khalid Graidia (super-middleweight)
Ezra Taylor vs Joel McIntyre (light-heavyweight)
Royston Barney-Smith vs TBA (super-featherweight)
Moses Itauma vs Amine Boucetta (heavyweight)
Tommy Fletcher vs Alberto Tapia (heavyweight)
Aloys Youmbi vs Erik Nazaryan (cruiserweight)
Sean Noakes vs Lukasz Barabasz (welterweight)
Joyce vs Zhang 2 fight prediction
It will be a very challenging struggle for Joyce, who deserves praise for taking such a big career risk. However, his strategy cannot possibly fail as badly as it did during the first bout. Given that Zhang is prone to tiring, he does have the strength and engine to pull it done despite needing to win.
Joyce vs Zhang 2 weigh-in results
On Friday, Joyce entered the ring at a career-high 281.2 pounds (20.07 stone), hoping to correct some of the mistakes he made in the first bout. Zhang, on the other hand, weighed in at 287.2Ibs (20st 5lbs).