UFC 294: Charles Oliveira is Replaced by Alexander Volkanovski for the Lightweight Title Rematch against Islam Makhachev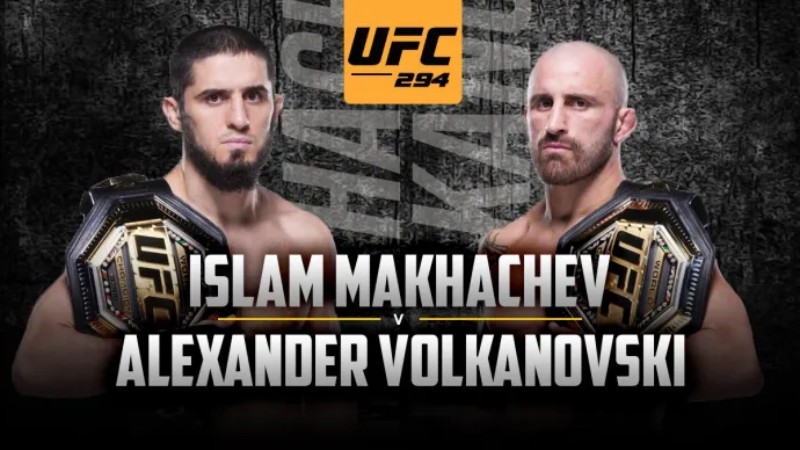 Injured Charles Oliveira is replaced by Featherweight Champion Alexander Volkanovski for the Lightweight Title rematch against Islam Makhachev.
At UFC 294 in Abu Dhabi, UFC CEO Dana White made an adjustment to the main event. After Charles Oliveira had to cancel their scheduled rematch, lightweight champion Islam Makhachev will face off against featherweight champion Alexander Volkanovski. A rematch of their historic fight from February's UFC 284 in Perth, Australia, where Makhachev defeated "The Great" by unanimous decision, will take place as the main event between Makhachev and Volkanovski.
At the UFC's first event in Australia since October 2019, Makhachev and Volkanovski's prior fight was a back-and-forth affair in front of an energetic Australian crowd, who were in full voice cheering on their fellow countryman. Makhachev was able to successfully reclaim his championship, but some thought Volkanovski had done enough to become the night's second champion. Following the bout, the two champions mingled and Volkanovski began wishing for a rematch, even expressing a desire to take on Makhachev in Abu Dhabi.
A few months later, at the conclusion of International Fight Week at UFC 290, Volkanovski made a comeback to the featherweight division to defend his 145-pound belt against interim champion Yair Rodriguez. Makhachev, on the other side, hasn't participated in the competition since their first match.
Makhachev intended to replicate his success at UFC 280, when he submitted Oliveira in the second round to capture the lightweight title that his mentor and close friend Khabib Nurmagomedov had held. Makhachev was headlining UFC's pay-per-view in Abu Dhabi for the second year in a row.
Meanwhile, Oliveira's disappointment is undoubtedly great. "Do Bronx" was sure that he underperformed because he was too engrossed in the excitement of the first fight with Makhachev, especially after Oliveira was forced to forfeit the belt when he missed weight before finishing Justin Gaethje at UFC 274 in Arizona.
When Oliveira ran over Beneil Dariush at UFC 288, ending Dariush's eight-fight winning run, he proved he was still among the greatest lightweights in the world. Oliveira is no stranger to coming back from setbacks.
While it is safe to assume that the winner in Abu Dhabi will go up against Oliveira next, things become a little trickier if Volkanovski wins a second title. That offers the possibility of a trilogy, a bout between Volkanovski and Oliveira, or even a scenario featuring Justin Gaethje, who many thought was deserving of a championship chance after his thrilling knockout victory over Dustin Poirier at UFC 291 for the BMF title.
Having said that, UFC 294: Makhachev vs. Volkanovski 2 will be a delight for Abu Dhabi fans on October 21.