Interview with Blogger Not Basic Blonde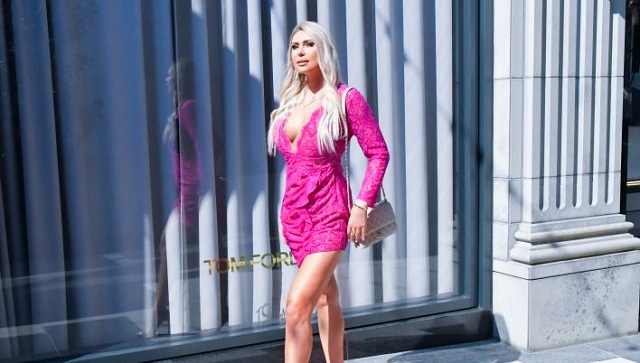 I had the pleasure to interview Olya Novozhylova aka blogger Not Basic Blonde. As an established entrepreneur, blogger, traveler, model & influencer Olya has gained a large loyal fanbase of almost half a million followers that follows her journey every step of the way.
From podcasts to photoshoots, extensive travel and behind-the-scenes of blogger events, she connects with fans by sharing her everyday life experiences. Olya has worked with an extensive variety of beauty, fashion, and lifestyle brands including Too Faced Cosmetics, Revolve and Beach Bunny Swimwear that resonates with her day-to-day life. Today I got the chance to interview her and find out how she got her start…
When did you start your Instagram page?
I've started back in 2014 but seriously started working on it in 2016.
How did you get into blogging?
I've done modeling since I was 13, I also have a successful career in IT/Project Management, and I wanted to start blogging way earlier, but I didn't have time, so finally, in 2016 I've decided to start it.
The other reason why I wanted to start because, I'm tall and pretty bright, and everywhere I go, people are always grabbing my hands and asking me where did I get my outfit from.
Also, my mom inspired me, she is a huge fashionista. She used to dress me so fashionably to school that I always would get in trouble, and I would get sent home to change.
I want to share my passion for fashion with other women, so I've decided to start blogging.
What is the most rewarding part of blogging?
The most rewarding part is the feedback that I get from other women, that I've influenced them in a positive way. And that everything that I share, makes them feel better, they love my positivity!
Do you consider yourself an entrepreneur?
Yes, I do! I'm not just a regular blogger, and I don't just write. I have a podcast, I've modeled, I've managed huge projects before, I have a podcast. I don't consider my blog is just a blog, it's a brand.
Do you do more brand collaborations on Instagram Feed or Instagram Stories?
I do both. Depending on a brand and their preferences, some brands prefer just a story, and some brands prefer both.
A lot of people hate influencers. What kind of feedback do you get from the industry?
Don't hate the player, hate a game.
This who hates influencers must be uneducated, because Influencers are the main marketing source for all the brands right now, and Influencer marketing is huge. Sometimes brands even use Influencers in commercials instead of celebrities. It's still definitely hard to understand the industry for a people with 9-5 mindset, they don't consider it a real job, but it's actually way harder than just working 9-5.
What goals do you have for 2020?
I have so many goals, I'm trying to manage my time to achieve all of them.
I can't disclose them yet, because they're still in a process.
What has been your favorite brand collaboration so far?
I can't just define one, I've partnered with so many nationwide brands, and I really enjoy it.
What advice do you have for an aspiring blogger?
Definitely make sure that you have your stable income, while you're starting! Because it takes time to establish an audience and get everything together. Time management is a huge thing, you have to pick projects that you can monetize fast, and put your most energy into them, and after projects that you enjoy doing, maybe spend less time on them if they don't generate a lot of revenue. Just be prepared to be dedicated, constant with your content, that's how you grow your audience. Identify what you're good at the most and keep selling yourself.
What has being a blogger taught you about branding and marketing? What are your three best marketing and branding tips?
It has taught me that nowadays, influencer marketing is huge, and it does make a lot of sense for brands to pay an influencer, because they receive a lot of exposure.
3 Marketing and Branding Tip:
• Identify brands needs and requirements, so you produce great content
• Definitely knowing your audience is a key
• Try to partner with brands that fit your style and your own brand
You can follow Olya at @notbasicblonde_