Krzysztof Kieślowski: Google Doodle celebrates Polish film director's 80th birthday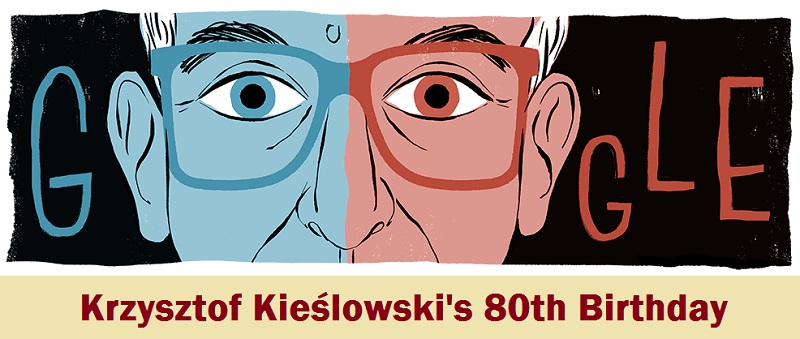 Google Doodle celebrates the 80th birthday of Polish communist film director and screenwriter Krzysztof Kieślowski, who is generally viewed as one of the world's most influential directors of art-house cinema, on June 27, 2021.
Who was Krzysztof Kieślowski?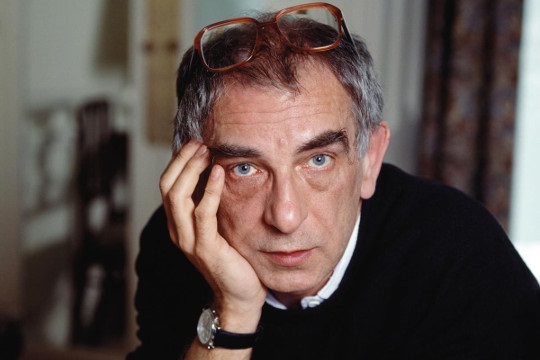 Krzysztof Kieślowski was born on June 27, 1941, in Warsaw, Poland, the son of Barbara (née Szonert) and Roman Kieślowski. He is known internationally for Dekalog (1989), The Double Life of Veronique (1991), and the Three Colors trilogy (1993–1994).
He experienced childhood in a few small towns, moving any place his engineer father, a tuberculosis patient, could discover the treatment. He was raised Roman Catholic and held what he called a "personal and private" relationship with God.
At sixteen, Krzysztof Kieślowski went to a firefighters' training school, yet exited after three months. With no career goals, he then, at that point entered the College for Theater Technicians in Warsaw in 1957 because it was run by a relative. He wanted to become a theater director, however did not have the necessary bachelor's degree for the theater department, so he decided to study film as an intermediate step.
Krzysztof Kieslowski graduated from Lódz Film School in 1969 and became a documentary, TV, and highlight film director and scriptwriter. Before making his first film for TV, Przejscie podziemne (1974) (The Underground Passage), made various short documentaries.
Kieślowski's early documentaries focused on the regular day-to-day lives of city dwellers, workers, and soldiers. His TV film Workers '71, which showed laborers talking about the purposes behind the mass strikes of 1970, was just displayed in a drastically censored form. Kieślowski investigated the complexities and good situations of everyday life through candid portrayals of contemporary Poland.
Krzysztof Kieślowski's first non-documentary feature, Personnel (1975) (The Staff), was made for TV and took first prize at the Grand Prix at Mannheim Film Festival. His first full-length feature was The Scar (1976) (The Scar). In 1978 he made the popular documentary From a Night Porter's Point of View (1979) (Night Porter's Point of View), and in 1979 – a feature Camera Buff (1979) (Camera Buff), which was acclaimed in Poland and abroad. All that he did start there was of the greatest artistic quality.
Kieślowski moved past the documentary format in his 1975 feature film "Personnel," the first of numerous cinematic works of fiction. It wasn't until the 1988 release of "The Decalogue"— ten hour-long TV episodes that followed the occupants of a Warsaw housing complex—that Kieślowski's work acquired international fame.
Mr. Krzysztof Kieślowski began his career shooting documentaries and later became related to the "cinema of moral anxiety" movement. It gathered a few Polish directors, including Krzysztof Zanussi and Andrzej Wajda, and pointed toward portraying the conditions of Poles under communism.
Krzysztof Kieślowski's most popular work was the Three Colors trilogy: Three Colors: Red (1994), Three Colors: White (1994), and Three Colors: Blue (1993). Three Colors: Red (1994) brought him Academy Award nominations for best director and best screenplay (with Krzysztof Piesiewicz) in 1995, Three Colors: Blue (1993) shared the Golden Lion at Venice in 1993, and Three Colors: White (1994) acquired Mr. Kieslowski the best director award at Berlinale in 1994.
Krzysztof Kieślowski's trademark philosophical explorations climaxed in the 1993-94 "Three Colors" trilogy, each a reflection on the goals of the French Revolution, which involved his last movies.
Krzysztof Kieślowski procured various awards and nominations throughout his professional career, dating back to the Kraków Film Festival Golden Hobby-Horse in 1974.
Notwithstanding many renowned awards all through his career, Kieślowski got three Academy Award nominations, including Best Director for 1994 for "Three Colors: Red," the final installment of his iconic triptych. After retiring from cinema that year, Kieślowski got back to the medium that first inspired his dedication to the art of the story: literature.
Krzysztof Kieślowski also received the Cannes Film Festival Jury Prize (1988), FIPRESCI Prize (1988, 1991), and Prize of the Ecumenical Jury (1991); the Venice Film Festival FIPRESCI Prize (1989), Golden Lion (1993), and OCIC Award (1993); and the Berlin International Film Festival Silver Bear (1994). In 1995, he got Academy Award nominations for Best Director and Best Writing.
Krzysztof Kieślowski announced his retirement from filmmaking after the debut of his last film Red at the 1994 Cannes Film Festival.
On 13 March 1996, less than two years after he had retired, Krzysztof Kieślowski died at age 54 during open-heart surgery following a heart attack.
Krzysztof Kieślowski stays one of Europe's most influential directors, his works remembered for the study of film classes at universities all through the world. The 1993 book Kieślowski on Kieślowski portrays his life and work in his own words, given interviews by Danusia Stok. He is additionally the subject of a biographical movie, Krzysztof Kieślowski: I'm So-So (1995), directed by Krzysztof Wierzbicki.
In 2002, Krzysztof Kieślowski was listed at number two on the British Film Institute's Sight and Sound list of the top ten film directors of modern times.
On June 27, 2021, Google observes Krzysztof Kieślowski's 80th Birthday with a Google Doodle.