Latest and Splendid Palazzo Suit Designs for Office Wear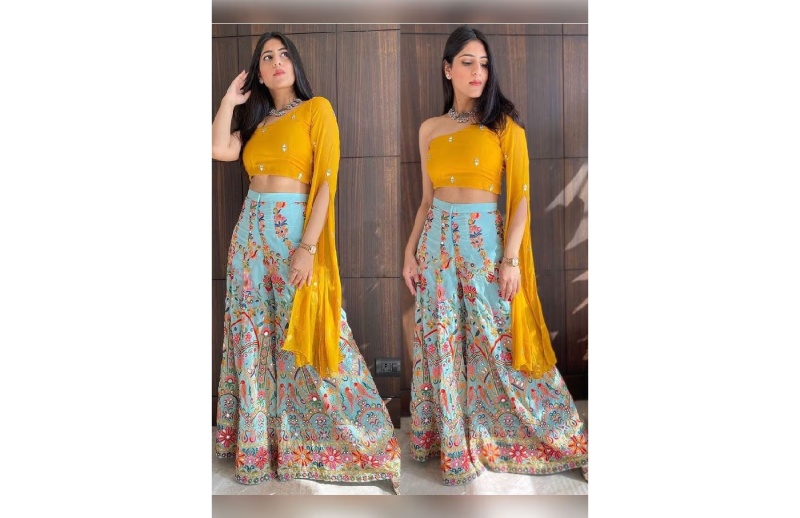 Trends come and go, but some styles become timeless classics. The Palazzo suit is one such trend that has captured the hearts of women worldwide. Combining comfort and style, palazzo suits have become a popular choice for various occasions, including office wear. In this blog, we will explore the latest and splendid palazzo suit designs for office wear, with a particular focus on Indian palazzo suit designs that cater specifically to women seeking fashionable yet appropriate attire for the workplace.
Classic Elegance
When it comes to office wear, the classic Palazzo suit design never fails to impress. Choose a meticulously tailored suit top in a timeless solid color like navy, gray, or black, and pair it with complementing solid-colored Palazzo pants. This combination effortlessly emanates sophistication and refinement, making it an ideal choice for any professional setting. The comfortable palazzo pants allow for unrestricted movement throughout the day, while the suit shirt adds a touch of formality and polish to the ensemble, ensuring you make a lasting impression.
Floral Finesse
For those seeking a more feminine and vibrant touch to their office wear, floral palazzo suits are an excellent option. Choose palazzo pants with delicate floral prints and pair them with a solid-colored suit top in a neutral or pastel shade. This combination creates a refreshing and eye-catching look while maintaining a professional appearance. Opt for smaller floral patterns to avoid overpowering the outfit, and select lightweight fabrics for comfort during long working hours.
Ethnic Charm
Indian palazzo suits present an extensive array of designs that effortlessly intertwine traditional charm with modern aesthetics. Embrace your cultural heritage with palazzo suits adorned with intricate embroidery, mesmerizing mirror work, or timeless prints like bandhani or block prints. These designs infuse your office wear with a touch of ethnicity and elegance, providing an opportunity to showcase your rich heritage while maintaining a professional demeanor. To enhance the ensemble, pair these office-wear palazzo suits with understated accessories and a minimalistic makeup approach, allowing the outfit to take center stage and shine brightly.
Contemporary Fusion
For individuals who revel in fashion experimentation, fusion palazzo suits offer an ideal choice. These designs flawlessly blend Western and Indian elements, creating a distinctive and stylish appearance. Combine palazzo pants with a crisp shirt or a tailored blazer to craft a contemporary and fashion-forward ensemble. The fusion of diverse styles and textures infuses your office wear with creativity, allowing you to make a statement while upholding a polished and professional look that sets you apart from the crowd.
Minimalistic Sophistication
Sometimes, less is more. For a minimalist approach to office wear, choose palazzo suits with clean lines and subtle embellishments. Opt for solid-colored palazzo pants and pair them with suit tops featuring minimalistic details such as delicate embroidery or textured fabrics. This style exudes sophistication and professionalism, allowing you to make a subtle yet impactful statement. Combine it with elegant accessories and a sleek hairstyle for a complete look.
Tips for Incorporating Palazzo Suits into Your Office Wardrobe
Select comfy fabrics: Make sure to choose breathable and lightweight fabrics that will keep you cool, comfortable, and at ease throughout the entire day, particularly during the warmer months or in hotter climates. Opting for such fabrics will ensure a pleasant and enjoyable experience while wearing your palazzo suit.
Pay attention to fit: It's crucial to ensure that the suit top is well-tailored and fits you perfectly, avoiding any excessive tightness or looseness. Similarly, the palazzo pants should be elegantly draped, striking the right balance between comfort and style without being overly baggy.
Consider the occasion: While a palazzo suit is a versatile choice for office wear, it's important to consider the dress code and formality of your workplace. Ensure that you select designs that strike the perfect balance between elegance, professionalism, and appropriateness for your specific work environment.
Complete the look with accessories: Select appropriate accessories, such as minimalistic jewelry, a sleek watch, and a professional handbag, to enhance and elevate your overall ensemble. Opt for closed-toe shoes with a moderate heel to add a touch of sophistication and achieve a polished and refined finish.
Confidence is key: No matter which palazzo suit design you choose, wear it with utmost confidence. Embrace your individuality, let your outfit reflect your unique personality, and exude professionalism in every step you take.
Summing Up
Palazzo suits have become a staple in office wear, offering a comfortable yet stylish choice for professional women. Whether you prefer classic elegance, floral finesse, ethnic charm, contemporary fusion, or minimalistic sophistication, there is a palazzo suit design to suit your style and occasion. By incorporating these fashionable ensembles into your office wardrobe, you can confidently express your individuality while maintaining a professional demeanor.
To explore a wide range of palazzo suit options and find the perfect ensemble for your office wear, visit Kreeva. With their extensive collection and splendid designs, Kreeva offers a platform where you can select a palazzo suit that reflects your impeccable sense of style. So, don't hesitate to make a lasting impression with a Palazzo suit from Kreeva.