Mary Two-Axe Earley: Google Doodle celebrates a Canadian women's rights activist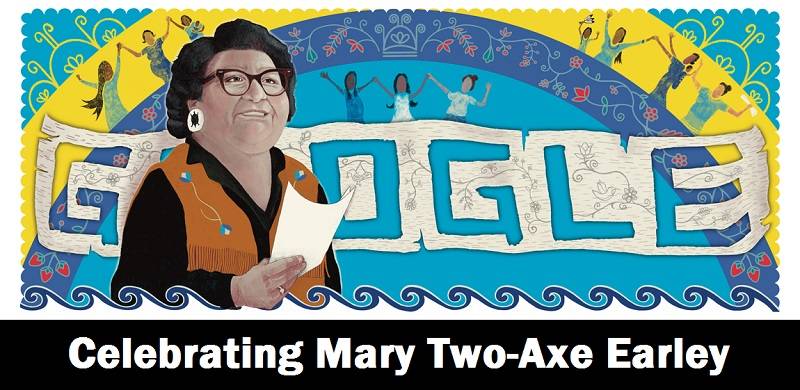 Google Doodle celebrates a Canadian women's rights activist Mary Two-Axe Earley, Kanien'kehá:ka (Mohawk) senior, advocate for women and children, human rights activist, on June 28, 2021. She was a pioneer and architect of the Canadian women's movement.
Who was Mary Two-Axe Earley?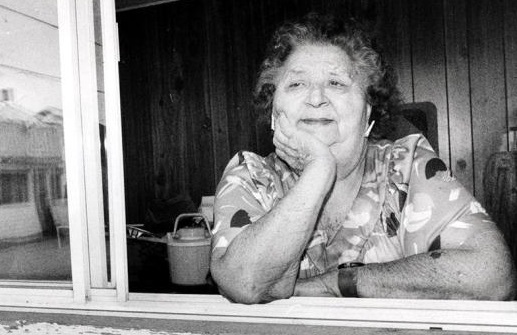 Mary Two-Axe Earley was born on October 4, 1911, on the Mohawk reserve of Kahnawake (then known as Caughnawaga) situated on the southern shore of the Saint Lawrence River across from Montreal.
Heartbreakingly when Mary Two-Axe was just 10 years of age, her mother died of Spanish flu while treating youthful influenza patients in North Dakota, and Two-Axe spent the rest of her childhood with her grandparents at Kahnawake.
At 18 years old, during a period of restricted employment opportunities for individuals on reserves in Canada, Mary Two-Axe Earley left her ancestral land and relocated to the United States looking for work. She settled in Brooklyn, New York, where a Mohawk community, "Little Caughnawaga," developed around the steel and iron industries during the blast of the 1920s. It was here that she met and married Edward Earley, an electrical engineer of Irish-American origin in 1938. They had two children: Edward and Rosemary. The family visited Kahnawake every summer.
Mary Two-Axe Earley spent much of her life battling against the injustices that the Indian Act made for Status Indian women. Since Mary Two-Axe Earley had married a "non-status" man – a man who had no lawful Indian status under Canadian law – she was thus stripped of her own Indian status.
The Indian Act, drawn from Victorian-period European notions around gender and power, treated First Nations men and women unequally: albeit a man could marry a non-status woman and still hold his own legal Indian status under the Act, the equivalent was not valid for a woman who married a non-status man.
At the point when Mary Two-Axe Earley had married Edward Earley, she had lost her Indian status and rights: she was prohibited from owning land on the Kahnawake reserve, taking part available for reserve elections, or even being buried in the reserve cemeteries – and she was unable to pass these rights down to her children, either.
In 1966, after Mary Two-Axe Earley's one friend – a fellow Mohawk – died in her arms of a heart attack, she became vocal about Indigenous women's rights. She immovably accepted that stress was a contributing factor in her friend's death since she had been denied property rights in Kahnawà:ke under the Indian Act.
Deeply affected by the loss of her friend, Mary Two-Axe Earley started campaigning across Canada to point out the issue. In 1967, she established the provincial Equal Rights for Indian Women Association (later Indian Rights for Indian Women), which developed to become a national organization.
Mary Two-Axe Earley activated a series of speaking and writing campaigns to raise the profile of misuses looked at by women who had been denied status, treaty, and property rights under the Indian Act. The hearings of the Royal Commission on the Status of Women in Canada (RCSW) started in 1967 as a direct result of the planned efforts of different women's associations. These groups more than once brought for sovereignty over their own bodies, constitutional change, and equality under the law.
Prepared to spirit this agenda, Mary Two-Axe Earley got associated with Indian Rights for Indian Women (IRIW) in 1967, an advocacy group dedicated to opposing gendered colonialism. Two-Axe Earley was confronted with heavy opposition from male First Nations pioneers during her work.
In 1969, Mary Two-Axe Earley's husband died, and she decided to move back to her old community in Quebec. Albeit Two-Axe Earley had acquired a house on the Kahnawake reserve from her grandmother, she was informed that she was not, at this point welcome to live there. She discovered a path around the standards by gifting the house to her daughter, who had recovered Indian status after marrying a Mohawk man from the reserve. Just allowed to live there through this loophole, Two-Axe Earley depicted herself as "a guest in my own house".
Mary Two-Axe Earley co-founded the Québec Native Women's Association in 1974. The next year, close by 60 other women initially from the Kahnawake reserve, she went to the International Women's Year Conference in Mexico as a member of the Canadian delegation.
Two-Axe Earley utilized her platform at the conference to promote her circumstance, hence getting national and international attention, and the removal notice served by Kahnawake was consequently removed. A brilliant planner, Two-Axe Earley used this event to feature the racist and gendered discrimination she and different ladies looked at in Canada at an international forum. Considering the negative coverage gathered by this move, the band council pulled out their original eviction orders.
In 1976, Mary Two-Axe Earley was elected to the newly-formed Board of Directors for the Canadian Research Institute for the Advancement of Women.
On June 28, 1985, the Canadian Parliament passed Bill C-31 to revise the Indian Act. The Bill eliminated the legal gender discrimination that had affected Indigenous women in their choice of husband, and permitted ladies who had been deprived of their Indian status to regain it through a process of reinstatement. Mary Two-Axe Earley was the first woman to have her status restored by Indian Affairs Minister David Crombie.
The next week, on 5 July 1985, Mary Two-Axe Earley had her status re-established at a Toronto ceremony with a letter from David Crombie, minister of Indian Affairs and Northern Development (presently Indigenous and Northern Affairs Canada).
On 17 October 1979, Mary Two-Axe Earley was recognized for her work with Indian Rights for Indian Women and got the Governor General's Persons Case Award for her eminent contributions to the advancement of equality and rights for women and girls in Canada.
During the 1980s, Mary Two-Axe Earley was celebrated by York University in Toronto with a privileged doctorate of law, made an Officer of the National Order of Québec (Ordre national du Québec) in 1985, and gave a National Aboriginal Achievement Award in 1996 (presently called the Indspire Award) for her work towards the passing of Bill C-31.
Mary Two-Axe Earley kept living at Kahnawake for the rest of her life. On August 21, 1996, she died from respiratory failure, aged 84. She was buried in the Catholic cemetery of the Kahnawake reserve – a personal wish made conceivable by the legal changes she had enabled.
Mary Two-Axe Earley was a courageous and vocal agent of constitutional change for women underestimated by the Indian Act. Her work stays important to the legacy of the women's movement and Indigenous women's activism in Canada.
On June 28, 2021, Google is showing Doodle on its homepage for celebrating Mary Two-Axe Earley. The present Google Doodle is made by Kanien'kehá:ka (Mohawk) guest artist Star Horn.
On this day in 1985—almost two decades after Mary Two-Axe Earley started her battle against gender discrimination in the Indian Act—the Parliament of Canada passed Bill C-31, a change to reestablish Indian status to women who had lost it through marriage.