Mickey Chen: Google Doodle celebrates Taiwanese filmmaker and activist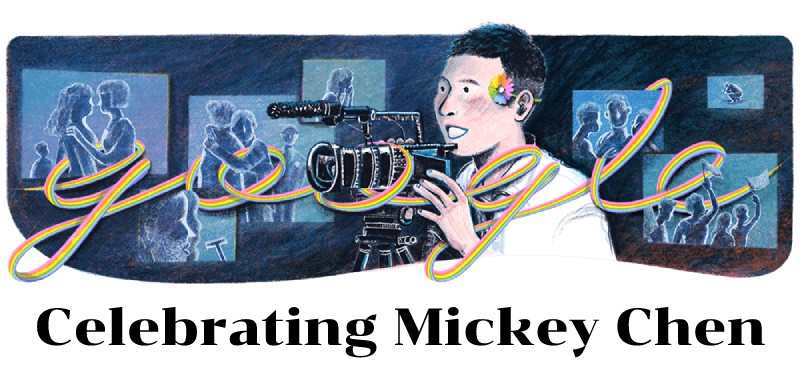 Today's Google Doodle honors Taiwanese filmmaker and activist Mickey Chen, who focused on telling stories from disenfranchised communities. On this day in 1999, her documentary Boys for Beauty became the first LGBTQ-themed documentary to be screened at a movie theater in Taiwan. Google Doodle is represented by Dyin Li, a guest artist based in Taiwan.
Who was Mickey Chen?
Mickey Chen was a pioneering LGBT film director who directed multiple LGBT-themed documentaries such as Boys for Beauty (美麗少年) and The War of the Roses (玫瑰戰爭). Not Just a Wedding Banquet (不只是喜宴) and Scars on Memory (無偶之家,往事之城) are two additional works by the filmmaker.
Mickey Chen, who has always been fascinated by cameras, started making movies in college. Not Simply a Wedding Banquet (1997), a documentary about the first gay couple to have a public wedding in Taipei, was her directorial debut at the age of 30. It looked at the problems that the LGBTQ+ community had to deal with in Taiwan.
Boys for Beauty, an eye-opening expose about the lives of three Taipei teenagers who were gay, was published by Chen in 1999. The film demonstrated the societal pressures that each subject's relatives faced and took a bold stand against gender norms. It was a significant achievement for Taiwanese cinema and a box office hit.
Boys for Beauty received numerous awards and placements at film festivals, including the Audience Award at the Taiwan International Documentary Festival in 2000. In her inspiring acceptance speech, Chen praised the LGBTQ+ movement and invited several directors to stand with her on stage.
Mickey Chen's own difficult childhood and struggles with coming out to a father who initially rejected him due to his gender served as inspiration for a lot of his work. Because he had brought disgrace to the family, his father made him kneel in front of ancestral tablets.
In his autobiography Taipei Father, New York Mother (台北爸爸,紐約媽媽), Chen discusses the difficulties his family faced. After its release in 2011, it became a best-seller and won the award Taipei International Book Exhibition Prize. In 2012, Chen also turned it into a stage play. In the end, Chen made amends with his father.
Many more documentaries were written and directed by Mickey Chen, including Fragile in Love (2007), Memorandum on Happiness (2003), and Scars on Memory (2005). In 2011, she also published Taipei Father, New York Mother, a book about the childhood tragedies in her family.
Mickey Chen's unwavering support for LGBT rights, which frequently saw him take to the streets, frequently made headlines in the media. He referred to himself by his feminine name, Lao Niang (老娘) and the outside world knew her as Jade Sister (琪姐),.
He had high blood pressure for many years before passing away in 2018 at the age of 51 from cardiogenic shock.
Mickey Chen was a trailblazer in Taiwan's progressive LGBTQ+ societal views. Throughout her career, she documented significant events in the country's LGBTQ+ history and opened people's eyes to them.
To commemorate Mickey Chen, Google featured a Google Doodle on its homepage on March 1, 2023.