National IAS Bangalore renews efforts with technology-enabled learning methodology to offer result-driven coaching to IAS aspirants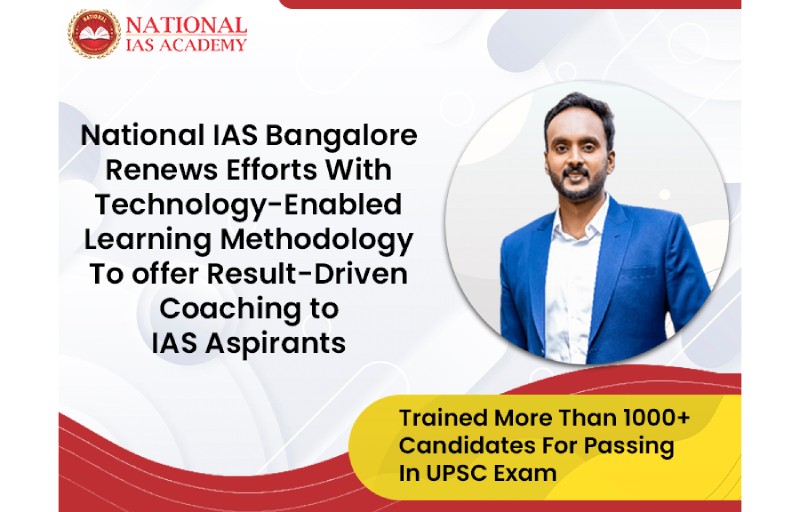 Emerging Technology revolution and the COVID-19 pandemic have brought about drastic changes in education and teaching methods. As we witness the rise of digital teaching platforms and technology, the teacher-student connect still remains a vital key in ensuring success of the students in learning and clearing the examination with flying colors.
Taking cue from this scenario, National IAS Coaching Bangalore has been offering online learning sessions live to its students pan-India with great success and satisfaction.
As per the feedback shared by the IAS aspirants, these online live learning sessions have greatly benefitted them. We interacted with Mr Sumanth Makam of National IAS on his views on this learning methodology
Have the IAS aspirants adapted to the online live learning methodology? If yes, then to what extent?
Yes, they have adapted to the online live learning methodology very quickly and find it convenient too. It provides them with access to high-quality education from anywhere, at any time. This eliminates the need for aspirants to relocate to a different city or spend time and money on commuting to attend classes.
Additionally, live online learning has opened an avenue to study in their comfort zone from their preferred location and save time, effort and money on transport, rentals and miscellaneous needs which would be required if they would attend an in-person class.
Finally, live learning online gives the IAS aspirants the schedule their study time-table as per their commitments and convenience. Some IAS aspirants have to attend jobs or perform family duties and hence it gives them the freedom to attend these classes as per their schedule wherein they can concentrate and study better.
Q: Have the IAS aspirants shared their online live learning experiences? Do they feel that they are attending a National IAS classroom?
Yes, our students have said that their online live learning experience as similar to that of an onsite classroom. The teachers were focused on teaching and mentoring students. Also, with real time assessment and analysis, they could get a fair idea of their knowledge and skills. Also, they would prefer this learning system in the future.
How did National IAS integrate technology within its learning methodology?
Mr Sumanth Makam said, 'We have developed special learning and study material that encourages student engagement, and collaborative learning. Further, the students have to give regular feedback on the sessions and delivery of lessons which helps in evaluated the performance of the class. Also, our professors are well-versed with instructional technology and hence capable of delivering classes online as per the expectations.
According to you, what is the role of technology in today's education system?
Advanced technology has made it possible to open up numerous channels of teaching and learning. Teachers have at their disposal audio-video channels and other tools which help in assessing the students in a better manner.
Now, we are capable of delivering more concepts and content material through the technology-oriented teaching methodology. Our instruction delivery has improved a great deal. Moreover, we are in a position to modify the instruction delivery as per the student in case of learning challenges.
About National IAS
The National IAS Academy in Bangalore is a reputed coaching institute for aspiring candidates seeking to excel in the Civil Services exam. Their experienced and expert tutors offer continuous assessment to ensure the best possible outcome for their students. They offer a balance of in-person and live online learning sessions with 24/7 doubt-clearing assistance, and are considered one of the top IAS academies in Bangalore.
The academy is committed to instilling a passion for serving India and aims to train a high number of successful IAS candidates.
Interested candidates can contact National IAS Academy at –
36/1, 4th Floor, 27th Cross Rd, next to Sapna Book House,
4th Block, Jayanagar, Bengaluru, Karnataka 560011
Phone nos: +91 9632334466 / +91 9632334488
Email: [email protected]