PM Vishwakarma Yojana 2023: How to Apply Online, Eligibility, Documents Required, and Everything You Need to Know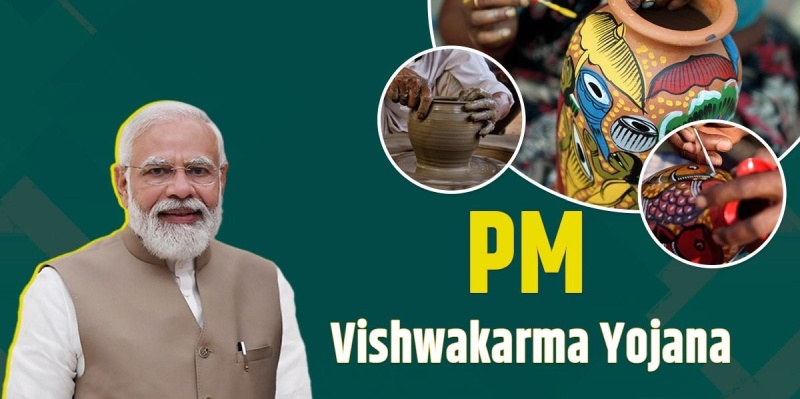 On September 17, 2023, at around 11 a.m., Prime Minister Narendra Modi will introduce a new "PM Vishwakarma" program to honor Vishwakarma Jayanti. The India International Convention and Expo Centre in Dwarka, New Delhi, will host the launch event.
Prime Minister Modi has repeatedly reaffirmed his dedication to supporting those who work in traditional crafts. By promoting regional goods, arts, and crafts, we hope to preserve the preservation and vitality of long-standing customs, cultures, and unique heritages in addition to providing financial support to artisans and craftsmen.
The Vishwakarma Yojana 2023 will be introduced on August 15, 2023, according to PM Modi. On the occasion of Vishwakarma Jayanti, the Vishwakarma Yojana 2023 has reportedly been put into effect, according to PM Modi's declaration from the Red Fort. The PM reaffirmed that small firms and artists would gain significant and immediate advantages from this scheme. The government's implementation of this scheme aims to advance traditional skills.
With a dedicated budget of Rs 13,000 crore, the Union Government would fully fund the "PM Vishwakarma" scheme. The "Vishwakarmas," or artisans, will be registered for free through Common Services Centers using a biometric-based PM Vishwakarma site under this scheme. A PM Vishwakarma certificate and ID card will serve as recognition, and they will have the chance to expand their skills through both fundamental and advanced training.
In addition, program participants will be eligible for a toolkit incentive reward of Rs. 15,000 and access to no-collateral credit support up to Rs. 1 lakh for the first tranche and Rs. 2 lakh for the second tranche at a 5% concessional interest rate. To further empower and uplift the Vishwakarmas in their craft and trade activities, incentives for digital transactions and marketing assistance will also be offered.
Vishwakarma Yojana 2023
Let's discuss the Vishwakarma Yojana now, including what it is, how small businesses will benefit from it, and when it will be implemented.
The same information will be provided to you here today. For this reason, you must read this article through to the end. The government intends to advance the amazing project with the provision of Rs 13000 to 15000 crores under this scheme. On this subject, you will receive direct information today. You will learn all the details of the Vishwakarma Scheme 2023 that you have doubts about.
The PM also provided information on numerous other schemes, including the PM Kisan Samman Nidhi Yojana, Jal Jeevan Mission, Ayushman Bharat Yojana, and Livestock Scheme, which have directly benefited the nation and are similar to the Vishwakarma Scheme 2023. The Prime Minister clarified that 2,500,000 crores of rupees have been deposited in the accounts of national farmers for the PM Farmer scheme, 200000 crores have been used for the Jal Jeevan Mission, and 70000 crores have been used for the Ayushman Bharat plan. Furthermore, approximately Rs. 15000 crore was spent on livestock.
PM Modi Vishwakarma Yojana
It is crucial to learn more about the PM Modi Vishwakarma Scheme if you want to grow your business. Let us inform you that PM Modi's introduction of the Vishwakarma Scheme 2023 has as its primary goal the development of the nation's small business sector. The economy needs to be expanded even further.
Through this scheme, a small-scale industrialist will also be able to get a loan to grow his business. The PM Vishwakarma Scheme is providing you with information on how small businesses and dealers will succeed in bringing their goods to the global market. There isn't a website for this scheme yet, but one will be launched the next month.
Vishwakarma Samman Yojana Online
On September 17, 2023, the Vishwakarma Samman Yojana will be distributed online in observance of the birth anniversary of Lord Vishwakarma. Benefits will be made available to small merchants as soon as this scheme begins by including the following categories under it: Vishwakarma Kaushal Samman Skill Training PM Vishwakarma Kaushal Economic Cooperation Paper List Payment Under Vishwakarma Samman Yojana, Vishwakarma Samman The latest technology will become the primary tool for taking the brand global.
If you are a small business owner, the Vishwakarma Scheme 2023 will provide you with the following advantages: PM Vishwakarma's loan, raw material marketing, brand promotion, help in the field of skill, technology, Vishwakarma honor, and empowerment are the important ones among these significant advantages.
Website: Official PM Vishwakarma Yojana Website (https://pmvishwakarma.gov.in/).
Eligibility: Who can apply for PM Vishwakarma Yojana
Indian Resident 
Artisan or Craftspeople/Craftsmen 
Age: 18 years or above 
Not availed benefits of PMEGP, PM SVANidhi, or Mudra Loan 
Trades Eligible under PM Vishwakarma Yojana:
Fishing Net Maker 
Tailor (Darzi) 
Washerman (Dhobi) 
Garland Maker (Malakaar) 
Barber (Nai) 
Doll and Toy Maker (Traditional) 
Basket/Mat/Broom Maker/Coir Weaver 
Mason (Rajmistri) 
Cobbler (Charmkar)/Shoesmith/Footwear Artisan 
Sculptor (Moortikar, Stone Carver), Stone Breaker 
Potter (Kumhaar) 
Goldsmith (Sonar) 
Locksmith 
Hammer and Tool Kit Maker 
Blacksmith (Lohar) 
Armourer 
Boat Maker 
Carpenter (Suthar)
Documents Required for PM Modi Vishwakarma Scheme 2023: 
Aadhar Card 
Voter Identity Card 
Proof of Occupation 
Mobile Number 
Bank Account Details 
Income Certificate 
Caste Certificate (If Applicable) 
How to Apply for PM Modi Vishwakarma Yojana:
Beginning on September 17, 2023, go to the PM Vishwakarma Yojana official website.
Use your mobile number and Aadhar Card to register.
Authenticate your OTP by using your mobile number and Aadhar card as verification.
Enter your name, address, and Trade-related Information when filing the PM Vishwakarma Yojana Registration Form.
Submit the Registration Form.
For future reference, download the PM Vishwakarma Digital ID and Certificate.
Register on the PM Vishwakarma Yojana Portal to submit applications for various scheme components.
Upload the required documents.
Submit the application form for review.
The received applications will be verified by officials.
The PM Vishwakarma Yojana will use Commercial Banks, Regional Rural Banks, and Other Financial Institutions to distribute Collateral-Free Loans.
At their local CSC Center, artisans and artists can register and submit applications under the PM Vishwakarma Yojana.
The PM Vishwakarma Yojana Mobile App will be created by the Indian government to facilitate registration.
Benefits of the PM Vishwakarma Yojana: 
Loan in the first phase up to Rs. 1,000,000 at 5% interest rate.
In the second phase, a loan up to Rs. 2,00,000 is available at 5% interest rate.
Skill Training provided.
500 rupees every day during the training period as a stipend.
A grant of Rs. 15,000 was granted to buy an Advance Tool Kit.
Identity card and certificate for PM Vishwakarma are provided.
18 months is the first phase of loan tenure.
30-month loan term for the second phase.
Incentive of Rs. 1/- per Digital Transaction.